Event ends in 0 days, 00 hours, 00 minutes and 00 seconds!
Put The "Muscle" In Your Survival Food Stockpile — With Delicious Chicken & Beef Designed to Last For 25 Years!
Fellow Patriot,

Most Americans love their meat.

Whether it's a juicy burger, a sizzling rib-eye steak, or BBQ chicken hot off the grill… there's nothing that tastes – or satisfies – quite as much as good ol' meat.
However, when it comes to survival food, there are a few problems with meat.

Most "survival meat" can be summed up in a few words… "crud in a can." It's disgusting slop that wouldn't be fit to serve in a third-world prison mess hall, let alone feed your family.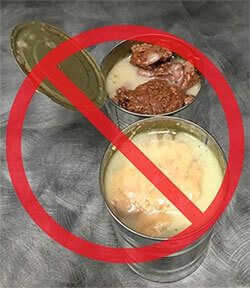 Another problem is spoilage. Fresh meat isn't practical and a near impossibility to get in an emergency situation. Freezing it won't help either, especially if the power goes out.
And, if you're facing a genuine crisis, real meat just won't be available… period.
If a disaster strikes, stores could be stripped bare within hours of every kind of food – including fresh meat. Supply lines may be shut off for days or even weeks.
The good news is… there's a way to fortify your survival food stockpile with meat that's every bit as tasty and satisfying as fresh meat you get from your local butcher.
And the best part? It's designed to last for an incredible 25 years!* No refrigeration or special storage required.
Now, just like we mentioned earlier... we're not talking about the "caveman crud" meat in a can you see advertised as survival food.
As far as we're concerned, that stuff should be banned.
We're talking real, savory, hearty, stick-to-your-ribs beef and chicken that's brimming over with both flavor and nutrients. Like protein, zinc, iron, and loads of B vitamins…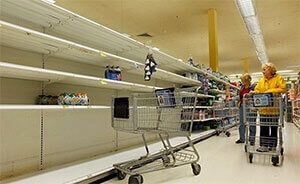 Real, lean cuts of chicken and beef that will "supercharge" your survival food stockpile, adding endless variety and vital nutrition that tastes incredible!
Our chicken and beef is so delicious, you and your family will never think you're eating survival food. Because you'll be eating real meat.

And when you add our meat to your survival food stockpile, you'll get extra satisfaction knowing…
*25-year shelf life under proper storage conditions. Excess heat and/or damage to packaging may decrease shelf life. For more information, see footnote 2.
You're Giving Your Family Versatility, Taste & Nutrition in One Meaty Package!
So, what are some of the incredible benefits of chicken and beef?
Protein "Powerhouse" – Lean protein from meat is a "building block" of healthy cells... essential to sustaining health. Just one serving of meat has a good portion of the protein your body needs daily.



Iron Rich – Iron is a core mineral that helps keep your blood healthy and your muscles supplied with oxygen. A diet rich in iron may help prevent conditions such as anemia, which can cause fatigue, weakness, irregular heartbeat, and bruising.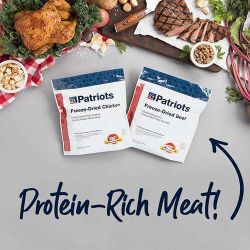 Hunger-Crushing – Meat satisfies like no other food. Meat helps you stay fuller, longer. It also may help control blood sugar levels, for steady energy and fewer cravings for sweets or snacks. Keeping hunger at bay also helps your mental focus.
There's no doubt about it – adding chicken and beef to your survival food stockpile is a smart move for variety, taste, and nutrition.
The question is, how? Don't you have to keep meat refrigerated? Or frozen?

Not if you have chicken and beef that's designed to last for 25 years!*
*25-year shelf life under proper storage conditions. Excess heat and/or damage to packaging may decrease shelf life. For more information, see footnote 2.

Now you can…
Grab the Amazing Taste and Nutrition of 4Patriots Gold Medallion All-Meat Food Kits… Designed to Last for 25 Years!
Your 4Patriots Gold Medallion All-Meat Food Kits are packed with delicious freeze-dried chicken and beef.

It comes in the same re-sealable, space-age Mylar3 pouches you've come to expect with our other survival food. Not cans. Our special packaging is the secret to the ultra-long shelf life and delicious flavor of our chicken and beef.

Now, we're not talking skimpy servings here… We're talking 136 total servings of big, meaty mouthfuls that will satisfy the hungriest appetites. Each serving is about the size of the palm of your hand. That's a lot of meat!

Just add water to rehydrate your freeze-dried chicken and beef to use it in recipes. Chili, stir-frys, soups and stews, casseroles… the possibilities are endless!

Keep your individual Mylar pouches ready to go at home, or take them on the go – it's your choice. Store them anywhere – your garage, basement, RV, cabin, bug-out bag, or even your car to take them on a trip for easy, nourishing meals.
No More Throwing Away Food (Or Money)!

"Stock up! You need the protein. Not knowing whether there will be electricity or not is why I'm ordering. I'd rather spend hundreds on the Gold Medallion All-Meat Kit than see hundreds of my dollars going to the trash when the meat can't be kept fresh in the freezer."
You Can Make All Kinds of Satisfying Creations With Your Gold Medallion All-Meat
Food Kits Like…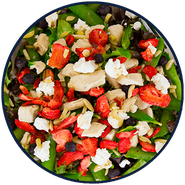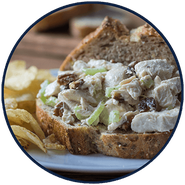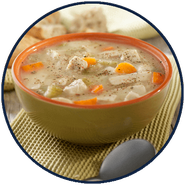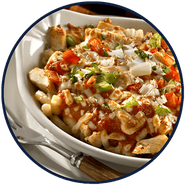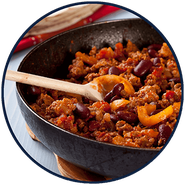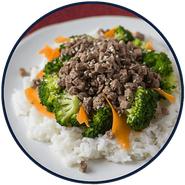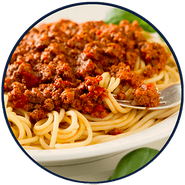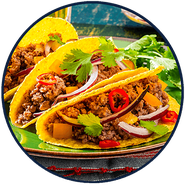 The variety of tasty chicken and beef dishes you can make with your Gold Medallion All-Meat Food Kit is virtually endless!
Worth Its Weight In Gold!

"Protein is very important. My advice would be don't hesitate for one moment. The more energy you expend, the more you need to fuel your body with protein. If you don't, then your body will use muscle tissue for energy.
It's easy to add to a lot of the entrée packages and easy to use every day. Chicken would go great with Frank's Favorite Alfredo or Creamy Rice and Vegetables from the 72-hour kit. The beef can be used in numerous things such as the Chili Mac or Fireside Stew and so many more.
This is one item that sells out a lot, so when it's available, grab it. It's worth its weight in gold and will increase the nutritional value of the meals you use it in."
Lasts Up To 25 Years, But Tastes Like Meaty Cuts From Your Local Butcher
Your freeze-dried chicken and beef is easy to prepare. Just add a little water, rehydrate, and prepare your favorite way – on the grill, in a skillet or in your favorite recipe.

People have eaten meat since the cave man days for all the taste and nutrition it offers. And that's exactly what you'll find with your 4Patriots Gold Medallion All-Meat Food Kits.

Order today and you'll get 136 total servings in each kit you order! Wholesome and satisfying beef and chicken (68 servings of each) to help you survive any kind of crisis.
*25-year shelf life under proper storage conditions. Excess heat and/or damage to packaging may decrease shelf life. For more information, see footnote 2.

4Patriots employee Danielle can't get enough of her delicious Gold Medallion All-Meat Kits…
Staff Favorite: Stock Up On These "Crowd Pleaser" Kits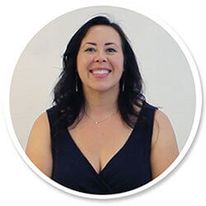 "I grabbed a couple of these kits for my own stockpile. Because the taste is amazing – just like fresh chicken and beef. Unlike most survival meat, the only thing in these packages is real freeze-dried meat. That's why it's such a total crowd pleaser. These kits have sold out before… so that's why I recommend getting at least a couple of them while they're still in stock. You're going to feel good about serving this meat to your family."

By now you're probably wondering…
So, How Much Does This Cost?
It's clear that 4Patriots Gold Medallion All-Meat Food Kits are one of the best, most versatile (and in-demand) survival foods. And that they are an essential part of your reserves.
The problem is, if catastrophe strikes, you might not be able to get any fresh chicken or beef. In a crisis you can't run to the nearest supermarket and pick up fresh food.

Well, the idea of your family missing out just doesn't sit right with us. We want to get as many Gold Medallion All-Meat Food Kits as we can into the hands of deserving patriots like you.

We want to make them available to anyone who wants their family to have enough delicious and nutritious meat in their stockpile.

So now, you can get a Gold Medallion All-Meat Food Kit for only $497.

That's just $3.65 per serving!

And you've gotta admit… for meat that's pretty darn amazing. Less than you'd pay for a greasy fast food burger… and better for you, too!
I Couldn't Find A Better Price

"If you do the math and consider the food amounts in this product, you'll come to the conclusion that this is the best bang for your buck. Meat is important. I couldn't find a better price."
We're Going to Add a Little Something to Sweeten the Pot
To make this offer truly irresistible, when you order 2 or more 4Patriots Gold Medallion All-Meat Food Kits, we're going to add some amazing bonuses!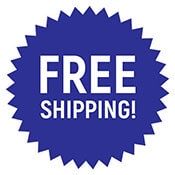 First, we'll throw in FREE SHIPPING with your order of 2 or more kits RIGHT NOW. That's to anywhere in the USA or Canada, FREE! We'll even throw in free shipment insurance, for a little extra peace of mind – no charge.
Next, we're going to do something that'll really put a smile on your face.
We're going to give you a FREE 4Patriots 72-Hour Kit when you order 2 or more 4Patriots Gold Medallion All-Meat Food Kits. Our 72-Hour Food Kits are typically sold for $27.00 each, but it will be yours FREE today.
Each 72-Hour Kit contains 16 servings of survival food good for up to 25 years* of storage. Enough non-perishable food to get through a three-day crisis.+

It's the perfect culinary companion to your Gold Medallion All-Meat Food Kits.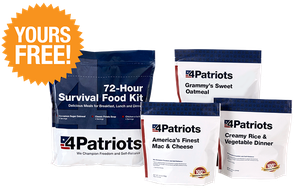 You'll get 4 servings each of tasty meals such as Creamy Rice & Vegetable Dinner and America's Finest Mac & Cheese. And 8 full servings of Grammy's Sweet Oatmeal. Just look at how delicious these recipes are:
Images show multiple servings. Click here for product information.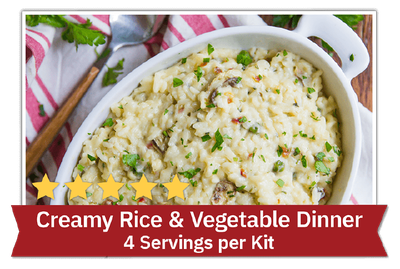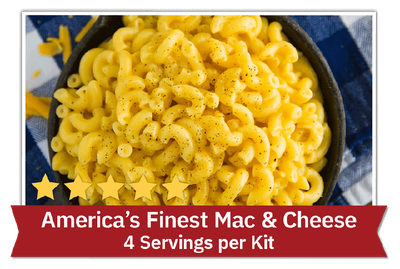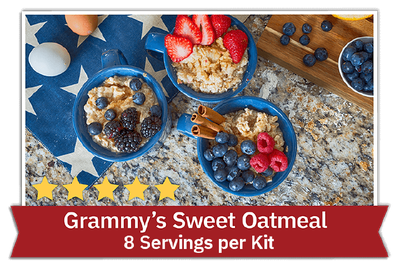 *25-year shelf life under proper storage conditions. Excess heat and/or damage to packaging may decrease shelf life. For more information, see footnote 2.

+ You may want or need more calories per day, especially if you're pregnant, a child, elderly, or have other health conditions. For more information, see footnote 4.
Plus (you're going to love this, folks!)…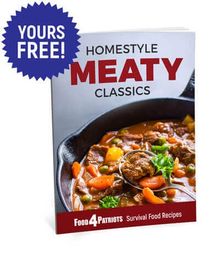 Just to thank you for buying more than one… we're going to throw in our exclusive "Homestyle Meaty Classics" digital recipe book to get you cookin' in the kitchen. You'll get detailed instructions on making mouthwatering favorites like "Southwestern Chicken Bowl," "Steak & Egg Pancake Tacos" and more! Yours FREE with your purchase today.
Be sure to jump on this opportunity folks. Food prices – especially for meat – are going through the roof right now, and we're struggling to keep these kits in stock. Ever since word got out about these freeze-dried meat kits, we've been swamped with orders.
Most customers stock up with more than one kit while they're available – one taste and you'll see why.

Get your 4Patriots Gold Medallion All-Meat Food Kits while supplies last…

We're not sure how long we will be able to offer these important kits at this price, considering the value.

Click the "Add To Cart" button below now, and we'll rush your package to your front door right away!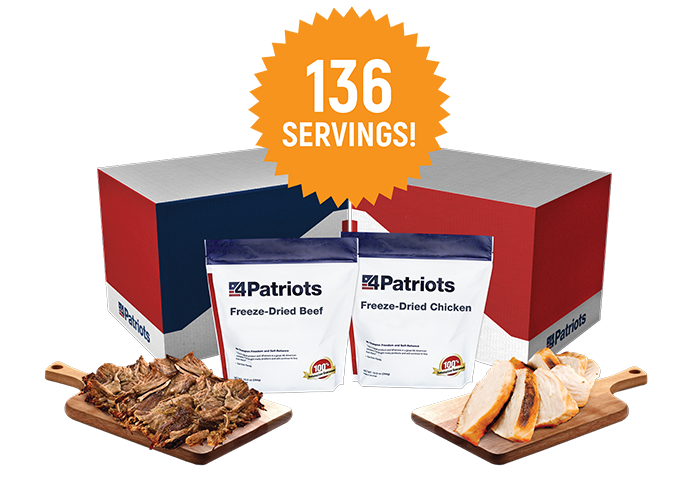 And just to make this a complete no-brainer for you...
You Are 100% Protected by This Outrageous Double Guarantee

Guarantee #1: If for any reason you're not satisfied with your 4Patriots Gold Medallion All-Meat Food Kits, return them within 365 days (that's a full year) from the date of purchase and we'll refund 100% of your purchase price. No questions asked. That way there's absolutely no risk for you. And you can keep the FREE gifts for giving your survival food a try.



Guarantee #2: If you open your 4Patriots Gold Medallion All-Meat Food Kits anytime in the next 25 years2 and find that despite following storage instructions your food has spoiled, you can return it and we will replace it with something of equal or greater value. That's only fair… and it proves how confident we are that this food will remain delicious and nutritious.


Some of our friends said we were crazy to offer this double guarantee. But to be honest we're not worried about it, because we are confident you're going to see the value in your 4Patriots Gold Medallion All-Meat Food Kits as soon as you have them in your hands.
Here's What Patriots Just Like You Have to Say About Our 4Patriots Gold Medallion
All-Meat Food Kits!
2020 inspired Hugh H. to be proactive, so he's adding more options to his food supply:
Perfect For Adding To Any Meal

"I decided to add to my survival food kits with the meat and fruit kits. The way the USA is moving with all the riots and virus, one needs to be prepared!"

Mark loves how the Gold Medallion All-Meat Food Kit has expanded his survival food stockpile:
This Is Extra Hunger Security

"With all the different meals, it's nice to have some add-in meat to stretch the meals out."

Thomas knows it's best to grab some meat while he can:
This Is What You Need When The Grocery Aisles Are Empty

"I've had a prepper mentality for quite a few years, especially since the crash of 2008. And I feel that times are a little more uncertain now. I remember the very recent supply shortages at the start of this pandemic, when panic buying set in. A fight in the aisle over toilet paper! Imagine if the food was scarce?

I did the canned food thing, and you can eat it a while after it's expiry date, but it doesn't last that long, and if you're not really on top of it, rotating and actually eating what you've stored, you'll end up with a WHOLE LOT of food you'll have to throw away, and replace, if you can still find it!

That's when I discovered 4Patriots 25-year survival food. I know I'm supposed to keep it for when, or if, the SHTF, but I've dipped into some of the meals for testing purposes, and IT TASTES GOOD. The packs are full and the bags are very thick and sturdy for long shelf life. I've had other dehydrated food when I've camped out in the boonies, and the packs were thin and light to save weight. They tasted just OK — got the job done, but 4Patriots food packs are better in every way: Taste, Quantity, Packaging, and Big Variety in their selections.

I highly recommend having a supply on hand. I also got a supply of their dehydrated meats (beef and chicken) as meat could really be a problem in a supply crunch. And customer service and shipping has always been great."

Your Peace of Mind is Worth It

"The Gold Medallion All-Meat Survival Food Kit is essential to balance our menu! I am delighted to have both beef and chicken available. I highly recommend these products! My family are meat eaters so these products are must haves!!"
* Real reviews from real customers. Sometimes customers receive a free product to test or as a thank you for submitting honest feedback. For more information see footnote 1.
And folks, it's not just our customers' reviews and testimonials we're proud of…
We're Also Proud to Give Back to Our
Country's Veterans
When you claim your 4Patriots Gold Medallion All-Meat Food Kits today, we'll donate part of the proceeds to charities that support our veterans and their families. Including Operation Homefront, Fisher House, A Soldier's Child Foundation, and Team Rubicon.

Most folks recognize the need to "fill in the gaps" of their survival food stockpile to make sure their family has high-quality food available in a disaster. Claim your 4Patriots Gold Medallion All-Meat Food Kits today and be one of them!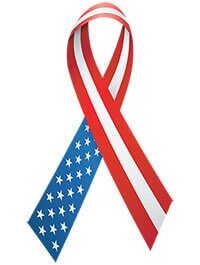 Click the "Add to Cart" button below now, while we still have these in stock.
Before You Go, We'd Like You to Ponder This for Just a Minute…
You don't want to compromise on your family's wellbeing, right?

We just don't know how long we're going to be able to offer these 4Patriots Gold Medallion All-Meat Food Kits at this low price, or even at all…

Survival food supplies – especially for hard-to-find quality meat kits like these – are vanishing before our eyes.

So claim your Gold Medallion All-Meat Food Kits NOW by clicking the "Add to Cart" button. This is about peace of mind, knowing that you're protected in man-made or natural disasters.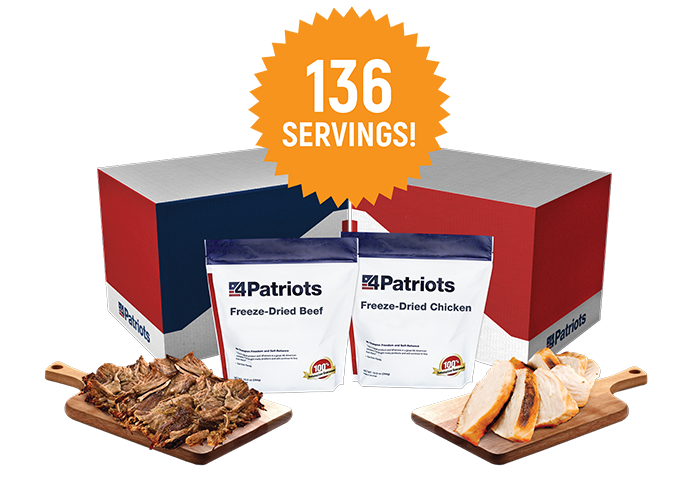 1. All testimonials in this advertisement are from real people; sometimes names and photos have been changed to protect their privacy and some were given free products in exchange for their honest feedback. Testimonials represent exceptional results, don't apply to the average purchaser and are not intended to guarantee that anyone will achieve the same results. The organizations, publications and people referenced on this site are not affiliated with 4Patriots. They have not endorsed, sponsored or recommended this product; no affiliation or endorsement is claimed. Terms & conditions apply.
2. Your survival food is designed to last 25 years on the shelf. Storage conditions impact the shelf life of your food. For best results, always protect your food from heat, air and moisture. Avoid prolonged exposure to temps above 75 degrees F. Keep food sealed until ready to eat. Shelf life will vary based on storage conditions.
3. Mylar® brand is a registered trademark of Dupont Tejjin Films. Dupont is not affiliated with and has not endorsed or sponsored this product.
4. These kits are designed to provide energy and nutrients for one person in stressful emergency situations. They are not intended to be complete caloric replacements during "normal" times. You'll want to make sure you have additional food items on hand so that in an extended emergency you'll be able to supplement your daily calorie intake, nutrients and variety with additional food items available on this site, food you have stockpiled in your pantry, fresh produce from your garden, etc. An average adult needs approx. 2,000 calories per day to meet their energy needs. This kit provides approximately 1,300 - 1,500 calories per day for one person. This may not be enough for optimal nutrition, especially for an extended period of time, or if you're pregnant, a child, elderly, or have other health conditions. In order to supplement your daily calorie intake, to add variety or to provide food for more than one person, we offer a number of supplemental products, including food bars, meat packs, fruit and vegetable packs, etc. By combining our kits with these additional products, you can ensure that you have 2,000 calories per day available to you during emergency situations. We'd be happy to discuss your particular preparedness goals, and to help you select more or less survival food to meet your unique needs. Call 1-800-304-4202 for to speak with our friendly Customer Service team.
5. Heid, M. Time. "What Happens If I Don't Eat Enough Protein?" 2016.
6. Newsmax. "High-Protein Diet Aids Sleep, Weight Loss." 2016
7. Revelant, J. Fox News. "How to prevent muscle loss as you age." 2017.
8. Harvard Health Publishing. "Do you eat enough protein?" 2015.
9. Fox 4. "Store shelves bare ahead of Irma." 2017.
10. Brissette, C. Washington Post. "The nutrient you didn't know you were missing." 2016.
11. Dold, K. Fox News. "The do's and don'ts of protein." 2017
12. Newsmax. "4 Ways to Maximize Weight Loss on a High-Protein Diet." 2015
13. Lean, G. The Telegraph."There's a food crisis coming. Are we ready?." 2015.
14. Harvard Health Publishing. "Protein sources that are best for your heart." 2015
15. Fetters, K. US News. "Older Adults: Double Your Protein Intake for Better Health." 2015
16. Fox News. "10 best foods for muscle growth." 2015.
17. Bains, D. The Telegraph Wellness. "How understand protein can help manage your weight." 2016.
18. Lawler, M. Fox News Lifestyle. "Red meat can be healthy – when you eat it this way." 2017