This Pocket-Sized "Power Plant" Sold Out in 48 Hours!
[Limited Time] Get $40.80 OFF The 4-Pack With This
NEW & Exclusive Deal
"These solar power plants are a Godsend." ★★★★★
Whether it's a freak winter storm, raging wildfire or dangerous blackout…
THIS is your lifeline in a crisis.
It's peace of mind that you can...
Call family and friends in an emergency

Signal for help from first responders

Stay connected to critical weather updates
But please act fast.
Recent events have folks taking stock of their own preparedness plans. And people are realizing that in a crisis…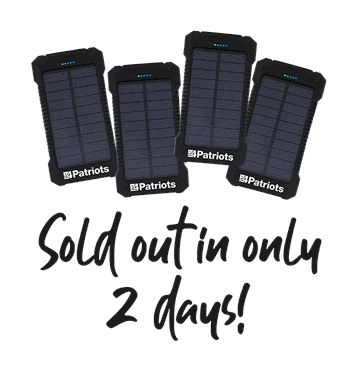 Communication is Critical to Survival
Without power for your phone and other devices, how do you…
Alert emergency responders?

Call friends and relatives to tell them you're safe?

Or call them to see if they're safe?
And the sad fact is, these are the actual questions that many people in Florida had to answer after hurricanes Ian and Nicole blew through.

And it doesn't take a Category 4 storm to get there. We've seen ice storms, wildfires and everyday accidents wipe out power in an instant. Without any warning.

And when a freak ice storm knocked out Texas' power grid, Pam was thankful she could stay connected to family...
I'm Single, 64 Years Old... & THIS Saved My Life

"I live in Dallas, Texas and we just went through the winter storm... and we were in lockdown for days. A lot of us didn't have electricity or water. Luckily, I gave my family members Patriot Power Cells® for Christmas — and I also bought 1 for myself.

This saved my life, really, because I was able to communicate with everybody. I'm single... 64 years old. And it was really important that we all stayed in touch. Thank you for making this!"

We get countless stories just like Pam's. So it shouldn't be a surprise when we tell you...
704,617 Americans Are Using THIS Solar Gadget to Survive a Dangerous Emergency
There's a reason why folks can't get enough of this "weird" power bank that recharges in the sun…
Why 9 out of 10 people buy more than one…
And why — here on this page — you can only get 4 Patriot Power Cells at a time.
If we lift the "cap" — folks will gobble up the entire stock (like before)...
Fits in your pocket

Recharges with the SUN

"Ruggedized" for the elements

Built-in flashlight

[LIMITED TIME] $40.80 off the 4 pack

FREE bonus gifts when you stock up

FREE shipping when you claim 2 or more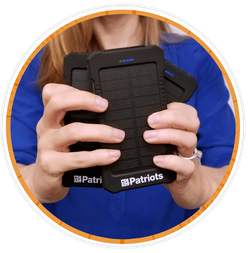 When we first launched this secret solar product in 2017...
We sold out of our test batch completely in a matter of hours.
So for our second run, we doubled our supply to meet demand.
And poof! We blew through 2,717 units in 2 days.
The Patriot Power Cell has gone on to be one of our best-selling products of all-time. Wow!
More than 1,596,9713 units have been sold.
And that was before this solar gadget was featured on FOX News...
As Featured on Fox & Friends

"This thing's amazing, I leave it on the dashboard of my truck so it's always charging because it's solar. It has USB ports on the back so it's like carrying an extra cell phone battery."

And folks keep coming back for more…
I Just Bought 4 More After Texas' Freak Ice Storm

"Texas got hit with a severe winter storm. Power was knocked out for 40 hours at our house... and while we had shelter and food, we were unsure about our way to communicate with family and friends.

The Patriot Power Cell helped us alleviate those fears. Plus, I have an older cell phone that won't hold a charge. And with my Power Cell I was able to charge it 3 times off of this little device. I even let me neighbor borrow it to charge some of his equipment.

This is a lifesaver. I won't leave home without it!"
* Real reviews from real customers. Sometimes customers receive a free product to test or as a thank you for submitting honest feedback. For more information see footnote 1.
JC was a hero to his neighbor in the storm. And now you can be, too.
And there's never been a better time to stock up because…
[Limited Time] Save $40.80 On Your 4-Pack Of Patriot Power Cells
With global conflict, inflated prices & expensive fuel…
Nobody wants to pay more than they have to.
Most customers already get a solid bulk discount when they grab the best deal. But, in times like these, that's not enough.

So for a limited time, we're doubling your bulk discount when you claim the 4-pack of Patriot Power Cells (like most customers do). It's our way of rewarding you for taking your self-reliance into your own hands.
There's only 1 catch. We don't know how long we can leave this exclusive price point up. It's only on this page.
Click the "Start My Order" button below to claim your 4-pack at this exclusive price.
Patriot Power Cell: Backup Power
& Light That Charges From the Sun!
The Patriot Power Cell is an amazing backup-power device that fits in your pocket.

You can use it to charge your cell phone, tablet, or GPS unit… which is critical in the event of a crisis.

Most importantly… it can power itself with free energy from the sun!
Exclusive $40.80 Discount
Expanded FREE gifts
Bulk Discount!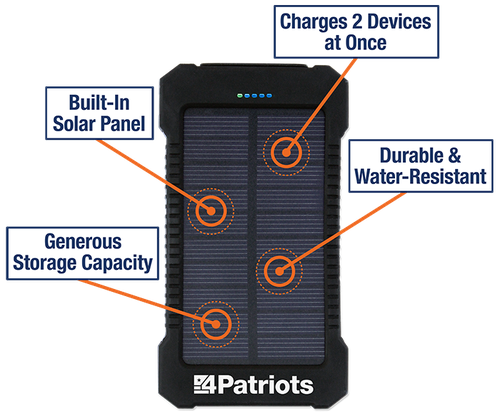 And here's just a few things the Patriot Power Cell delivers, to keep your phone on and your family safe.
Impressive Capacity
The lithium-polymer battery inside your Patriot Power Cell stores 8,000 mAh. It can re-charge a smartphone up to 6 times on a single charge, depending on the model!*
*Battery performance varies based on charging and usage conditions. For more information, see footnote 2.
Charge for FREE Using the Sun
There's a perfect 5-inch solar panel built into the unit. If you're without electricity, you can recharge wherever you have sunlight.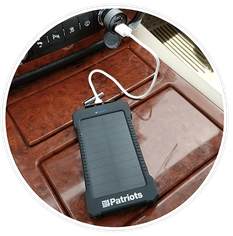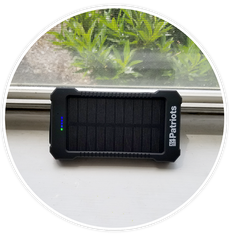 Solar charge at home on your windowsill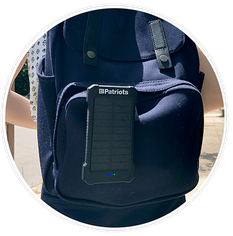 Solar charge on your backpack

"Fast Recharge" with Any USB
Or "juice up" your Patriot Power Cell in no time with the included USB charging cable. No tech knowledge required. Simply plug it in to any USB port: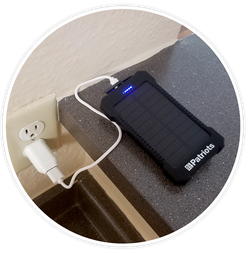 Recharge with any USB port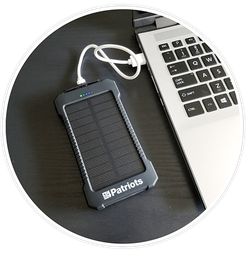 *Battery performance varies based on charging and usage conditions. For more information, see footnote 2.

Works for Any USB-Compatible Device
No specs to check or cords to buy – the Patriot Power Cell works with any USB-compatible device. Simply use the cord that came with that device.
Phones — iPhones, Samsung, etc!
Tablets
E-Readers & Kindles
GPS Systems
Personal Cooling Fans
Cameras
Handheld Games
Music Players & iPods
Bluetooth Speakers
Radios
LED Lights
And much more!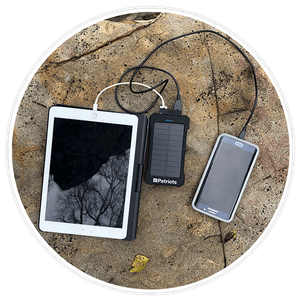 Works with any device that charges via USB!

Easy to Use
An LED-light meter shows how much power you have stored in your Patriot Power Cell. Each light marks a 25% battery capacity. When all 4 blue lights are lit, you're fully charged.

And it works with your existing USB charging cords. So you won't have to scramble to find special equipment.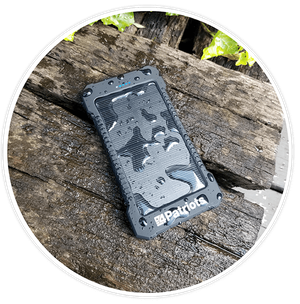 IP67 Water-Resistant & Durable
Waterproof rating IP67 stands up to splashes and rain. Rubberized exterior protects against drops.

We've dumped it on rocks, plunged it in ice water, and thrown it in the snow. The Patriot Power Cell still works!

Dependable & Long-Lasting
Known for its safety, this lithium-polymer battery passes TSA regulations for carry-on batteries. You can take your Patriot Power Cell with you when you travel.4

And it's reliable, too. You can charge it up and drain it down about 500 times — wow!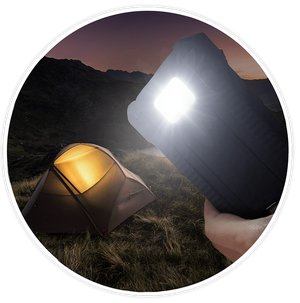 Super-Bright LED Flashlight
There's a 2-LED flashlight built right in. So you can see your way clear, even when the lights go out. Ideal for roadside safety. An S.O.S. flasher option can "sound the alarm" for first responders.

Built Tough to Survive the Elements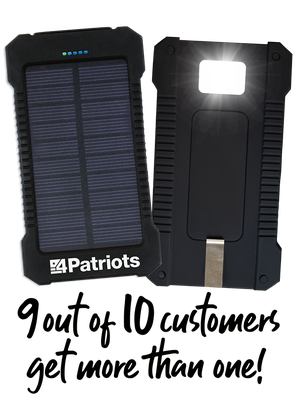 Your Patriot Power Cells fit in your pocket or purse… and it's durable enough to take a beating.
Ruggedized "no-slip" design

5" deluxe crystalline silicon solar cell

"Easy clip" attachment hook

Weighs less than 7 ounces

Only 5.4" L x 2.9" W

2.1 Amp max output
Keep Your Phones ON… Even When the Power's OUT
The Patriot Power Cell could save your bacon in a crisis. But it's so handy… some customers use it every day!
You'll love having your Patriot Power Cell:
• Traveling
• Camping, hunting & fishing
• In your glove box
• On road trips & in RVs
• During power outages
• At home
• At sporting events
• In an emergency
It's no wonder it's so popular! Click the button to order now and get your exclusive bulk discount and FREE gifts with your "BEST Deal" order.
That's why 9 out of 10 people buy more than one. The Patriot Power Cell makes a great gift for...
Seniors
Students
Busy parents
Friends & neighbors
Outdoorsmen
Audiobook enthusiasts
Preppers
Even our "men in blue" vouch for this little gadget...
Real Reviews From Real Americans
Tony is a police officer in Arizona. He loved his Power Cell so much, he got three more for his own family!

And on the job, Tony shared his Patriot Power Cell with another officer, so they could stay connected. Check it out:
* Real reviews from real customers. Sometimes customers receive a free product to test or as a thank you for submitting honest feedback. For more information see footnote 1.
And then there's Craig… a former cop who put the FREE Patriot Power Cell we sent him through the ringer. To make sure that it would be there for him when he needed it.

Ice water? Drops? YES!! The Patriot Power Cell still works.
* Real reviews from real customers. Sometimes customers receive a free product to test or as a thank you for submitting honest feedback. For more information see footnote 1.
Isn't that incredible?

Craig was so impressed — he got a Patriot Power Cell for his wife, too.
Cassie in Placerville, Calif. bought her Patriot Power Cell to be ready for a blackout. But she saw how valuable it could be when she took it for a test run at Disneyland — and it worked all day!

Take a look...
Drop Proof + Splash Proof - Perfect for Family Trips!

"You can create an initial charge using electricity from your house or even your car. You can also recharge the device using the power of the sun which is pretty dang cool.

It would be helpful in many situations not just in survival situations. I did enjoy that it charges by the sun and it's durable and waterproof. There were a few times it got dropped and I wasn't terribly concerned that it was going to break.

Yes, I would definitely recommend this. It's great for families that are going to go on a trip to a theme park or just a trip. It's pretty handy."

And just wait until you see what the Patriot Power Cell can do for YOU...
This Isn't Your Ordinary Backup Battery
Look at how the Patriot Power Cell stacks up against those "phone case" back-up batteries…

It's not even a fair fight!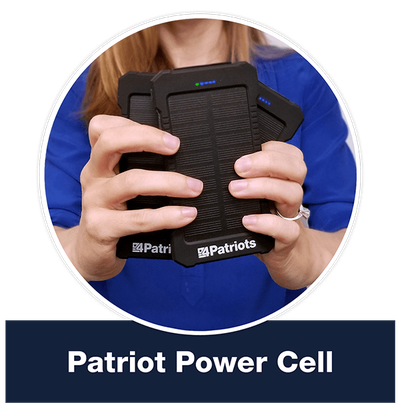 Jodie from Louisiana was so thankful to have her Patriot Power Cell during Hurricane Ida in summer 2021...
A Major Godsend After Hurricane Ida!

"Before the storm even really hit, my power went out. If I didn't have this, I would have never been able to get a hold of my daughter and find out if they were ok. I was a little bit skeptical when I bought it, but I was so happy I did."
People Rave About Their Patriot Power Cells…
Over the last 4 years, 606,137 customers have trusted 4Patriots survival products.6

And according to our numbers, 97% are happy customers. Plus, a third of our customers come back and order more. Folks are happy – and the numbers show it!5
Just listen to what these customers had to say.
* Real reviews from real customers. Sometimes customers receive a free product to test or as a thank you for submitting honest feedback. For more information see footnote 1.
This picky tech reviewer liked his Patriot Power Cell so much, he called it a "total win:"
Impressive - Even for BIG Phone Batteries

"You can charge 2 devices. I'm a professional tech reviewer so I have multiple phones — 4000mAh and 3400mAh size. I used the Patriot Power Cell as my main mode of charging for an entire weekend. With all my apps running, I was still able to get 40-50% of a charge on BOTH phones in 1 hour. I was impressed by the way that it charged up the batteries.

The one thing that I can't stress enough though… is being prepared for an emergency situation. 4Patriots has a lot of cool stuff for helping you be prepared. Emergencies happen and that's the way it is.

As far as the Patriot Power Cell goes, it's a total win. I would recommend it to friends and family. It's an all-around good product."*

And Linda depends on her Patriot Power Cells above ALL her other "survival gadgets"...
THIS Worked When ALL My Other Survival Tools Failed Me

"I am very much in favor of getting a 4-pack of these Patriot Power Cells. I was driving... it was dark and I was in a strange area. My GPS, car charger, my phone ALL failed me. My 4Patriots Patriot Power Cell WORKED.
I depend on my solar charger now. And highly recommend you grab a 4-pack!"*
* Real reviews from real customers. Sometimes customers receive a free product to test or as a thank you for submitting honest feedback. For more information see footnote 1.
Don't you want to be prepared in an emergency... like Linda?
Well of course! And you don't have to spend a fortune to do it, either.
These Power Cells are on a 100% First-Come,
First-Served Basis
We'd like to help as many people as possible enjoy the peace of mind that comes from having a solar power plan in place.

That's why you'll get a bulk discount, FREE GIFTS and FREE Shipping & Handling when you stock up.

We've stocked up & are ready to meet the demand.

But remember: they are custom made just for us. And each batch is carefully tested at our warehouse in Utah, to make sure that they're perfect for you.
You won't find Patriot Power Cells in Wal-Mart. You can only get them here.
The 1 Problem With the Patriot Power Cell
There was 1 surprising "complaint" that we got about these mini solar power plants.

It was that many of our customers want communication security for their WHOLE family. Not just for themselves.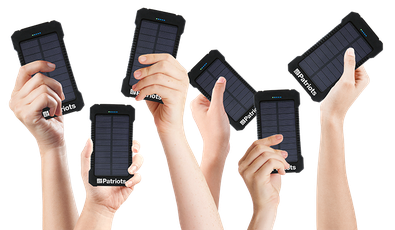 Well... we can certainly understand that request. Maybe you can, too.

So today you can get up to 4 Power Cells at this low price.

Each Patriot Power Cell charges 2 devices at once. So that means you can get comprehensive communication protection for up to 8 devices today. Backup power for yourself... and a few other people, too.
After all… you never know where you'll be when an emergency hits. Or how many people you'll be with! So it's best to err on the safe side when it comes to stocking up.
Especially if you have a spouse, kids, or grandkids.

In a crisis, you'll want to be able to communicate with all of them.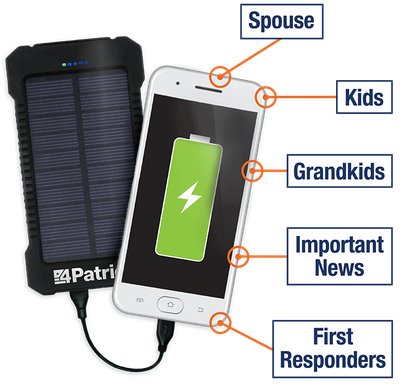 Frankly, every family should probably have more than 4 Patriot Power Cells... to be totally ready for whatever crisis could come.

Again, most customers claim more than one Patriot Power Cell. To stash in their RV, cabin, backpack or handbag. Or to give to friends and family. Young or old — people are sure to appreciate these Patriot Power Cells.
Backup power for your phone/tablet means keeping little ones entertained without draining your battery.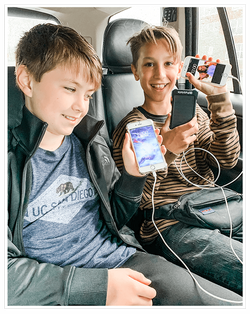 Here's How to Get Your Hands on Patriot Power Cells Today (at Significant Savings)
So at this point you've seen the benefit of having these "personal power plants" on hand, ready to support you in an emergency.

You've seen how they recharge with the sun…

How they power 2 devices at once…

How easy they are to use in your everyday life...

And how a connection to loved ones and first responders could make all the difference in an emergency.

It's no exaggeration to say that 4Patriots Patriot Power Cells are one of our most popular products. People love the peace of mind they get from having them around.
Think about what it would be like to reach for your Patriot Power Cells after an earthquake, hurricane or flood…
To call your spouse, kids or grandkids… to hear their voice in a time of stress

To comfort your racing mind... knowing that your loved ones are safe

To check the news for critical updates

To have enough phone battery to reach first responders

To have critical light and communication when the power goes out
This doesn't have to be wishful thinking.

With your Patriot Power Cell... portable power security is entirely within reach.
And chances are good that you'd pay a LOT for a backup power source like this during a crisis.

Heck… you'd probably pay whatever you could to call and talk to your loved ones when faced with the worst.

And yet despite all the money that you'd gladly spend in that moment…
What Would You Rate Your Emergency Plan Right Now, On a Scale Of 1-10?
If you're being honest, would it be a 3… or a 5? Even a 7?

No matter what number you came up with, there's a great chance that adding a few Patriot Power Cells to your plan means you can...

Breathe easy... knowing that you'll have MORE power and light in an emergency. And feel confident… knowing that you'll STAY powered up in a true crisis situation.

The longer you can sustain yourself and your family, the better.

The more Patriot Power Cells you have access to, the more power you'll have. And the more security you'll feel.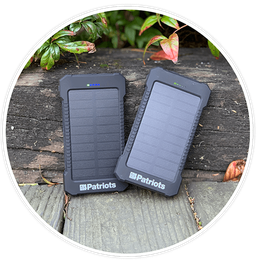 So given all of this… we could charge a small fortune for these potentially lifesaving power cells.
But Here's the Great News…
Right now, and only on this special website…

We're offering these breakthrough Patriot Power Cells for much less than you might expect.

So when you order 4Patriots Patriot Power Cells today,

You can get a single Patriot Power Cell for only $29.95 plus shipping.
That means that even if you only use it 6 times and never touch it again… you'll have a backup power plan for only $4.99 a pop.

And that's still just the start.

Because you'll want to get enough communication security for everyone you love...

Because of how popular these portable power cells are…

And because the more you have ready, the more secure you'll feel…

We strongly recommend you stock up on as many Patriot Power Cells as you can.

That way you'll feel confident knowing that your communication is protected. No matter how many people you need to reach or how long you're without power.

And to make loading up on Patriot Power Cells an easy and affordable decision, we created a special multi-unit discount package.

When you stock up on our Best Deal and get 4 Patriot Power Cells today… you'll get bulk discount pricing... FREE gifts… and FREE Shipping & Handling too.
But this collection of FREE gifts is only available on this website.
YES! I Want My Limited-Time Bulk Discount & FREE Gifts!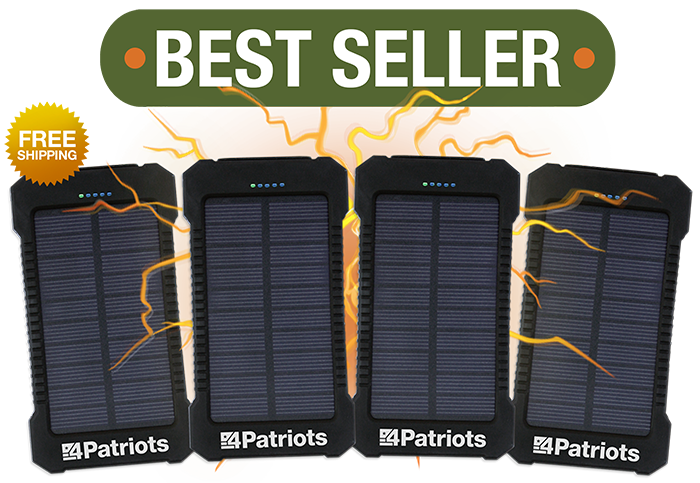 UPDATE: This Deal Just Got Even Better!
Select the BEST DEAL Package Today &
Receive 8 FREE Gifts Including FREE Shipping

Now to help make stocking up a complete no-brainer for you…
Your FREE Bonus Gifts are the Perfect Complement to Your Patriot Power Cells
Exclusive FREE Gift #1:

"Stock Up & Save" Bulk Discount ($40.80 Value)
Look, we know how important it is for you and your family to have access to critical backup power.

That's why we're offering you a special Stock Up & Save Bulk Discount when you claim 4 Patriot Power Cells today.
Yes... we know that these solar power banks sell themselves.
But it's only fair that our best customers get the best deal.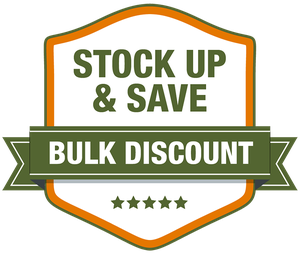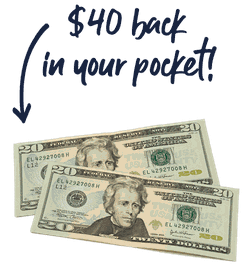 So we'll give you another $40.80 OFF your 4-pack today. That's more than $10.00 off each one — WOW!

There's no coupon code to remember or fine print to read. We just really appreciate you trusting us with your business today. And we thank you for supporting an American company like ours.
That's why you'll also get...
Exclusive FREE Gift #2:

A $25.00 Certificate
You'll get a FREE $25 Certificate that you can redeem on any future 4Patriots purchase of $100.00 or more. Use it to get best-selling survival food, solar gadgets and SO much more!
And after all, it's the right thing to do. You're already paying for rising prices all over the place. You deserve a real discount (and a little help with your preparedness plan).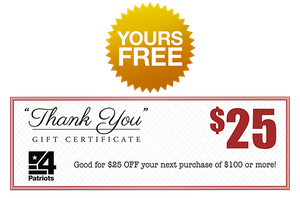 But we wanted to sweeten the pot even more. So when you claim your Best Deal of Patriot Power Cells, you'll also get…
Exclusive FREE Gift #3:

FREE Lifetime Access to Power4Patriots ($9.45 Value)
Next up, you'll get one — the Power4Patriots Energy Independence System — FREE with your Best Deal package today.

Power4Patriots is a simple, step-by-step system for reducing your dependence on our crumbling Power Grid.

And for cutting your power bills, right along with it!
You can't find this deluxe 10-piece digital program in your local bookstore or on YouTube. It's exclusive to 4Patriots customers. With it, you'll learn how to…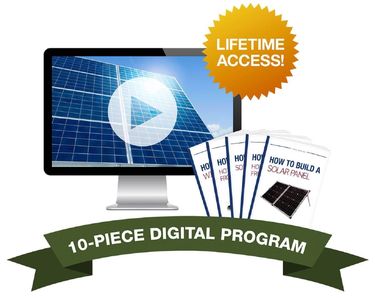 Build DIY solar panels even German engineers would envy…
And for a fraction of the cost. We'll tell you how to avoid the 1 costly mistake that could compromise your whole system…
(see page 11)

Harness hundreds of watts of FREE wind power...
Build a wind turbine at home with this simple tutorial. There's just 1 simple step you can't skip...
(you'll find it on page 18)

Supply your entire family with hot water… without fuel or flames
You don't need an advanced engineering degree to make your own solar water heater — as long as you have this tutorial. Turn on your videos… grab some pipes… and you'll be taking a hot bath in no time.
(page 21)

And much more!
And it's delivered via video AND in written digital form, so that you can both see and read this valuable information.
Lifetime Access to Valuable Video Courses:
Your access to these 5 video programs never expires. And there's no downloading required. You can watch your videos right on your computer or phone anytime you want. Almost 3 hours of hands-on footage, on demand!

204 Pages of Companion Content:
To make sure that you're fully covered… an illustrated PDF manual accompanies each video. You can print them at home and have everything right at your fingertips anytime you need it.
We've sold 134,124 Power4Patriots systems at the everyday price of $27.00. And it's a worthy investment at that price. But you get yours FREE as a thank you for stocking up.

And so that you're prepared for anything, you'll also get…
FREE Gifts #4, #5 and #6:

FREE Preparedness Plan Digital Guidebook Collection ($19.95 Value)
The perfect complement to your Power4Patriots system! You'll get 3 "starter pack" guidebooks delivered right to your email. That way you can get started on your Preparedness Plan right away, even if it's 3 a.m.
FREE Digital Report: Disaster 101
This "no-BS" manual helps you prep yourself and your family for an emergency.

You'll get everything you need to start preparing for the unexpected. Including evacuation tips, first-aid basics, food-storage recommendations… and more!

FREE Digital Report: The Water Survival Guide
Clean water is a critical part of any survival plan. This guide shows you how to source, store and collect water in an emergency.
FREE Digital Report: Intro to Solar Cooking
If you find yourself without a stove you'll be glad to have this solar cooking field guide onhand. Build your own solar cooker with cardboard and aluminum foil using these instructions. Then add sun!

You'll also get...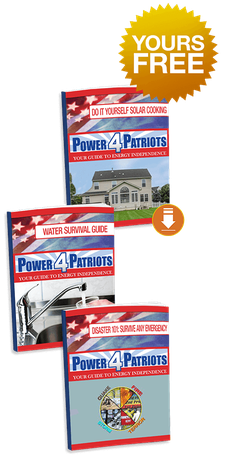 FREE Gift #7:

FREE Shipping & Handling ($9.95 Value)
Select the Best Deal on your Patriot Power Cells today and you'll get FREE Shipping & Handling for your entire order.
Shipping all these Power Cells via premium carrier isn't exactly cheap. But we want you to know how much we appreciate your business. So we're going to take care of the shipping and handling for you.
And last but not least, you'll get...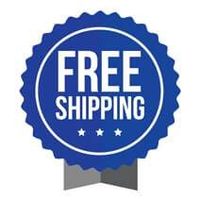 FREE Gift #8:

FREE Lifetime Technical Support
And if you act now, you'll get something FREE that most companies charge an arm and a leg for. Simply to prove how much confidence you can have in this product. You'll get FREE reliable and knowledgeable technical support for the life of your Patriot Power Cells.

Call us anytime and ask anything you want about your power cells. No question is too small or too big for our amazing USA-based Customer Service team. Lisa, Corrie, Ray and many others are standing by waiting to help YOU enjoy your purchase for as long as you own it.

Our customer service team is made up of real people – Americans. We truly care about you and your purchase, and we are willing to stand behind that promise. In our view, that's part of doing business the ethical way. The American way.
Click the orange "Start My Order" button now, and we'll add all your bonuses to your order right away.
FREE Surprise Gift
Exclusive Access to Mini Series: How to Survive a 30-Day Blackout
With Former Navy SEAL Sniper Cade Courtley
Be a survivor, not a statistic. And in this exclusive 2-episode series — former Navy SEAL, Cade Courtley, shows you how to prepare.

The top 5 solar gadgets you need… (hint: your Patriot Power Cell is 1 of them!)

How to make your perishables last

3 ways to stay "sane" when stuck inside

Exactly how to ration your food + water

And so much MORE!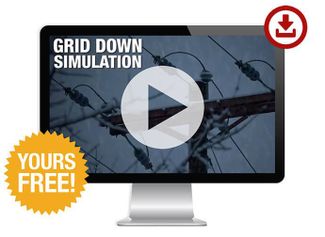 This critical information is all yours… completely FREE. When you claim your Patriot Power Cells today!
YES! I Want to Protect Myself & My
Family With Patriot Power Cells Today!


And you won't risk a thing by trying out your Patriot Power Cells thanks to…
An Outrageous Double Guarantee so This
is 100% Risk FREE for You
You should be 100% happy with your order or you shouldn't pay a penny. You'll get a 100% money-back satisfaction guarantee for 365 days with no questions asked.
Guarantee #1
100% Money-Back Satisfaction Guarantee
If for any reason you're not satisfied with your 4Patriots Patriot Power Cells, just return them within 365 days (that's a full year) of purchase and we'll refund 100% of your purchase price. No questions asked. That way there's absolutely no risk for you.
Plus, you'll get a FREE 2-year extended warranty on every Patriot Power Cell you purchase. We're that confident that your Patriot Power Cell will stand the test of time and will be there when you need it.
Guarantee #2
2-Year Extended Warranty
If anytime in the next 2 years your Patriot Power Cell fails to hold a charge due to defects in materials or workmanship, send it back with a 1-page note explaining the problem. We'll ship you a brand-new one FREE! No charge for parts, service or labor. Your Patriot Power Cell will be as good as new, because it will be new.
This outrageous double guarantee makes your purchase 100% risk-free. We stand behind the Patriot Power Cell and we are confident you're going to love it!

But don't take our word for it… here's what Patriot Power Cell customers have to say:
Raving Reviews From 4Patriots Customers!
When you claim your Patriot Power Cells, you'll not only get a personal power plant that fits in your pocket… you'll also get tremendous peace of mind.

Like these customers did…
Don't Hesitate… Buy NOW!

"This power cell is great!! If you've seen these before and you're still just thinking about getting one. Don't even hesitate. I did that too. But I bought the 4Patriot's Patriot Power Cell to try it out & I love it. I'll likely get at least 1 more of these soon. I highly recommend this to you!

Don't be deceived. I found one in a catalog of another brand, for the same price, supposedly with 12,000 milliamp hours capacity. But you could tell from the picture that it's thin & cheaply made. It's also not highly water resistant either. I know someone who ordered this "other brand" & they're disappointed with it because within a month it malfunctioned & was smelling like it was burning. It also wouldn't reach its full capacity. Just be careful.

I've had this one from 4Patriots for a little over a month. No problems. Thanks!"
"What Are You Waiting For?"

"This is a very handy product. What if you are traveling, staying in a motel room and you forgot your phone charger at home?

If you have this Patriot Power Cell, then it's not going to matter because you can charge two devices at the same time. I bought one and it's been the best product that I had the privilege to invest in.

It doesn't take long to FULLY charge my phone. Or the external speaker I have to charge up. So, stop thinking about it or talking about it, this is a great product that you are most certainly going to be VERY satisfied with."
* Real reviews from real customers. Sometimes customers receive a free product to test or as a thank you for submitting honest feedback. For more information see footnote 1.
Can you picture how good this security and independence will feel?
Your Purchase Supports Those Who Serve
When you claim your Patriot Power Cells today, we will provide meaningful support to important charities that help American veterans and their families.

Including Operation Homefront, Fisher House, A Soldier's Child-Foundation and Team Rubicon.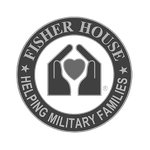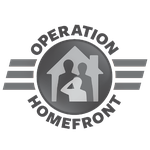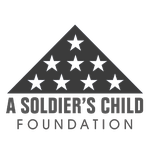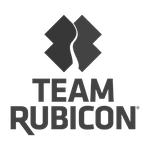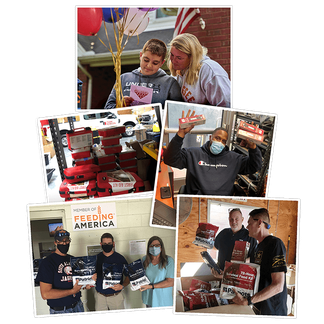 In fact, 4Patriots and our affiliated brands have donated more than $975,000 in cash, plus truckloads of life-saving products and countless hours of volunteer service by our employees since we founded the company. And the numbers keep growing! In 2022 alone, we donated "$1K a Day" for a total of $365,000 by year's end.
You can feel good knowing that you're supporting our veterans while getting the peace of mind that comes from having a backup power source at your fingertips.
An American Company You Can Count On
4Patriots headquarters are in Nashville, Tennessee.

Here's a recent snapshot we took at the office here in Nashville so you can see we're real people – Americans! Not some 800 number routed to a foreign call center.

With us, you'll only be dealing with Shane, Corrie, Lisa and other good folks right here in the USA. People who own and have used 4Patriots Patriot Power Cells themselves. And who know the product inside out.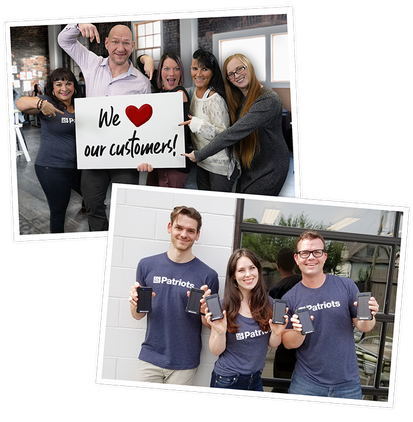 Now don't worry, there's no pressure to claim your Patriot Power Cells. In fact, if you don't want them, you can step aside. No hard feelings. There are plenty of other people dead set on preparing right now. Who see the need to act fast.
It's Up to You Which Way You Go
If you're ready to take charge and look out for yourself and your family, then click on the button below. You'll be glad you did.

This is about peace of mind, knowing that your communication is protected in man-made or natural disasters.

Don't you deserve this?
To get your Patriot Power Cells rushed to you right away… plus your FREE Power4Patriots system and FREE Preparedness Plan Digital Guidebook Collection… click the big button below.

When you order you will instantly receive an order confirmation. We will rush your order to you and you'll get a shipment tracking number as well.

You can get started risk-free because you're backed by a 100% money-back satisfaction guarantee for 365 days. It's like trying it before you buy it.

And you'll get added protection with your 2-year extended warranty. Good for a full two years from today.

Claim your 4Patriots Patriot Power Cells and your FREE gifts now. You'll be glad you did.

Don't wait. The next time you see this page, your limited-time discount could be gone. Click the "Start My Order" button below.

Put Your Family First & Get the 4-Pack!

"I purchased the four pack so I could keep one and give one to each of my three ( 3 ) daughters. Using the solar ability assured that each one of them has an alternate power source for when necessary.

It already worked for one ( 1 ) daughter during a recent power outage. She was able to stay 're-charged' to let us know she was safe!"
Stock Up While You Can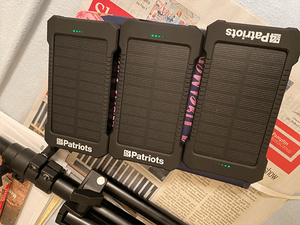 "This is the most brilliant product I have ever experienced! You put them in the light to charge and they hold tons of power for lots of charging hours! I cannot say enough about these chargers other than if you don't have them, stock up! They are amazing!"
* Real reviews from real customers. Sometimes customers receive a free product to test or as a thank you for submitting honest feedback. For more information see footnote 1.
1. All testimonials in this advertisement are from real people; sometimes names and photos have been changed to protect their privacy and some were given free products in exchange for their honest feedback. Testimonials represent exceptional results, don't apply to the average purchaser and are not intended to guarantee that anyone will achieve the same results. The organizations, publications and people referenced on this site are not affiliated with 4Patriots. They have not endorsed, sponsored or recommended this product; no affiliation or endorsement is claimed. Terms & conditions apply. Cade Courtley is a former Navy SEAL who served 9 years of active duty and has been compensated by 4Patriots for his hard work in helping us test and endorse products.
2. Battery performance will vary based on your charging and usage conditions, including discharge rates, cord and voltage-conversion efficiency, testing conditions, temperature, and age. Capacity falls in the 8,000 to 8,500 mAh range. Always follow storage and use instructions.
3. Sales data and image based on March 2018 inventory report.
4. TSA. (n.d.). Lithium batteries with more than 100 Watt Hours. Lithium batteries with more than 100 watt hours | Transportation Security Administration.
5. 96.6% of customers do not return their products or request a refund. More than 30% of customers make a second 4Patriots purchase.
6. 4Patriots customer count from 2018-2022.