This Nearly Endless Energy Source Could Save Your Life
This Solar Generator is "Worth Its Weight in Gold" — Safe to Use Inside & Never Needs Gas... Ever!
When Jim and his family lost power...
And their neighborhood plunged into darkness…
People began to panic.
Jim's family looked to him for a plan. For keeping their lights ON — and for keeping them SAFE.
Luckily, he was prepared to protect himself and his family.
Because he had a "next generation" solar generator that's powerful, portable, safe, silent... and 100% fume-free.
Jim said this 1-of-a-kind generator is worth its weight in GOLD!
And thanks to his preparedness, his family "powered through" when their whole world went dark…
"A freak lightning storm hit... taking down the local power. The electric company had no estimates on when the power would be back up.

I pulled out my Patriot Power Generator... and immediately connected my fridge and a light. Then 4 cell phones to keep them charged.

The power came on after 6 hours. I left the Patriot Power Generator running to see how far it would go. It ran for another 7 hours before the low-charge alarm sounded. My family was very impressed and don't doubt my "survival prep" now! Thank you for a wonderful, easy-to-use product!"

Imagine being prepared to protect YOUR family in a blackout — just like Jim.
Your home could be an island of light and warmth… even when it's dark everywhere else.
Your generator will be a source of comfort and strength in the storm.
You'll feel like a hero. Because you'll be a hero.
And with more wild weather and dangerous disasters in the news every day, you've got to ask yourself...
Are YOU Ready for Blackouts?
Because right now...
The Patriot Power Generator is in stock and ready to ship from Utah, USA. And you can claim yours with our easy, monthly payment plan.
People can't believe that this lightweight solar generator…
Charges for FREE in the sun

Fume-free, silent and SAFE to use indoors

Powers your fridge, freezer & medical devices

250+ customer reviews

13 FREE gifts including FREE Shipping & Handling

Easy monthly payment plan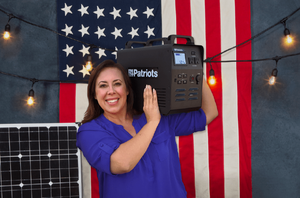 Click the button below and get your solar generator, FREE gifts and FREE shipping — all on our monthly payment plan.

This little workhorse of a generator is so popular...
Our first run of 500 solar generators sold out in 11 days.
Our second run sold out in 12 days.
And everytime we got more in stock, we'd sell out again.
Even now… customers buy 2 or 3 at once!
But the fact is, it doesn't take much to send us into backorder. And the last thing we want to do is to turn people away — like we had to do before.
Especially now that FOX News featured it...
As Featured on FOX & Friends

"It has a battery inside. You can charge it with electricity or — what's really cool — with a solar panel that comes with it for FREE."
But Here's What Surprised Us the Most...
Getting our hands on more solar generators isn't as easy as you might think.
It takes 3 to 4 months from the day we order until we receive more units. And we test each solar generator by hand at our warehouse in Utah.
So if we run out, it takes months to build up enough "safety stock" to handle another spike. Be it from a sale, a natural disaster, a political election, or other newsworthy events.
The good news is that if you're reading this letter right now, we have at least one generator in stock.
If you've missed out before, now's your chance.
And good news…
Due to the overwhelming interest in this advanced solar technology, our solar engineers have been hard at work. Preparing the latest batch of these best-selling solar generators...
That's more powerful and better than ever.
And if you're one of the lucky customers who claims one today, you'll also get…

13 FREE Gifts
Today you'll get an incredible deal on the Patriot Power Generator 1800. Plus you'll get 13 FREE bonus gifts, including FREE shipping & handling. Keep reading to claim yours!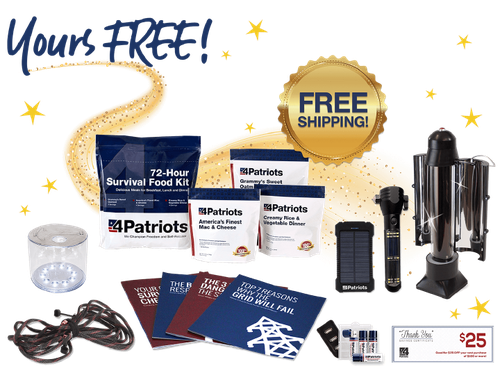 But look…
We don't have much time.
When word gets out about this solar-powered powerhouse — plus the FREE gifts and FREE Shipping & Handling...
There could be a mad rush on these solar generators.
And whether we like it or not, we may have reasons to need them.
Dangerous Blackouts Could Happen at Any Moment
Every year, tens of millions of homes in North America lose power for hours, days or even weeks.

And as a nation… most people aren't adequately prepared.
Americans have become so dependent on our electrical supply... that when it suddenly fails, we panic! People forget how to function until the lights come back on.

And severe weather and natural disasters occur more frequently every year. Our electrical grid simply can't keep up.
Every day the aging grid is more vulnerable to weather, the growing stress of our population or even… a manmade attack.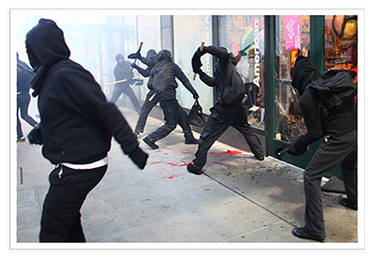 Rest assured — the results would be devastating.
The Simple Fact is That EVERYTHING
Would Just... STOP
Massive blackouts aren't just "inconvenient."
Appliances become useless. No computer, no way to charge your phone.
Food spoils quickly. Traffic lights go down. And gas stations can't pump!
When blackouts hit, stores will sell out of critical supplies in hours. What then?
Medical devices stop working. ATMs give you a blank stare.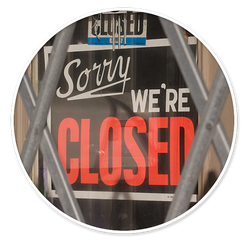 Those who haven't prepared ahead of time could sit helpless in the dark and cold. Or if it happens in the summer… instead of freezing, they swelter instead. Either way, children and seniors would suffer first.
When it Comes to Backup Power,
Choose Wisely
Sure, you could get a gas generator. But they make a TON of noise — and draw unwanted attention when discretion is a must.
Plus, storing fuel is dicey. Gas stations could sell out. And the fumes are dangerous.
Your power source needs to be lightweight, fume-free and whisper-quiet, so that it doesn't attract attention.
Most important, you need to be able to recharge it again and again… for FREE.
So What's the Answer?
The answer is harnessing limitless and FREE energy from the sun, with a portable solar-powered generator.

Think about it... letting go of the worry of what will happen to your family during an outage... and never again being at the mercy of a crumbling, weak, and unreliable power grid!

You need to take action to protect yourself and your loved ones NOW.


That's exactly why we're pulling out all the stops.
Our mission is to champion freedom and self-reliance… and to help you declare your Power Independence.
The Patriot Power Generator 1800
A "Magic Bullet" That Powers the BIG Stuff (Like Your Fridge)...
There's a reason why the Patriot Power Generator is known as the "magic bullet" that protects you from dangerous power emergencies.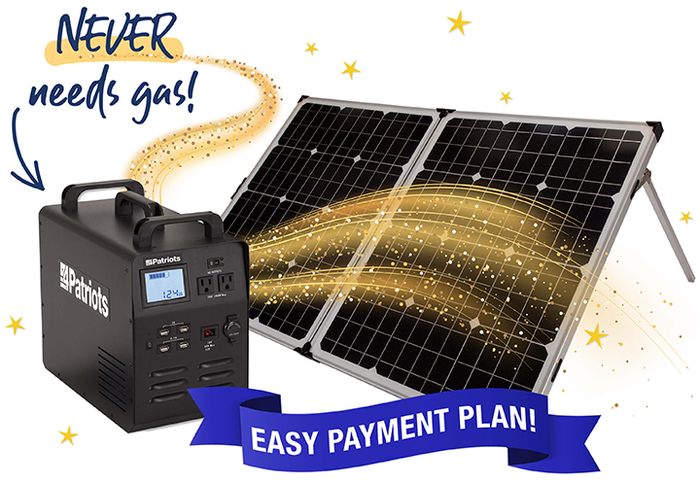 This portable solar generator never needs gas… ever!
It functions using only the power of the sun.
And you can use it right inside your home, because it's fume free and SAFE.
Just think of all the ways you'll use this:
Cycle your fridge or freezer
Use small appliances
Keep medical devices running (like CPAP and oxygen machines)
Charge cell phones or laptops
Power lights for safety or comfort
Watch your TV for important news
Run a space heater, fan, or electric blanket
Turn on security lights to ward off looters
And much more!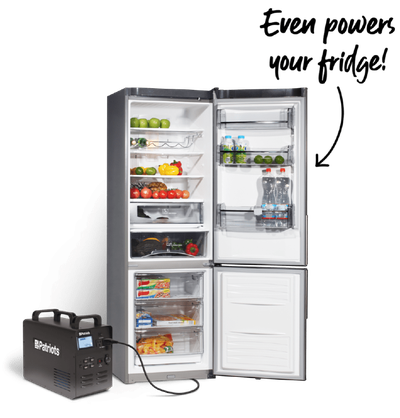 And the best part?
The best-selling Patriot Power Generator now comes with…
Now With 28% More Storage & 52% More Peak Power So You Get More Power for Longer
The Patriot Power Generator 1800 gives you 28% more storage capacity and 52% more peak power than the best-selling 1500 model. So you get more power for longer... charge faster than before... and can run more devices than ever.2
You get all the features that made this a best-seller… plus MORE peak power and storage!
Advanced-Engineered Battery Technology
Inside your solar generator there's a powerful lithium-iron-phosphate battery famous for its stability. This is where the magic happens, folks! You'll love the reliability and power of this advanced engineering.
52% More Peak Power
Don't let its size fool you. Now, the Patriot Power Generator 1800 can handle up to 3,048 watts of peak power — WOW! That's a full 52% gain over the older, best-selling 1500 model, thanks to this better-than-ever technology. So your solar generator can handle a wider variety of appliances.
20% More Continuous Power - to Run More Appliances
And the Patriot Power Generator 1800 now has a continuous output of 1,800 watts. That's incredible! If an appliance uses 1,800 watts of power or less, your Patriot Power Generator can run it. Most small appliances including your fridge and freezer fall into this group.
This law enforcement officer in Indiana wanted proof that the Patriot Power Generator could do everything that we said it could do.
So he put it to the test…
* Real reviews from real customers. Sometimes customers receive a free product to test or as a thank you for submitting honest feedback. For more information see footnote 1.
In a nutshell... if you can plug an appliance into your wall, you can plug it into your Patriot Power Generator 1800. It may not run your old air conditioner from 1970, but it will run almost any device in your house. That's why we have an insane 100% money-back guarantee for 365-days.
28% More Capacity so You Can Use it Longer
With the Patriot Power Generator 1800, you get up to 768 Wh (60 Ah) of stored power. With proper power management, you could power your fridge or freezer INDEFINITELY. You won't have to worry about your food reserves going bad.
Run Times for Common Appliances: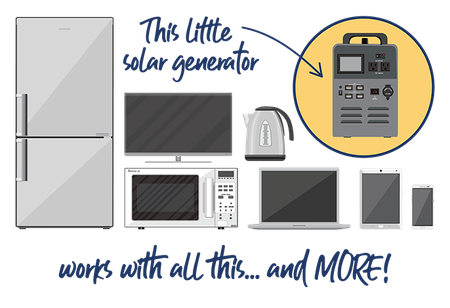 USB Lamp
Phone Charger
Mini Fridge
Fridge/Freezer
Aquarium Heater
CPAP Machine
Portable Stove
Microwave

193 Hours
153.6 Hours
106 Hours
19.2 Hours
5.1 Hours
15.4 Hours
38 Minutes
51 Minutes
*Run times are approximate. Actual use time may be longer or shorter depending on the wattage of your appliance.
**Run time includes hours cycling fridge or freezer. Running your generator for 1 hour will cool your appliance for approximately 4 hours. See reference 9 to learn more.

To be clear… this is NOT a full house solution.
The Patriot Power Generator was designed to help keep you alive when the "worst-case scenario" occurs. When that happens, you'll have to adopt a survival mindset, and only use essential items.
This could truly make a difference for you and your family in a crisis.
Recharge Over 2,500 Times
You can fully drain and recharge your Patriot Power Generator 1800 over 2,500 times. That's like having 6.8 years of daily use – about 4 times the shelf life of most generator products!
Compact, Portable and Easy to Use… Right Out of the Box!
Your generator arrives charged and ready to go. There's no assembly required… you can start using it right away.
Not tech savvy or worried it's too complicated for you? Don't be!
Every Patriot Power Generator comes with a detailed User Guide to walk you though all the ins-and-outs… and our in-house technical advisors are just a phone call away. And you can call them for FREE, for as long as you own your Patriot Power Generator.
At only 40 pounds, with easy-carry handles, your generator can go anywhere with you. Especially if you need to "leave home in a hurry" — this portability is a huge advantage over other types of backup power.
Now, real talk for a second. The Patriot Power Generator is designed to be portable, but truth be told... It's built tough. So while easy to move, your new generator will weigh about as much as 5 gallons of water, a big bag of pet food, or maybe your 3-year old grandchild (without all the squirming).
Not super heavy, but just heavy enough to withstand a drop on the ground, rough handling, or even being run over by a truck. We tried it!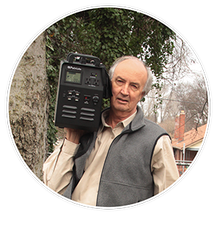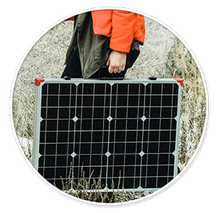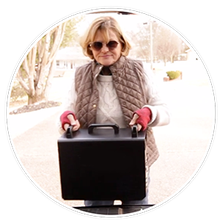 Take it on camping, hunting and fishing trips. Use it on your next RV vacation, or for weekend tailgating. You can probably picture a HUNDRED ways you will use and enjoy having an easy, free source of power.
Included Commercial-Grade, 100-Watt Folding Solar Panel
The solar panel that comes FREE with your generator has a rugged, durable metal frame and reinforced corners. It folds easily for discreet storage and includes a sturdy carrying handle so that you can take it anywhere.
Easy as 1… 2… 3!
You don't need to be a gadget person to use your Patriot Power Generator. Three simple steps and you'll be up and running: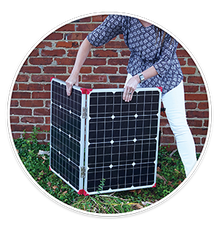 1. Unfold and set up your solar panel in the sunlight.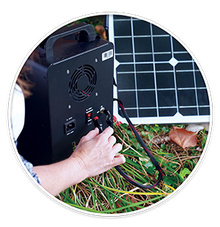 2. Plug your solar panel into the generator.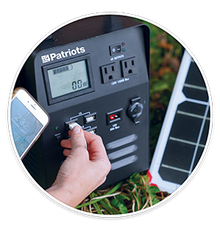 3. Now plug in your devices to use FREE power from the sun!
Plenty of Electrical Outputs
And to make sure that your generator is ready to handle whatever you throw at it, you get: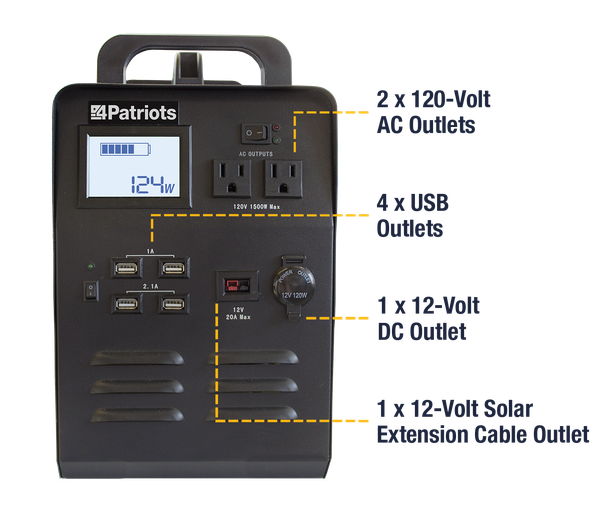 "Fast Charge" Using Included AC Cord
Now the Patriot Power Generator is more efficient, so it charges up to 12.5% faster — in as few as 3.5 hours via AC cord! And there are more ways to charge up your generator than ever before.
More Charging Options
Advanced-engineered Maximum Power Point Tracking (MPPT) comes standard with the Patriot Power Generator 1800. You can recharge your way — it's totally your call.
"Fast charge" with the included AC cord
Charge for FREE with the sun, using the included solar panel
And thanks to the MPPT technology, now you can charge with a hand-crank, bicycle, wind turbine, windmill — whatever!
If you're a DIY person or enjoy homesteading, you'll "geek out" over this new feature.

You and your family will love your Patriot Power Generator. Just like these customers do...


A Solar Generator "Worth its Weight in GOLD!"
More than 83,075 customers3 trust the Patriot Power Generator to protect their families. People can't say enough good things about this portable solar wonder!
And the survival stories we hear are truly inspiring.
* Real reviews from real customers. Sometimes customers receive a free product to test or as a thank you for submitting honest feedback. For more information see footnote 1.
Joe in Florida was able to give his family light during the darkness of a hurricane.
I'll Never Be Without This Lifesaving Tool

"My Patriot Power Generator arrived four days before Ian "the beast" hurricane hit my town. It was a lifesaver. After losing all power, we would have been in absolute darkness with no way to communicate to the outside world. If we needed aid or rescue, it would have been impossible with dead phone batteries. The Patriot Power Generator was everything you said it was and more. I say this with tears in my eyes: I'll never be without at least one. Great product, people! You should be proud!"
Here's another one from Steve in Oregon, who was able to save food during the "worst winter storm since '62."
Worst Storm Since '62 — Good Thing I Had Backup

"I was without power and water for 8 and half days. And I wasn't among the worst. Some were without for 2 weeks. I used my 4Patriots 1800 Solar-Powered Generator to run my refrigerator and freezer… saving my food.
I was able to loan my solar generator to my neighbors.… Their food was going bad. And we both were able to keep our refrigerators & freezer cold and save our food."

Or Joyce, who said her 4Patriots Generator was there for her when Texas power lines failed in an ice storm...
Finally... Hot Water Doesn't Have To Be a "Luxury" In a Blackout!

"Thank you 4Patriots for being there when our energy grid, here in Texas, was not. With my Patriot Power Generator, I was able to get water from my cistern... put it through a camp shower and have HOT water."

Shane, in Utah, ditched his gas generator for this one and took it for a full test run so he's ready for the next outage.
Here's Your Answer For The Next Power Outage

"I researched for about 3 months before I found 4Patriots. If you're looking at 100% true survival, this is the answer."

Sharon, a lifelong California resident, learned early on that she better be prepared for earthquakes and wildfires.
Wildfires, Earthquakes, Outages, Oh My!

"Having this generator means I'm not stuck. 4Patriots is by far the best place to shop for your critical emergency needs! I have been a customer since 2017! It's better to be prepared than to start doing that crazy buying that people were doing, for instance, at the start of the pandemic."

And Hedwig in Kansas keeps her generator on-hand to stay prepared for any emergency.
She likes the affordability of the Patriot Power Generator, and the peace of mind that comes with it!
After 73 Years, I FINALLY Have Peace Of Mind

"I'm 73 years old and cannot afford a $10,000 generator which is why the Patriot Power Generator is perfect and so affordable! It helps me maintain a certain lifestyle if something bad happens. To know this little generator that I can carry around can power my refrigerator, my lights and my little heater... I know I'm set if there's a bad storm."

Patricia can rest easy knowing she has backup power for any situation…whether it be emergencies or everyday outdoor activities!
Don't Put Off Getting Backup Power

"This is a great item for not just emergencies, but everyday help as well!

I needed to repair my shed, but there's no power out there, and most of my tools are plug-in electric. I was unhappily thinking about running 150ft of extension cords, then remembered my 4Patriots Solar Generator! Worked like a charm. Utterly reliable and easy to use.
My shed is well on its way from rotten to solid storage again. There's no good reason to put off getting back-up power! Peace of mind & convenience, too! Love it!"
Ran Our Fridge During A Hurricane

"A great choice in solar generators. It kept our fridge running for 12 hours! We also had 2 hot meals using its power. It was the first time I ever used it... during Hurricane Nickolas last week. What a wonderful feeling the sound of a fridge running was during that power outage."
* Real reviews from real customers. Sometimes customers receive a free product to test or as a thank you for submitting honest feedback. For more information see footnote 1.
Doesn't that kind of power independence sound good to you?
Well sure it does! And you don't have to spend a fortune to get it, either.
We're Offering These Generators on a 100% First-Come, First-Served Basis
We'd like to help as many people as possible enjoy the peace of mind that comes from having a Patriot Power Generator 1800.
That's why you get FREE Bonus Gifts and FREE Shipping & Handling with your order!
Imagine all the ways your generator is going to help you…
YES you'll have critical backup power in an emergency.
YES you'll be able to defend yourself and your family in a blackout — be it caused by manmade or natural forces.
YES you can use it to power your fridge, freezer, lights, computer, cell phone, television, radio or critical medical devices.
The unfortunate truth is... not everyone who wants one of these solar generators will be able to get one.
Get your order in now, while they're still stocked and ready to ship.
And in the interest of full disclosure...
Not Everyone Can Afford this Portable Crisis Device
But Those Who Get it Rave About it
There was only 1 "problem" that we ran into with the Patriot Power Generator. It's that many of our customers wanted to pay for it a little at a time, instead of making one payment up front.
And we can certainly understand that request. Maybe you can, too.
So we're going to do just that.
You can pay over time — with NO CREDIT CHECK — we know that you're good for it.
And we'll ship out your entire purchase right away (including the FREE goodies you'll see below), so that you can start using your generator immediately.
At 4Patriots, we believe…
Self-Reliance Shouldn't be "Out of Reach" for Everyday Americans
Nobody should be denied having power independence because they couldn't afford it.
And most Americans don't have $5,000, $10,000, or $25,000 laying around to spend on a backup power source.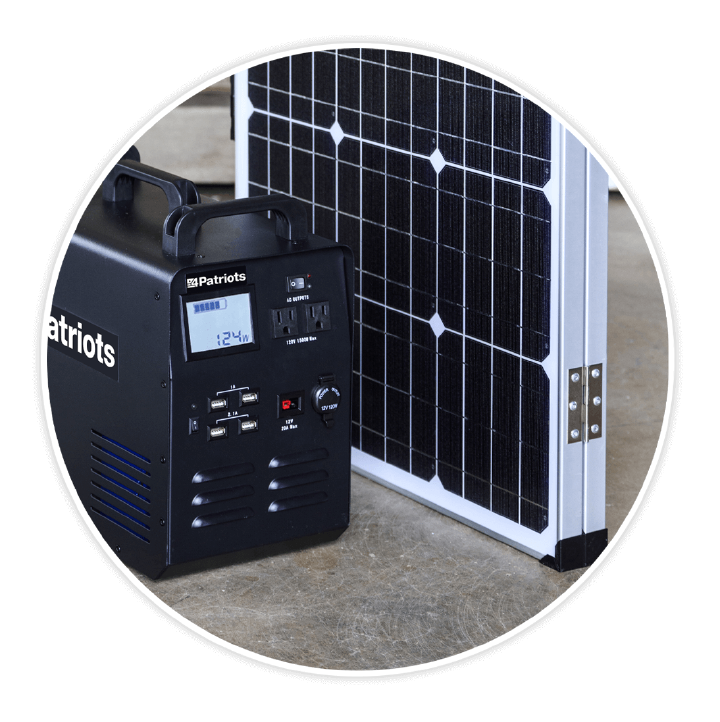 Even one as valuable as the Patriot Power Generator 1800, which can power your most critical devices...
Your fridge — to protect your lifesaving food
Your phone — to connect with loved ones
Your lamp — to see your way when the world goes dark
Your portable stove — to prepare food & comfort friends
Or even your CPAP machine — to rest easy at night
And much more.
Most "competitor" power supplies sell for way too much and they can't do half that. Or — like with gas generators — they aren't even safe to use inside your home.
But we want as many people as possible to get the peace of mind that comes with this incredible solar generator.
So you can claim yours for only $497 today — plus 5 more monthly payments of only $497.
Or pay in full… and you'll save $485!
And no matter how you pay… we'll ship your entire solar generator package to you right away. So you can start enjoying it — and the peace of mind that comes with it — right away.

Yes… we know that offering monthly payments and FREE bonus gifts is probably crazy.

And at the very least… it's generous.
But frankly… you deserve it!
Because YOU are the one preparing to protect yourself and your family in a dangerous power emergency. You should be commended for that.
And anyway… wouldn't it feel good to know you've got the ONE thing — the GLUE -— to keep your family's life together, no matter what happens?
Click the "Add to Cart" button below to grab your Patriot Power Generator 1800 (and all your FREE bonus gifts) now.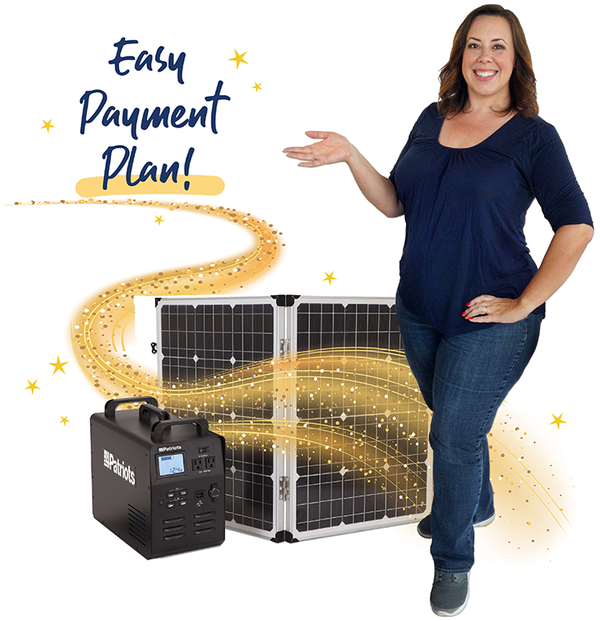 Order Online Any Time
24 Hours a Day / 7 Days a Week / 365 Days a Year


UPDATE: This Deal Just Got Even Better!
Claim Your Solar Generator NOW &
Get 13 FREE Bonus Gifts — Including FREE Shipping & Handling

Now to make this deal truly irresistible for you…
You'll Get 13 FREE Bonus Gifts
with Your Solar Generator
You'll get a special FREE bonus gift package that is the perfect complement to your solar generator.
These aren't throwaway tchotchkes, folks.
This is a collection of our BEST SELLING solar gadgets and survival tools. Valuable, highly sought-after items that our customers go gaga over…
And that you will enjoy using everyday.
First up, you'll get the ultimate in portable solar-power protection…

FREE Gift #1: FREE Patriot Power Cell® ($29.95 Value)
Like a "mini version" of your Patriot Power Generator 1800…

Your FREE Patriot Power Cell gives you critical backup power and light when you need it most. And it recharges endlessly in the sun… keeping your critical devices ON even when the power goes OUT.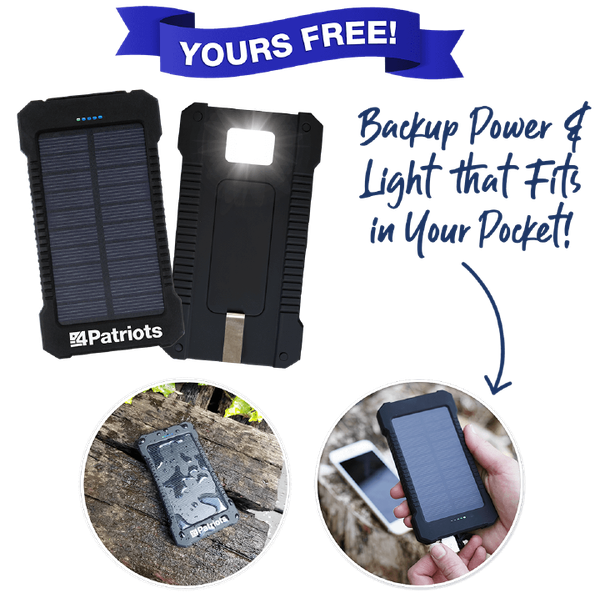 Your Patriot Power Cell charges 2 devices at once and can charge a cell phone 3 to 6 times on a single charge, depending on the model. Use it to stay connected to loved ones, first responders and important news. And get critical backup power on the road… in the air… or wherever you may need it.
Built-in solar panel
Fits in your pocket
Powers 2 devices at once
8,000 mAh capacity
"Ruggedized" design, IP67 water-resistant
Built-in flashlight & SOS flasher
Works with any USB device & your existing charging cord
And while you'll get it FREE today… 477,107 have been sold at full price, making it our most sold power product of all time.4
People go bananas over this mini solar cell...
Trusted in the Line of Duty

"I love the idea that even if I'm not near a power source, I can get it charged back up. Having an alternate power source when I'm on duty is really convenient.
I even let friends charge their devices at the same time I charge mine since there's two ports. I got one for me and one for my girlfriend."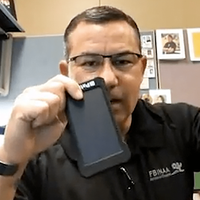 Endless Solar Power

"I bought two Patriot Power Cells and I couldn't be happier with the product. Performance, plenty of storage capacity, it will charge my phone up to five times! Leave it out in the sun and you're good to go forever."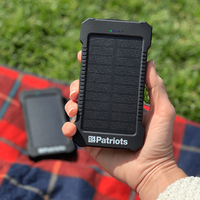 * Real reviews from real customers. Sometimes customers receive a free product to test or as a thank you for submitting honest feedback. For more information see footnote 1.
And in the spirit of making the power of the sun work for YOU, you'll also get...

FREE Gift #2: FREE Sun Kettle Personal Water Heater ($67.00 Value)
With your FREE Sun Kettle Personal Water Heater, you can boil water without fuel, flames, smoke or noise.
Use your Sun Kettle to purify water, cook food, wash up, clean up and much more. It's like having a mini-microwave the size of a thermos.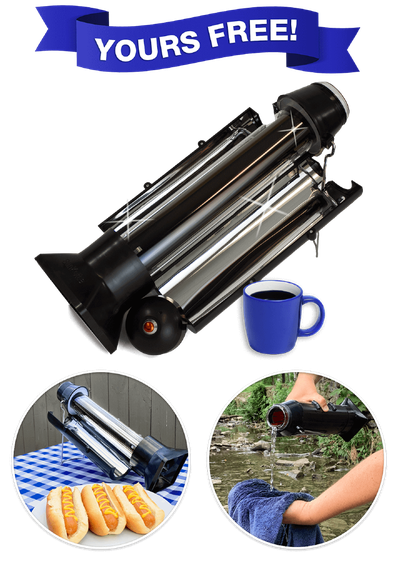 Simply put your Sun Kettle in direct sunlight… and let its parabolic mirrors do the rest.
SILENT — to protect your location… or to enjoy hot coffee in a deer blind

SAFE — so families can use it everyday… in a crisis, or at a campsite

FAST — to get the hottest water in the shortest time
Normally valued at $67.00 each, you'll get your Sun Kettle FREE when you claim your Patriot Power Generator 1800.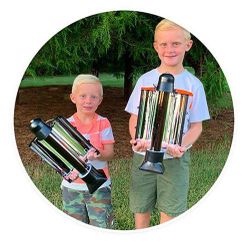 And so that you have light long after the sun has set...
FREE Gift #3:

FREE HaloXT Tactical Flashlight ($29.95 Value)
With a FREE ultra-bright HaloXT Flashlight, you'll never need to buy batteries again.
It runs on solar power. And it stores a secret supply of backup power discreetly in the handle. Plus,it has 3 worklight functions and 2 essential car-escape tools… built right in.
You get 9 functions in a single flashlight:
Ultra-bright LED flashlight
Solar panel to recharge in the sun
Power bank to charge your phone in a pinch
SOS light and strobe
Work light
Seatbelt / rope tool
Glass hammer
Compass
Magnet
This best-selling solar gadget sold out right away when we first launched it last year. And it's been a customer favorite ever since!
Take a look…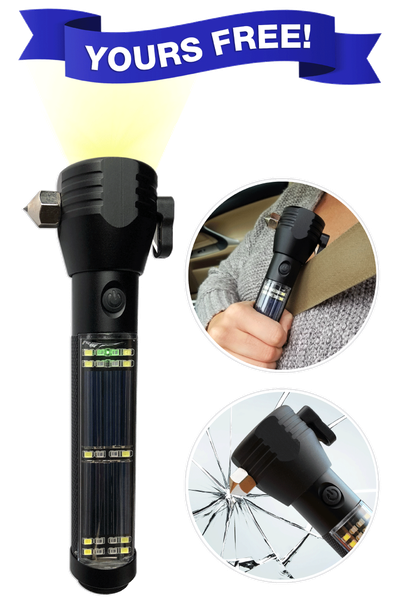 Pro Musicians Love This Flashlight

"I took the HaloXT on tour and it worked incredibly well in what can be a dangerous environment backstage. Everyone on the crew has a flashlight. The magnet on the side came in very handy so the crew could have their hands free instead of holding it in their mouth.

The best part is it's solar-powered. It's very sturdy, lets off plenty of light, and all the different functions made it very versatile."
Bought Four of These Bad Boys

"I bought four of these bad boys to put in my bug-out bag… plane, my car, and house. This is a magnetic compass… it's a charger, it's got the glass breaker, the seatbelt cutter, some different light modes. It's got the flashlight, the work light and the emergency light… all in one!
Not only do I have all this stuff and a flashlight… but I also have a battery pack on the go.."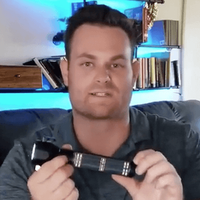 And you'll also get...

FREE Gift #4: FREE Solar Air Lantern ($19.95 Value)
This lightweight and handy travel light charges in the sun so that it can light your way on the darkest of nights.
Your FREE Solar Air Lantern deflates and blows up just like a beach ball. Giving you light to cook by, read by… or even play cards with while camping with your family. It's shatterproof, waterproof, battery-free, wireless and gives you 6 to 12 hours of bright, LED light.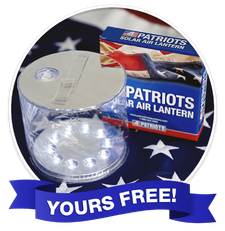 FREE Gift #5: FREE USB-Rechargeable Battery Kit ($29.95 Value)
With this elite battery kit, you'll get backup power that charges anywhere and is "always ready." You can use these batteries to run any device that takes AA batteries — and you can do it over and over again!
With your FREE USB-Rechargeable AA Battery Kit, you can:
Recharge your batteries almost endlessly, from anywhere
Spend less money on batteries over time (a lot less!)
Don't get stuck without power in a crisis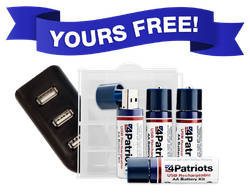 Each battery kit can be used over 500 times. And each time your batteries get low, just plug them in to a USB outlet in your car, home or computer. They'll be ready to go again in less than 2 hours. And your charging dock and carrying case come included.
Worth $29.95… this hot battery kit makes for a great gift. But you'll have a tough time giving it away… because you'll want to keep it for yourself!

FREE Gift #6: FREE 72-Hour Survival Food Kit ($27.00 Value)
The Red Cross and FEMA5 both say that every American needs at least 72 hours of non-perishable food on hand in case of an emergency.
That's why you get a FREE 72-Hour Survival Food Kit with your Patriot Power Generator today.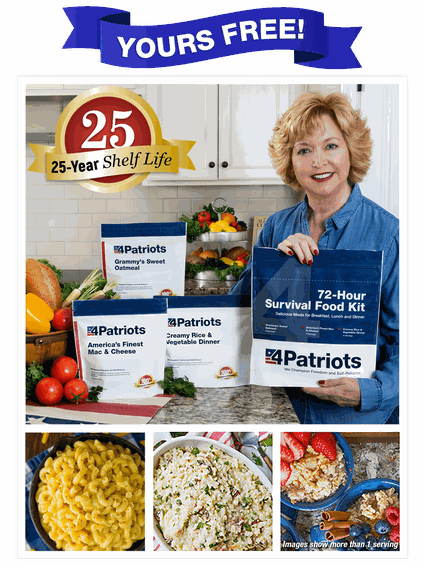 In your FREE kit, you'll get 16 servings of delicious meals designed to last for 25 years.* That's 3,760 total calories (average 1,253 calories per day).+ Enough energy and nutrients to help you survive a 72-hour emergency. You may want or need more calories.
These family-favorite recipes are easy to make. Simply boil water, simmer, and serve.
Creamy Rice & Vegetable Dinner

America's Finest Mac & Cheese

Grammy's Sweet Oatmeal
We've shipped over 1,245,898 of these best-selling kits to happy customers all over America.6
Each kit is valued at $27.00 each. But today, we'll buy one for you, and add it to your order for FREE, as a thank you for claiming your new solar generator.
+ You may want or need more calories per day, especially if you're pregnant, a child, elderly, or have other health conditions. For more information, see footnote 8.
So Glad We Had This During Hurricane Irma

"It was a Category 2 when it hit us. Looked like a war zone. We lost power for 2 days, but others lost it for weeks. When I opened that package of 4Patriots Survival Food, we felt like we were in control of the situation. And it was delicious! A hot meal makes you happy. And there was enough in one of those packages, we could have fed a small army.
4Patriots is our company of choice. Actually communicates, cares, has new products and has guarantees behind their products.
The sooner you start preparing, the better off you're going to be. We don't want to rely on someone else for things when we can have our own. We can take care of ourselves."

FREE Gift #7: FREE 25-Foot Solar Panel Extension Cord ($49.99 Value)
Ultimate flexibility and maximum power. That's exactly what you'll get with your FREE Deluxe Solar Panel Extension Cord upgrade.
Want to use your Patriot Power Generator INSIDE and charge your solar panels OUTSIDE?
Or want to relax in the shade with your generator... while your panels soak up the sun?
With this FREE 25-foot handwoven extension cord, you can do it.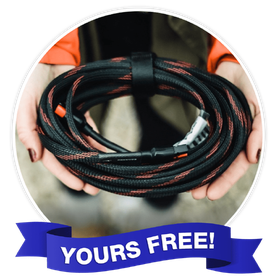 Use it to position your panels in max sunlight, avoiding shadows and extending your reach. It all translates into MORE power for you.
This Deluxe Extension Cord sells for $49.99. But today, you'll get one FREE just for claiming your Patriot Power Generator.

FREE Gift #8, 9, 10, and 11: FREE Blackout-Survival Digital Library ($19.95 Value)
FREE Report: Top 7 Reasons the Grid Will Fail
This exclusive digital report exposes the risks to our delicate electric grid. Including one event on page six that is "100%" likely, according to a high-ranking government official.
FREE Report: The Blackout Response Guide
This digital report is your blueprint for what to expect in an extended power emergency. And for what you and your family can do beforehand to prepare. Including:
13 items to have ready NOW before a blackout hits
The one phone number never to call for updates
And much more!
FREE Report: The Generator Survival Checklist
Now that you've got your generator, make sure you have everything else you need to survive a crisis. It's all listed here. Including little-known household items that will make a huge difference in an emergency.
FREE Report: Solar Discount Secrets
Most people who purchase a solar system pay full price without giving any thought as to how they can pay less. In this digital report, you'll learn the tricks of the trade to structure a reasonable discount while still maintaining quality… and learn the right questions to ask along the way. (Most folks miss this one!)
FREE Gift #12:

A $25 Certificate
You'll also get a FREE $25 Certificate that you can redeem on any future 4Patriots purchase of $100 or more. Use it to get best-selling solar gadgets, survival food, and SO much more! You could even give it to a friend or loved one.
That's what we call an incredible deal.
And, it's the right thing to do because, in these uncertain times, you want to be prepared for anything. This $25 certificate is just a little something extra to help start your preparedness plan.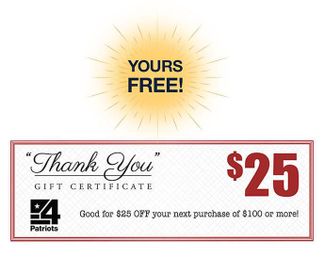 And last but not least, you'll get...

FREE Gift #13: Shipping & Handling ($200.00 Value)
Last but not least, you'll get FREE shipping on your Patriot Power Generator and all of your bonus items. It's not cheap to ship an item this valuable (plus all the FREE gifts we're going to throw in).
But you deserve it for becoming a loyal customer. And frankly, we want to do it for you. We'll even ship each box — unit, solar panel & bonus gifts — as it becomes available. That way you're as prepared as possible, as quickly as possible.
I know that's a big bunch of FREE gifts... but we're strong believers in the power of preparedness. And with this comprehensive gift package, we can rest a little easier... knowing that you have your basic needs covered.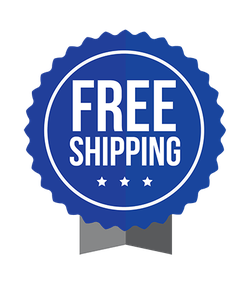 And as part of that, you qualify for an easy monthly payment plan. There's no credit check… we know you're good for the rest.
Just click the orange "Add to Cart" button now, and we'll add the Patriot Power Generator 1800 and all the FREE bonuses to your order right away.
YES! I Want to Protect My Family
& Get 13 FREE Bonus Gifts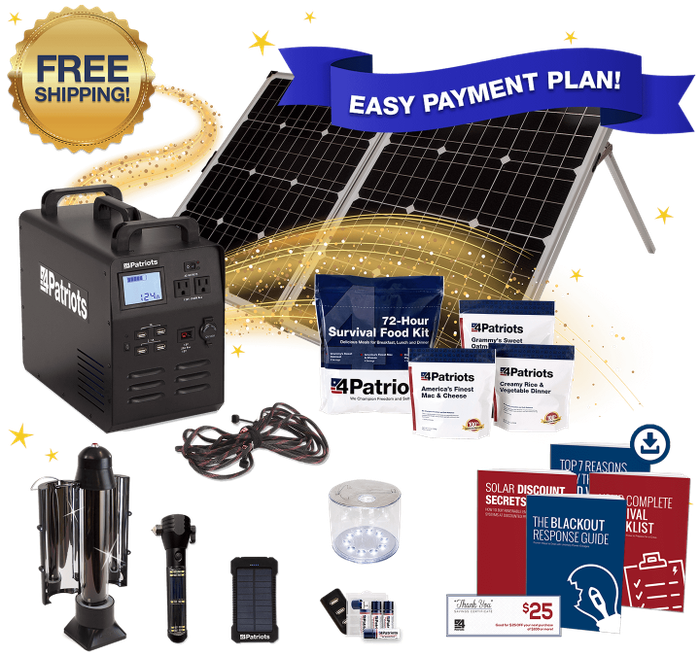 Patriot Power Generator 1800
FREE Patriot Power Cell
FREE Sun Kettle Personal Water Heater
FREE HaloXT Tactical Flashlight
FREE Solar Air Lantern
FREE USB-Rechargeable Battery Kit
FREE 72-Hour Survival Food Kit
FREE 25-Foot Solar Panel Extension Cord
FREE Blackout-Survival Digital Library
FREE $25 Certificate
FREE Shipping & Handling
Total Value:
$2,497.00
$29.95
$67.00
$29.95
$19.95
$29.95
$27.00
$49.99
$19.95
$25.00
$200.00

$2,995.74
To buy every item from this Patriot Power Generator Package, including all 13 FREE gifts, you'd spend $2,995.74 at 4Patriots.com. But by claiming your Package here... you save $498.74.

Order Online Any Time
24 Hours a Day / 7 Days a Week / 365 Days a Year

And there's one more thing...
An Outrageous Double Guarantee So This is 100% Risk FREE for You
Since you should be 100% happy with your purchase or you shouldn't pay a penny…
You'll get an iron-clad money-back guarantee with your purchase. That way, there's absolutely no risk to you for trying out this solar generator for yourself. Because you're protected for an entire year.
Your Generator Comes With a 100%
Money-Back Guarantee
Your Patriot Power Generator is protected by a no-questions asked, 100% satisfaction guarantee. Try your generator in your home for a full year. Put it to the test! Charge it up and drain it down. Get to know your generator and what it can do for you. If it doesn't do everything we said it does or if you're unsatisfied for any reason, return it. You'll get your money back, no questions asked.
If you're not sure… the smartest thing is to claim your Patriot Power Generator today. Try it out, and if any problems come up in the next year, just send it back. You literally can't lose.
And if you act now, you'll get something FREE that most companies charge an arm and a leg for. Simply to prove how much confidence you can have in this product. You'll get FREE reliable and knowledgeable technical support for the life of your Patriot Power Generator.
Our customer service team is made up of real people – Americans. We truly care about you and your purchase, and we are willing to stand behind that promise. In our view, that's part of doing business the ethical way. The American way.
Click the button below now.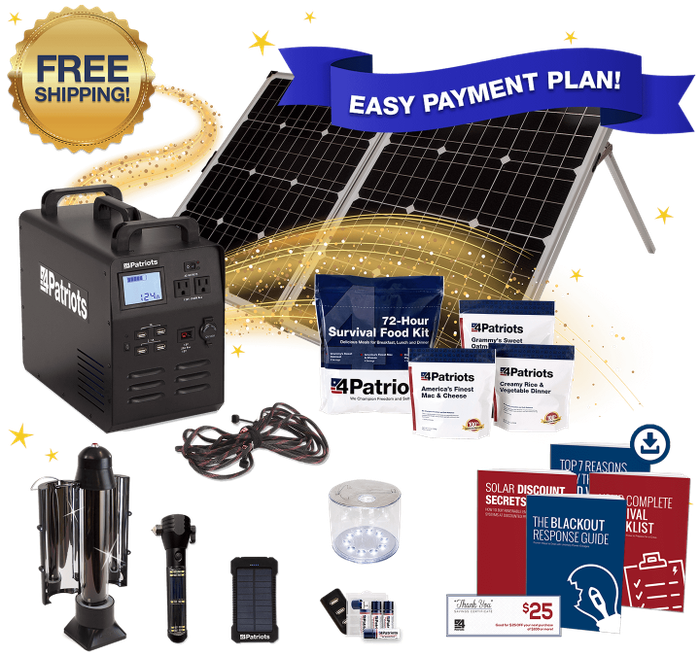 Order Online Any Time
24 Hours a Day / 7 Days a Week / 365 Days a Year

It's clear that the Patriot Power Generator is an incredible value.
But don't take our word for it…
Raving Reviews From
Patriot Power Generator Customers!
To date we've gotten hundreds of verified reviews back from customers who have a 4Patriots solar generator and love it.
Bob left this gushing review on our Facebook page, showing off his Patriot Power Generator 1800...
Flawless Technology & Spotless Service

"Just received the last of my 1800 package and could not be happier!! Generator works flawlessly, solar works flawlessly plus all the other goodies in the package are amazing!! Would definitely recommend 4Patriots for all your generator and other survival needs!! Just spoke with Sienna at customer service to say how much I love the products! Sienna was very courteous and professional! Will be buying from 4PATRIOTS from now on!"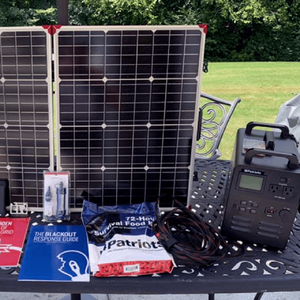 And Howard from Oklahoma, who put his generator to test with heavy-duty power tools…
Passed The Outdoor Project Test!

"I used my 2 panels hooked up to my generator. I turned my fan on, on high, which uses 149 watts. And I had my hammer drill plugged in. I put up a pole for the electric raiser to hook to… and I used my hammer drill to bolt it to the post. All with this generator. It worked great!"

Bernice and her family kept the lights on and the electronics charging for 5 days when the power was out…
We Can Count On Old Faithful When The Power's Out

"Don't wait to add this vital piece of equipment to your preparedness arsenal! We were able to keep our lights on and our electronic equipment charged for 5 days when the power went out last year. As soon as we could, we purchased another generator!"
Probably Saved My Husband's Life

"The ice storms in February left us without any type of electricity for a solid week. If it wasn't for the solar generator, my husband wouldn't have been able to sleep with his CPAP and we would have been in the dark for a week.
It was very helpful and very convenient to be able to keep it charging continuously by day in the sun. It's well worth the money. Get off the fence and order this for the safety and security of your family!"
* Real reviews from real customers. Sometimes customers receive a free product to test or as a thank you for submitting honest feedback. For more information see footnote 1.
Can you picture how good this security and independence will feel?
Your Purchase Supports Those Who Serve
When you claim your Patriot Power Generator 1800 today, we provide meaningful support to important charities that help American veterans and their families.

Including Operation Homefront, Fisher House, A Soldier's Child-Foundation and Team Rubicon.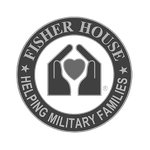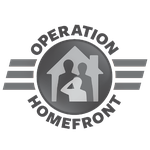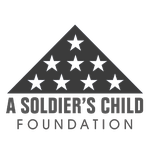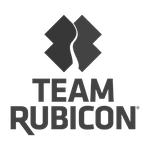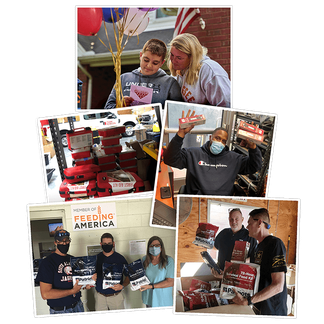 In fact, 4Patriots and our affiliated brands have donated more than $975,000 in cash, plus truckloads of life-saving products and countless hours of volunteer service by our employees since we founded the company. And the numbers keep growing! In 2022 alone, we donated "$1K a Day" for a total of $365,000 by year's end.
You can feel good knowing that you're supporting our veterans while getting the peace of mind that comes from having a backup power source at your fingertips.
An American Company You Can Count On
4Patriots headquarters are in Nashville, Tennessee.
Here's a recent snapshot we took at the office here in Nashville so you can see we're real people – Americans! Not some 800 number routed to a foreign call center.
With us, you'll only be dealing with Shane, Corrie, Lisa and other good folks right here in the USA. People who own and have used 4Patriots Patriot Power Generator themselves. And who know the product inside out.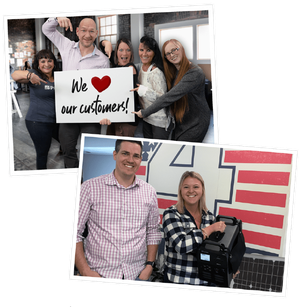 Now don't worry, there's no pressure to claim your Patriot Power Generator 1800. In fact, if you don't want it, you can step aside. No hard feelings. There are plenty of other people dead set on preparing right now. Who see the need to act fast, before being caught off guard by a blackout.
And please don't think you can get this generator anywhere else. You can't.
The Patriot Power Generator 1800 is NOT available from any other store, website, or distributor. You can only get it from 4Patriots.
But Here's the Thing...
The only way we can offer you this payment plan and FREE bonus gifts is if you claim them on this page.
These solar generators are extremely popular. They're famous for their portability and power… and for selling out. We don't know how long these "solar powerhouses" will be in stock.
We don't want you to lose out on this deal. That's why you need to click the big "Add to Cart" button now so we can fill your order right away.
Have peace of mind knowing you can protect yourself and your family from blackouts. Power your medical devices, lights, cell phone or even your fridge.
Click on the button below and start grabbing the unlimited power the sun shines down every day.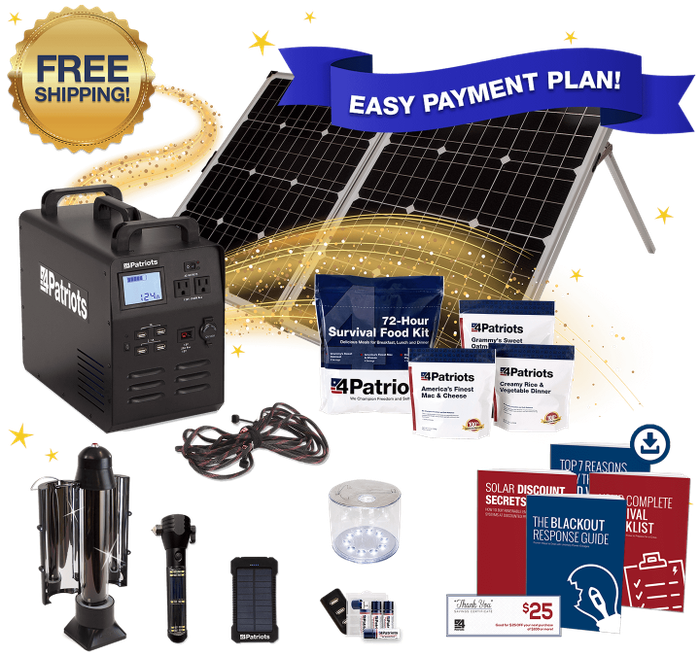 Order Online Any Time
24 Hours a Day / 7 Days a Week / 365 Days a Year

Picture This in Your Mind… Because it's Important
It's 8:47 AM and the "you know what" has hit the fan. People are panicking in the streets — it's all over the radio and TV.
A news anchor comes on screen. In a shaking voice they say, "We have reports of widespread power failures sweeping the area. If you're watching this, your power could go out at any moment. We are now in a state of emergency. I repeat, we are now in a state of..."
The TV blinks out. Your lights go dark.
An eerie silence fills your home.
You turn on your portable AM radio and hear rumors of looting and unrest. This time, it's closer to home.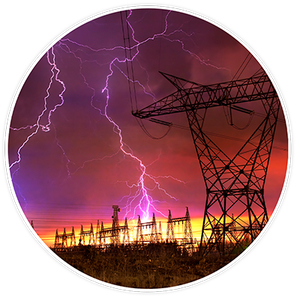 Your family looks to you. "What's going to happen?" they ask.
The look of fear in your family's eyes hits you like a punch to the gut. What are you going to tell you them? What have you done to prepare?
Look, You've Come to a Fork in the Road
It's up to you, which way you go.
If you don't take action now, you could find yourself without a plan and without options, at a time when you need them most. If your family asks, "When will the power come back on?" you'll feel powerless.
But what if you make a different choice? What if you decide to claim your generator instead? You'll feel better right away. Because you'll have a plan for yourself and your family.
You can power a fridge, freezer, phones, medical devices and more. Your home will have light and warmth. Even when it's dark everywhere else! Your generator will be a source of comfort in the storm.
Your family will think you're a hero, because you will BE a hero. Can't you imagine how good that feels?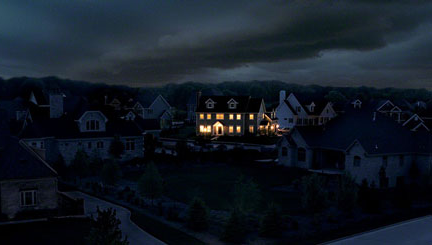 Listen, We Can't Predict the Future
It's impossible to know when the next blackout will hit. But signs point to it being soon. And it could be a big one. That's why we want you to claim your generator now.
Click the "Add to Cart" button below. You'll be glad you did.
Remember, this generator makes free electricity from the sun. You could be at home, or in your RV, cabin, or undisclosed, completely off-the-grid location. It DOESN'T MATTER.
If the sun is shining, you can charge your Patriot Power Generator 1800 and be able to generate free electricity for you and your family.
If you want to get real power independence and security, click on the button at the bottom of this page.
You'll be glad you did. This is about peace of mind, knowing that you and your family are well protected in the case of a blackout. Sounds good, right?
Click on the button below and claim your Patriot Power Generator 1800... and we'll rush it to you right away, while they are still in stock. And then rest assured knowing that you will be able to keep the lights on no matter what happens.
Don't you deserve this?
To get potentially lifesaving power rushed to you at this incredible price — PLUS the 13 FREE bonus gifts and FREE shipping and handling.
Folks, all the warning signs are there. Our nation's power grid is an aging dinosaur that can't keep up with our growing population… and skyrocketing demand. It couldn't be more obvious. It's not a question of if… it's a question of when will you prepare.
Don't delay.
Click the orange "Add to Cart" button now: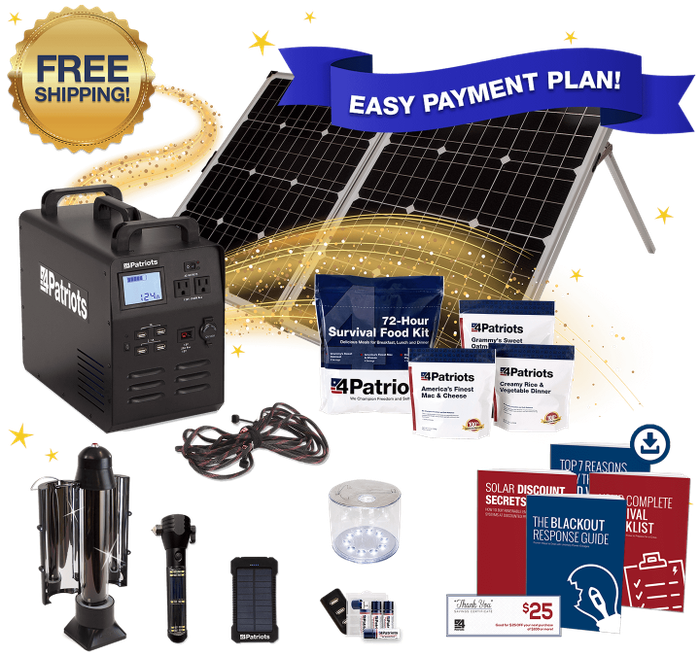 Order Online Any Time
24 Hours a Day / 7 Days a Week / 365 Days a Year

Best Value Out There… I Looked!

"You get what you pay for, and what you get with this unit makes the price VERY reasonable!! Access to AC and DC, plus even USB ports for charging electronics! Also, it shows the current state of charge, and even how many watts of power are currently in use… allowing the user to estimate how long the charge will hold!
PLUS you can have the solar panels charging while using it!! Then of course, it's silent, keeping others from being aware you even have it!! Don't go anywhere else, for any other price, higher or lower!!!"
Thank God I Found 4Patriots
"I'm so happy my basic survival is now assured by this acquisition. I have been watching and waiting for the right moment and opportunity to purchase this product and that moment came 2 weekends ago. You talk about great timing. The offer plus the additional free items that went along with it was a no brainer. Getting the Patriot Power Generator for the special price was the moment I had been waiting for."
Best Thing I Have Done for My Family's Survival

"With North Korea threats and living in California (earthquake country), purchasing the Patriot Power Generator is the best thing I have done for my family's survival.
I hope that I never HAVE TO USE IT. But it will come in handy when power goes out or when my children want to borrow it to go camping."
* Real reviews from real customers. Sometimes customers receive a free product to test or as a thank you for submitting honest feedback. For more information see footnote 1.

Order Online Any Time
24 Hours a Day / 7 Days a Week / 365 Days a Year

1. All testimonials in this advertisement are from real people; sometimes names and photos have been changed to protect their privacy and some were given free products in exchange for their honest feedback. Testimonials represent exceptional results, don't apply to the average purchaser and are not intended to guarantee that anyone will achieve the same results. The organizations, publications and people referenced on this site are not affiliated with 4Patriots. They have not endorsed, sponsored or recommended this product; no affiliation or endorsement is claimed. Terms & conditions apply. Cade Courtley is a former Navy SEAL and Platoon Commander who served 9 years of active duty and has been compensated by 4Patriots for his hard work in helping us test and endorse this product. Cade Courtley is a former Navy SEAL who served 9 years of active duty and has been compensated by 4Patriots for his hard work in helping us test and endorse products.
2. Peak output for the Patriot Power Generator increased from 2,000 W (1500 model) to 3,048 W (1800 model). Continuous output is 1,500 W and 1,800 W, respectively. Storage capacity for DC devices increased from 600 Wh (1500 model) to 768 Wh (1800 model).
3. Patriot Power Generator customer count from 2016 to 2022.
4. Number of Patriot Power Cells sold. October 2019 inventory report.
5. FEMA. "Disaster Planning Is Up To You." 2018.
6. Number of 72-Hour Survival Food Kits mailed is based on an October, 2019 inventory report.
7. Your survival food is designed to last 25 years on the shelf. Storage conditions impact the shelf life of your food. For best results, always protect your food from heat, air and moisture. Avoid prolonged exposure to temps above 75 degrees F. Keep food sealed until ready to eat. Shelf life will vary based on storage conditions.
8. These kits are designed to provide energy and nutrients for one person in stressful emergency situations. They are not intended to be complete caloric replacements during "normal" times. You'll want to make sure you have additional food items on hand so that in an extended emergency you'll be able to supplement your daily calorie intake, nutrients and variety with additional food items available on this site, food you have stockpiled in your pantry, fresh produce from your garden, etc. An average adult needs approx. 2,000 calories per day to meet their energy needs. This kit provides approximately 1,253 calories per day for one person. This may not be enough for optimal nutrition, especially for an extended period of time, or if you're pregnant, a child, elderly, or have other health conditions. In order to supplement your daily calorie intake, to add variety or to provide food for more than one person, we offer a number of supplemental products, including food bars, meat packs, fruit and vegetable packs, etc. By combining our kits with these additional products, you can ensure that you have 2,000 calories per day available to you during emergency situations. We'd be happy to discuss your particular preparedness goals, and to help you select more or less survival food to meet your unique needs. Call 1-800-304-4202 for to speak with our friendly Customer Service team.
9. Your fridge and freezer run on cycles. The CDC states running your generator for 1 hour will cool your appliances for approximately 4 hours. Some factors, such as location and the number of items inside your fridge, can affect run time.