Ultra-Bright "King of Flashlights" is Your #1 Solar Gadget for 2023!
9-in-1 Survival Flashlight Powers Itself & Other Devices
"A hit with all Dads!" ★★★★★
...and 428,063 other smart Americans.

Because the right flashlight could make all the difference in an emergency.
To light your way in a storm… to signal for help on the road… and to save the day when the power goes OUT.
Which is why dads, former Navy SEALs, emergency responders and everyday civilians are freaking out...
Over THIS 9-in-1 tactical flashlight that's powered by the sun.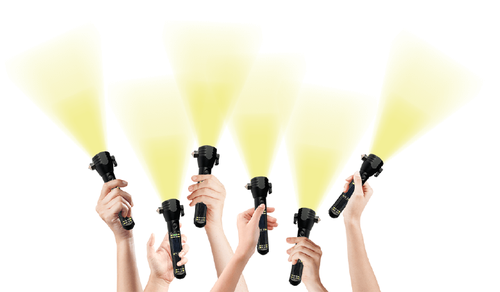 You'll never settle for a "traditional" flashlight again.
Especially with more wild weather and dangerous disasters in the news every day, you've got to have...
Your Own "First Responder" in a Flashlight
"This Flashlight Saved My 6-Year-Old's Life"
Your car isn't as safe as you may think…
Because whether it's a freak storm, dangerous blackout or serious car wreck…
You could easily get trapped inside your car or your seatbelt.

Monica in Moundsville, West Virginia knows…
"My 6-year-old son, Griffin, was playing with the seatbelt that comes out of the ceiling and it got wrapped around his neck so that he was literally hanging.

Thank God we had this in our car. This flashlight's seatbelt cutter saved his life.

You never know when you'll need help. You might be on a backroad and your car breaks down. Cars go off bridges all the time — your seatbelt could be jammed as water comes in. You just never know. These flashlights are solar-powered, so they're ready when you need them."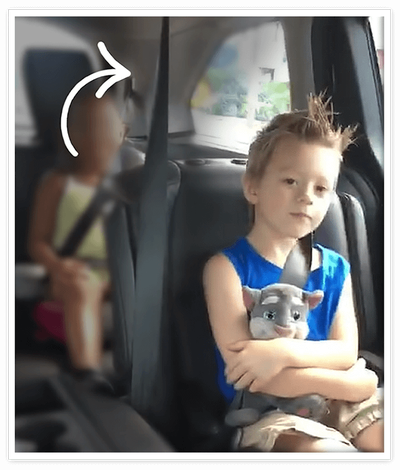 Monica was a hero to her family. And now you can be, too.

Because right now, you're not just getting a flashlight. You could be saving a life.

Which is reason enough to ditch your clunky, battery-operated flashlight and get this 9-in-1 survival tool for every one you love.

There's a reason why…
8 out of 10 Americans Buy More Than One HaloXT Multi-Use Flashlight
There's a reason why dads, first responders and other Americans can't get enough…
And why one man bought 52 flashlights for his entire family…
That's why — here on this page — we're limiting you to 4 HaloXT Multi-Use Flashlights at a time.
It's the "MacGyver" of flashlights…
Ultra-bright LED flashlight

Recharges with the sun

Powers your phone & more

SOS light and strobe

Seatbelt / rope cutter

Glass-breaking hammer

★★★★★ Raving customer reviews

When we first launched this "secret" solar product…
Our first run of 500 solar flashlights sold out so quickly, we almost didn't catch it.
First responders loved them so much, they were calling wanting them for Christmas gifts.
One man pleaded with our customer service team to get HaloXT's for his girlfriend and family members to help keep them safe.
And then there was James from Utah. He placed a 52-flashlight order…
"So Impressed… I Bought 52 HaloXT Flashlights!"

"My wife and I are both 89. We have 5 children, 19 grandchildren and 25 great-grandchildren. So for Christmas we decided to give everyone the HaloXT Multi-Use Flashlight.
We gave two to each child for them and their spouse. Because the flashlight was needed not just for use in an automobile, but to use at home. And some of the wives were so thrilled that they had a flashlight at home as well as in their vehicles.
In total, we purchased 52 flashlights! We're just thrilled about these flashlights and are grateful that they were available because we find great uses for them."

By now, the secret is out. This "King of Flashlights" is one of our best-selling solar gadgets. Especially now that FOX News featured it...
As Featured on Fox & Friends

"It has a solar panel, so you can leave it on the dashboard of your car and it's always charging. 4Patriots is amazing for survival power."
Folks are cashing in on the peace of mind that the 4Patriots HaloXT Flashlights can provide.
And taking advantage of our stock-up-and-save offer…

When you claim 4 HaloXT Flashlights you'll get a $20.80 BULK discount, FREE Gifts and FREE Shipping & Handling.

Now is the time. We're in stock and ready to ship…
The HaloXT Multi-Use Flashlight 9 Functions With a Single Mission: Keeping You Safe
Whether you're in a blackout, going camping or headed to the basement… this is the solar flashlight you can rely on to keep you safe.
Your HaloXT weighs less than 1 lb. and is water resistant. So it can go pretty much anywhere with you. And since the HaloXT charges endlessly in the sun… you'll never need to buy batteries again.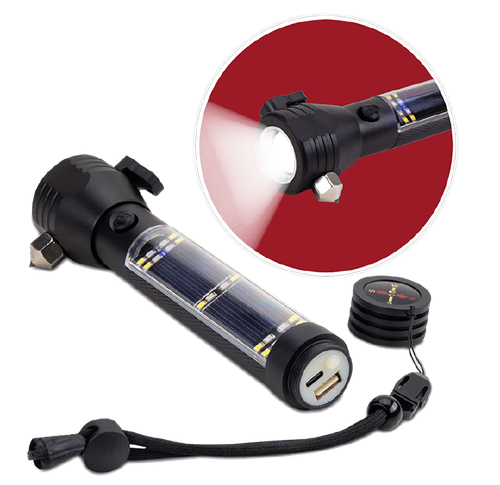 It's a great value and has a surprising collection of features hidden inside its compact frame.
Charge for FREE Using the Sun
Your HaloXT Flashlights are rechargeable – when used as directed you can drain them down and charge them up thousands of times. But you don't need electricity or batteries.
Every HaloXT has a 50 mAh solar panel built right into the handle. Not to mention, the battery inside the HaloXT is ultra-powerful (2000 mAh)2 and ultra-safe. You'll always have power as long as you have the sun.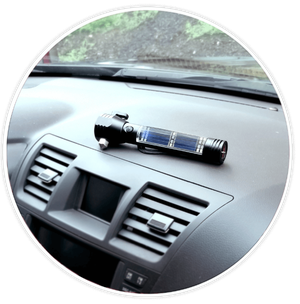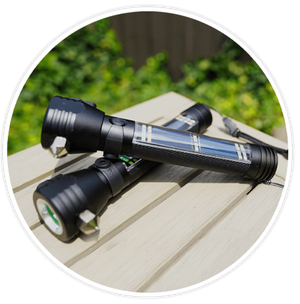 Solar charge multiple at once
"Fast Recharge" with Any USB
You can "fast charge" using the included micro-USB cord if you have electricity. Use it to plug your HaloXT Flashlight into your computer, USB car charger or wherever you charge your phone.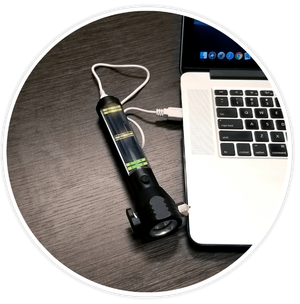 Recharge on your computer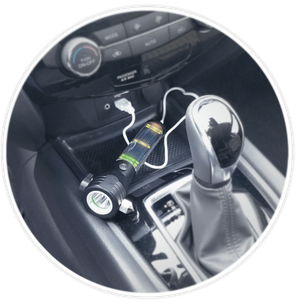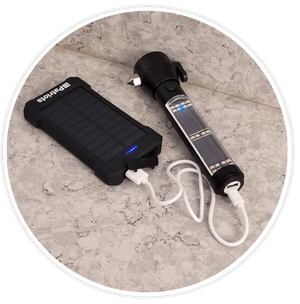 Recharge with a backup battery pack
And then you can use all that stored power in your HaloXT to…
Power Your Critical Devices in a Pinch
No specs to check or cords to buy -- use the power inside the HaloXT to power your other USB-compatible devices in a pinch. Anything that charges via USB will work with your flashlight. Simply use the cord that came with that device.
Phones — iPhones, Samsung, LG, etc!
Tablets
E-Readers & Kindles
GPS Systems
Personal Cooling Fans
Cameras
Handheld Games
Music Players & iPods
Bluetooth Speakers
Radios
LED Lights
And much more!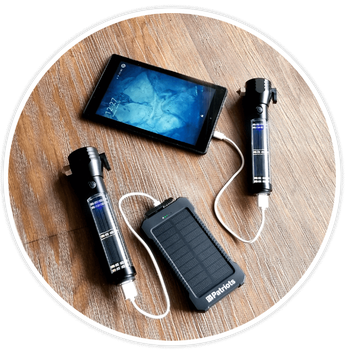 You'll love your HaloXT Multi-Use Flashlight.
Just like Dan, a pilot who uses his HaloXT as an on-the-go battery pack:
Pilot Proves the Value of Having "Power" Onboard

"They've got a compass on the bottom which is accurate. If you unscrew the cap it's got a USB-A and USB micro B charging ports, so it charges your phone. It's got this glass-breaking tip so you can break glass… a seat belt splitter which is really effective… and then it's got a magnet on the side which is actually really strong, and can hold something as strong as a blade. Not only do I have all this stuff and a flashlight, but I also have a battery pack on the go."

And for maximum flexibility (and because this really IS an amazing flashlight)... you'll also get:
3 Different Light Modes For Maximum Convenience
An ultra-bright flashlight with high and low settings. Plus strobe! An SOS Flasher for safety on the road. And a work-light function with magnetic mount, for times when you need to have both hands free.
You'll have the right kind of light when you need it most…
Ultra-Bright Flashlight: Sees up to 200 meters away & nearly blinds your attackers.
Red SOS Flasher: Red lights help you get seen & rescued. Perfect road companion.
Work Light with 2 Settings: Magnetic mount for when you need two hands… like changing a flat tire.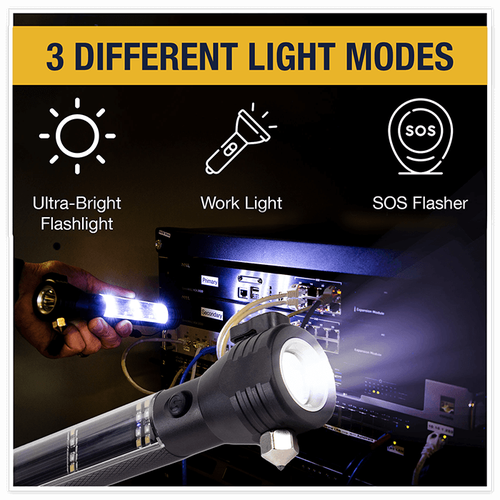 And switching between the modes is as easy as 1… 2… 3! Here's Danielle showing exactly how it works:
Click the "Start My Order" button below to claim our Best Deal with FREE Gifts and FREE Shipping and Handling.

Designed with Your Survival in Mind
In addition to being a battery-free solar flashlight that you can charge in the sun or use as a backup power source...
Your HaloXT also includes built-in survival* tools: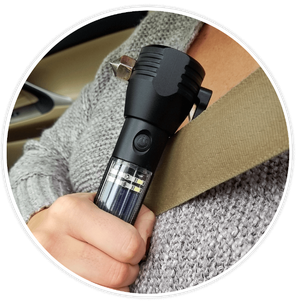 Seatbelt & Rope Splitter
A razor-sharp edge rips through cordage and rope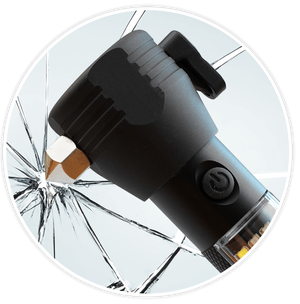 Glass-Breaking Hammer
Hardened-steel tip to get out when every second counts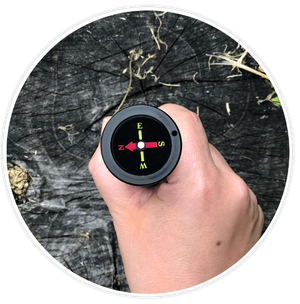 Rugged Compass
Stay pointed in a safe direction
* Emergency situations are highly variable and — by nature — dangerous. 4Patriots is not responsible for injuries sustained while using this product. Please follow safety instructions. For more information, see footnote 3.
And since the HaloXT has an integrated magnet, you can stick it to the frame of your car. Or to your breaker box when a fuse trips. Even hang it on your fridge so it's within reach in a blackout.
Smash Through Glass & Rip Through Fabric
We Proved it Works — and so did Bill!
Bill, a body shop owner of 35 years and trusted 4Patriots product tester, traded his run-of-the-mill flashlight for a HaloXT and never looked back!
Here's a video of him smashing windows and ripping through Ford F150 seat belts with his HaloXT...
* Real review from a real customer, who received a free product to test or as a thank you for submitting honest feedback. For more information see footnote 1.

And this isn't some flimsy toy, like many multi-tools…
IP65 Waterproof Rating
Dust-tight and still works when wet. Perfect for outdoor work and true crisis situations. We plunged it into ice water and threw it in the snow. The HaloXT Flashlight still works!
Here's law enforcement officer Craig, throwing his HaloXT into a bucket of ice… to prove it can survive brutal icy conditions.
* Real reviews from real customers. Sometimes customers receive a free product to test or as a thank you for submitting honest feedback. For more information see footnote 1.
Click the "Start My Order" button below to get 4 HaloXT Flashlights and score our lowest price per unit.

Built Tough to Survive the Elements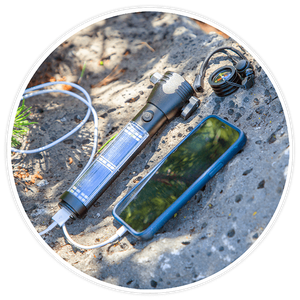 Your HaloXT Flashlights are light enough to carry and heavy enough to take a beating (or to give one).
Weighs 10.9 oz.

Only 7.75" long x 1.7" wide

High-quality aluminum-alloy construction

Diamond-thread, anti-slip handle

Adjustable wrist strap
Kevin's spouse is part of the 4Patriots family, and because he's a touring musician, we gave him a few free HaloXT's to try on the road.
Pro Musicians Love This Flashlight

"I took the HaloXT on tour and it worked incredibly well in what can be a dangerous environment backstage. Everyone on the crew has a flashlight. The magnet on the side came in very handy so the crew could have their hands free instead of holding it in their mouth.

The best part is it's solar-powered. It's very sturdy, lets off plenty of light, and all the different functions made it very versatile."

That's why the HaloXT Multi-Use Flashlight is…
Our #1 Survival Item to Keep in Your Glovebox
The HaloXT could save your bacon in a crisis. But it's so handy… some customers use it every day!
Just think of all the ways you'll use your HaloXT Flashlights:
It's no wonder it's a customer favorite! Click the button to order now and get a bulk discount and FREE gifts with your "BEST Deal" order.
That's why 8 out of 10 people buy more than one… the HaloXT Flashlight makes a great gift!
Seniors
Students
Busy parents
Friends & neighbors
Outdoorsmen
Dog owners
Walkers
Preppers
Even our "men in uniform" vouch for this solar-powered wonder…
First Responders Love the HaloXT Flashlight
And if it's good enough for our "boys in blue," you can be sure it'll tackle your everyday tasks no problem. After 27 years on the job, police officer Tony chooses the HaloXT over his standard issued gear…
I Trust It On The Job & At Home

"I went ahead and bought four of the flashlights to give to all of my sisters and my girlfriend. Now I just need another one for myself.
For any 1st responders out there like myself, it's a very heavy and sturdy material – I really liked that. With the solar panels, you're able to set it on your dash and it'll charge up. And you can use the magnet to have it stick to your car if you're doing work.
I make sure to have my family keep one in their car."
Search & Rescue Approved

"I bought 8 for my family. They all loved them. Everyone is just thrilled with them. Everyone has a light in their vehicle. My brother in law loves his too.
My sister is in a search and rescue group so she wants to get them to order some for the group. Would be very useful for them."

When your job is to keep people safe… you need a flashlight that you can depend on no matter what. Like these two security guards do...
Sheds a Light on Your Blind Spots

"I am a security guard. And so of course I need to have a flashlight that works really well at night time. In those dark areas, I'm making sure everyone's safe. All that kind of stuff.
Everything is perfect. It even has a solar panel on it. That helps recharge during the daytime. If for whatever reason I forgot to charge it. It'll still be charged come that night when I go back to work. I love the fact that it has a compass. Especially if you're up in the mountains like I am sometimes. If you don't know your way around, this will help you get out of there.
It's just amazing. It's also a power bank, so you can charge your phone or charge your other HaloXT. It's got nine different functions on it, everything like they say and yet it works… perfectly!"
Security Guard Gives to Whole Family

"I ended up getting four of them. I'm a security guard in a building, and this thing is perfect. I mean, it's got everything a security guard needs.
You can break out a big thick window if you need to. It's got a compass in case there's a catastrophe and you're collapsed in a building or something, you'd know which way to go. I'm just overwhelmed with it. I love it."
* Real reviews from real customers. Sometimes customers receive a free product to test or as a thank you for submitting honest feedback. For more information see footnote 1.

And just wait until you see what the HaloXT Flashlights can do for YOU...
This Is

NO

Ordinary Flashlight
Look at how the HaloXT Multi-Use Flashlight outshines those traditional, battery-operated flashlights…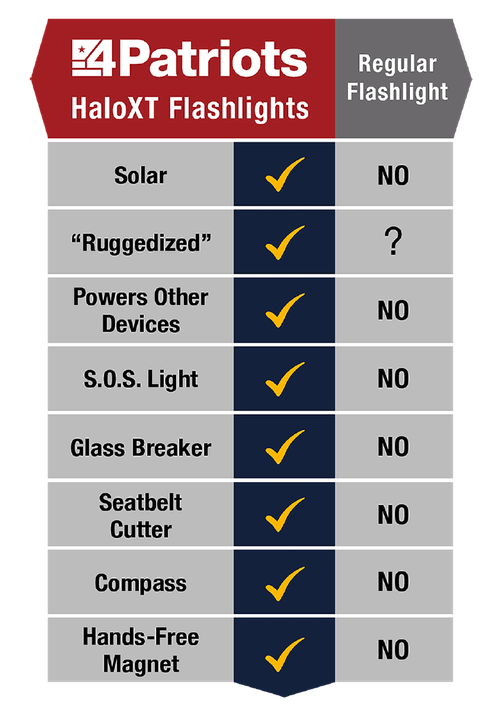 People Rave About Their HaloXT Multi-Use Flashlights
Over the last 4 years, 888,005 customers have trusted 4Patriots survival products.4
And according to our numbers, 97% are happy customers. Plus, a third of our customers come back and order more. Folks are happy – and the numbers show it!5
[WATCH] Parents Thankful They Had THIS When Their Worst Nightmare Happened
I Saved a Life with this Flashlight

"We have all either been in a bad accident or have happened upon one while driving. Last year I stopped to offer some assistance to a young lady who was in an accident . I knocked on her window and she was dazed from the airbag. I opened her door and noticed flames coming from under the hood. My HaloXT allowed me to get her out of the car before it went up in flames. Now, everyone in my family has one in their car. Maybe the life you save will be your own!"
A Purchase You Won't Regret

"I received mine as a bonus with another product. I didn't expect it to be much, but when it arrived, I was very surprised. Heavy-duty, well constructed. Has glass breaker, seat belt cutter, can also be used to charge your phone or something else. Actually took about 1 hour to charge my phone from being about 12%. You won't regret your purchase."

For good measure — we asked Kristy, a 4Patriots employee, to demo her favorite product. And SURPRISE! She calls her HaloXT Flashlight…
A Must-Have Solar Tool for the Car

"I really like my HaloXT Flashlight. It's really more than a flashlight. If something happens to your car at night, this would be perfect."
* Real reviews from real customers. Sometimes customers receive a free product to test or as a thank you for submitting honest feedback. For more information see footnote 1.
Take these customers' advice — stock up on these tactical flashlights for the whole family…
These HaloXT Flashlights are on a 100% First-Come,
First-Served Basis
As you can see, people go berserk over the HaloXT Flashlight. That's why we had to limit each person to four at a time.
Because we'd like to help as many people as possible enjoy the peace of mind that comes from having a HaloXT Multi-Use Flashlight — a trusted and practically limitless source of light.
That's why you'll get a special bulk discount on these HaloXT Flashlights when you stock up. And why you'll get FREE gifts and FREE Shipping & Handling, too.
Imagine all the ways these solar flashlights will help you and your family…
IN YOUR CAR when breaking the window is your emergency escape route.
AT HOME when the lights go out and your batteries are dead.
ON THE ROADSIDE when you hit a nail and need to change a flat.
And there's good news: they are IN STOCK and ready to ship to your door from our warehouse in Utah, USA.
And in the interest of full disclosure…
There Was 1 Surprising "Complaint" About These Solar Flashlights…
Most of our customers want this flashlight's 9-in-1 life-saving functions for their WHOLE family. Not just for themselves.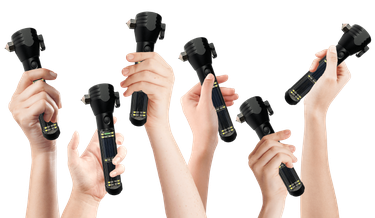 Well... we can certainly understand that request. Maybe you can, too.
So today you can get up to 4 HaloXT Flashlights and score the lowest price per unit.
Always have the ultimate safety plan, no matter where you go. Keep one in the car, use the magnet to stick one to the fridge, keep one in your bug-out bag… and give the other to a loved one.
After all… you never know where you'll be when an emergency hits. Or how many people you'll be with! So it's best to err on the safe side when it comes to stocking up.
Especially if you have a spouse, kids, or grandkids.

In a crisis, you want ALL of them armed with the tools they need to survive.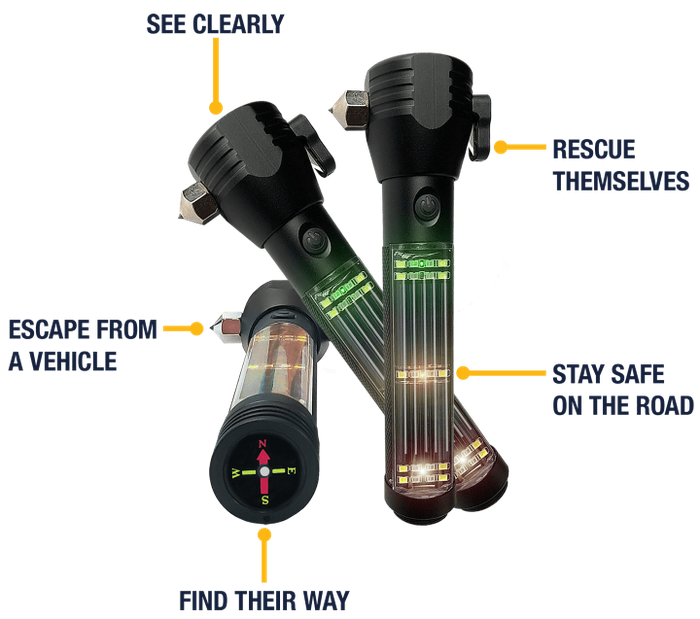 Frankly, every family should probably have more than 4 HaloXT solar flashlights... to be totally ready for whatever crisis could come.
Edwin wanted to extend his safety net to his entire family. So he bought the four pack FIVE TIMES -- he loved them that much!
I Bought 20 of Them to Protect My Family

"I was so impressed with the HaloXT Flashlight that I bought 20 of them and gave one to everyone in my family just so they would be prepared if they ever have an emergency."

Trust us… we see the need to stock up for the whole family. But here at 4Patriots, we champion freedom and self-reliance for ALL. And we want to spread the wealth around when it comes to your and your family's safety.
That's why it only seems fair to limit each person to 4 units at a time.
Again, you can see most customers claim more than one HaloXT Flashlight. To stash in their RV, cabin, backpack or glovebox. Or to give to friends and family. Young or old — people are sure to appreciate these HaloXT Multi-Use Flashlights.
Here's How to Get Your Hands on HaloXT Flashlights
So at this point you've seen the benefit of having these solar-powered safety gadgets on hand, ready to support you in an emergency.
You've seen how they recharge with the sun...
How they power your critical devices...
How easy they are to use in your everyday life...
And how the ability to see clearly -- and also break free from a dangerous situation -- could make all the difference in a crisis.

It's no exaggeration to say that 4Patriots HaloXT Multi-Use Flashlights are one of our most popular products because people love the peace of mind they get from having them around.

Think about what it would be like to reach for your flashlight after a flat tire, car wreck or storm…
To shine a comforting light for your spouse, kids or grandkids… in a blackout

To ease your racing mind... knowing that your light won't fail when you need it the most

To escape from a jammed seat belt

To break free from a stuck window

To have critical light and life-saving power in a pinch
This doesn't have to be wishful thinking.

With your HaloXT... help will always be within reach.
And when we looked at what other companies are selling their "tactical flashlights" for — some still using AA-batteries (or a hand crank!) — we found your HaloXT Multi-Use Flashlights are valued at $49.95 each… or more.
Which, when you think about it, is actually a steal. Especially when you realize you're getting 9 tactical functions in 1 handheld tool.
Chances are good that you'd pay a LOT more than $49.95 for a solar-powered flashlight like this during a crisis.
Heck… you'd probably pay 10 times that (or more!) if it meant your loved ones would never be left in the dark.
And yet despite all the money that you'd gladly spend in that moment…
Here's the Great News…
Right here, right now…
We're offering these breakthrough HaloXT Multi-Use Flashlights for a way less than what you'll see similar flashlights going for on the internet.
You can get a single HaloXT for only $29.95 plus shipping.
That means that even if you only use it 6 times and never touch it again… you'll have a backup safety plan for only $4.99 a pop.
And that's still just the start.
Because you'll want to get enough 9-in-1 flashlights for everyone you love...
And because the more you have ready, the more secure you'll feel…
We strongly recommend you stock up on as many HaloXT Flashlights as you can.
That way you'll feel confident knowing that when SHTF… you're protected. No matter where you are or what you need -- the HaloXT Flashlight will guide you to safety.
And to make loading up on HaloXT Flashlights an easy and affordable decision, we created a special multi-unit discount package.
When you stock up on our Best Deal and get 4 HaloXT's today… you'll get 7 FREE gifts… including bulk discount pricing... and FREE Shipping & Handling.
But it's only available here.
YES! I Want the KING of All Flashlights…
Plus FREE Gifts & FREE Shipping, too!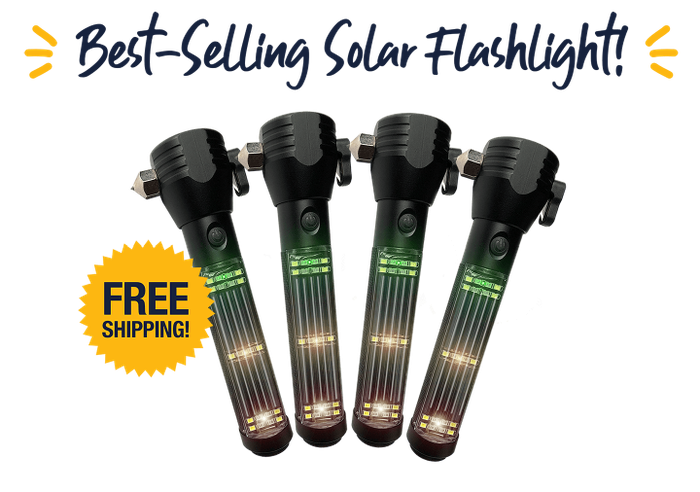 UPDATE: Our Best Deal Just Got Even Better!
Select the BEST DEAL Package Today &
Receive 7 FREE Gifts Including FREE Shipping

Now to help make stocking up a complete no-brainer for you…
Your FREE Bonus Gifts are the Perfect Complement to Your HaloXT Multi-Use Flashlights
Developed exclusively for HaloXT customers who claim our Best Deal...
You'll get a special FREE bonus gift package that is the perfect complement to your HaloXT Flashlights.
These aren't throwaway tchotchkes, folks.
This is a limited-edition "better-than-FREE" collection of goodies that will only strengthen your preparedness plan…
But first up, you'll get some serious savings…

Exclusive FREE Gift #1: "Stock Up & Save" Bulk Discount ($20.80 Value)
As a special "thank you" for your loyalty, we're offering you a special Stock Up & Save Bulk Discount. You'll get $20.80 OFF when you claim 4 HaloXT Flashlights.
Yes... we know that's shaving over $5.00 OFF each HaloXT Flashlight. Yes... we know that these solar flashlights already sell themselves.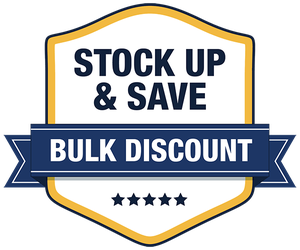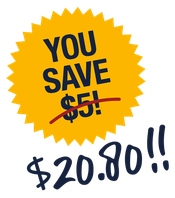 But it's only fair that our best customers get the best deal.
There's no coupon code to remember or fine print to read. We just really appreciate you trusting us with your business today. And we thank you for supporting an American company like ours.
That's why you'll also get...

Exclusive FREE Gift #2: A $25 Shopping Certificate
To make today's purchase "better than FREE" for you…
You'll get a FREE $25 Certificate that you can redeem on any future purchase of $100 or more. Use it to get best-selling survival food, solar gadgets and SO much more!
Get whatever you need to round out your preparedness plan… it's completely up to you.
And considering you're getting a $25 Certificate in the mail… you're essentially getting ONE of your HaloXT Flashlights completely FREE. Wow!
That's what we call an incredible deal.
But we wanted to sweeten the pot even more. So when you claim your Best Deal of HaloXT Flashlights, you'll also get…

FREE Gift #3, 4, 5, and 6: FREE Lifetime Access to The Blackout Survival Digital Library ($20.00 Value)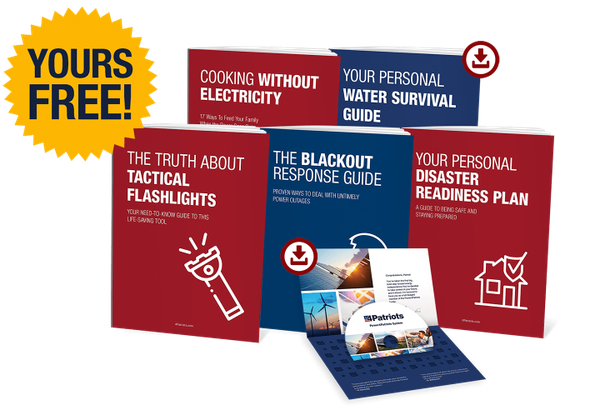 FREE Report: The Truth About Tactical Flashlights
From the first paper-rolled flashlight to the high-tech survival tool, this digital report takes you on the journey of the ever-evolving flashlight. And how its purpose has changed over the centuries. Starting with the BIGGEST mistake today's buyers make when purchasing one for their home…
Not to mention:
What SWAT teams look for in a flashlight
Why you shouldn't always buy the "brightest" flashlight
5 must-haves for any tactical flashlight worth its salt
FREE Report: Power4Patriots Energy Independence System
Next up, you'll get one of our best-selling products of all time — the Power4Patriots Energy Independence System — a simple, step-by-step system for reducing your dependence on our crumbling Power Grid.
And for cutting your power bills, right along with it! You'll learn how to...
Harness hundreds of watts of FREE wind power...
Build a wind turbine at home with this simple tutorial. There's just 1 simple step you can't skip...
(you'll find it on page 18)
Supply your entire family with hot water… without fuel or flames
You don't need an advanced engineering degree to make your own solar water heater — as long as you have this tutorial. Turn on your videos… grab some pipes… and you'll be taking a hot bath in no time.
(page 21)
And much more!
And it's delivered via digital video AND in written digital form, so that you can both see and read this valuable information.
FREE Report: The Blackout Response Guide
This digital report is your blueprint for what to expect in an extended power emergency. And for what you and your family can do beforehand to prepare. Including:
13 items to have ready NOW before a blackout hits
The one phone number never to call for power-outage updates
Step-by-step instructions to avoid food poisoning in a grid-down event (hint: it's not boiling or cooking)
And much more!
FREE Report: Preparedness Plan Guidebook Collection
The perfect complement to your Power4Patriots system! You'll get 3 "starter pack" guidebooks delivered right to your email. That way you can get started on your Preparedness Plan right away, even if it's 3 a.m.
Up first, your FREE Disaster 101 Digital Report…
This "no-BS" manual helps you prep yourself and your family for an emergency. You'll get everything you need to start preparing for the unexpected. Including evacuation tips, first-aid basics, food-storage recommendations… and more!
Next up, your Water Survival Guide...
Because clean water is a critical part of any survival plan. This guide shows you how to source, store and collect water in an emergency.
Rounding out this all-star trio is your Intro to Solar Cooking Digital Report…
If you find yourself without a stove you'll be glad to have this solar cooking field guide onhand. Build your own solar cooker with cardboard and aluminum foil using these instructions. Then add sun!
And last but not least, you'll get...

Exclusive FREE Gift #7: FREE Shipping & Handling ($9.95 Value)
Select the Best Deal on your HaloXT Flashlights today and you'll get FREE shipping & handling for your entire order.
We want you to know how much we appreciate your business. So we're going to take care of the shipping and handling for you.
Click the orange "Start My Order" button now, and we'll add all your bonuses to your order right away.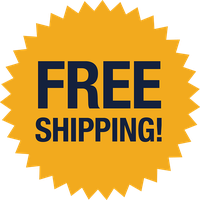 YES! I Want Life-Saving Light For Myself & My Family With HaloXT Flashlights Today!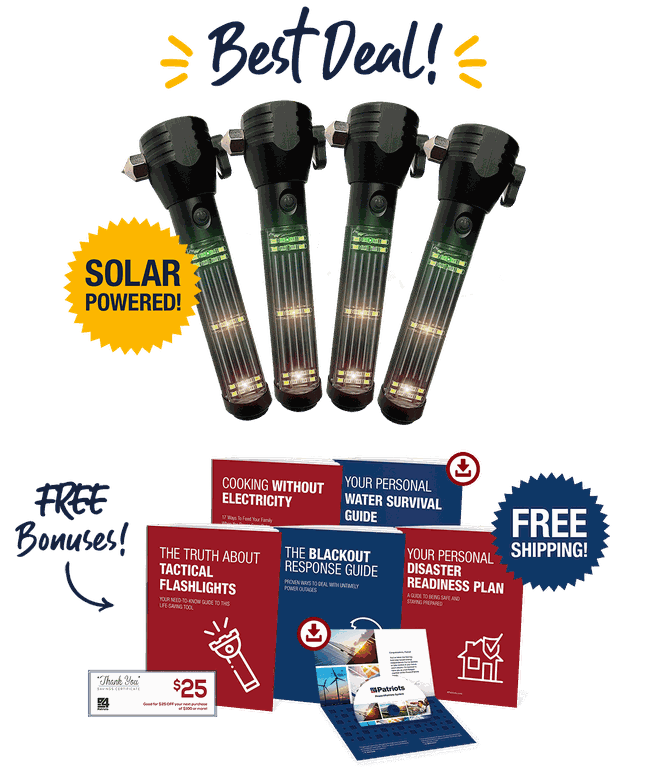 And you won't risk a thing by trying out your HaloXT Multi-Use Flashlights thanks to…
An Outrageous Double Guarantee so This
is 100% Risk FREE for You
You should be 100% happy with your order or you shouldn't pay a penny. You'll get a 100% money-back satisfaction guarantee for 365 days with no questions asked.
Guarantee #1
100% Money-Back Satisfaction Guarantee
If for any reason you're not satisfied with your 4Patriots HaloXT Multi-Use Flashlights, just return them within 365 days (that's a full year) of purchase and we'll refund 100% of your purchase price. No questions asked. That way there's absolutely no risk for you.
Plus, when you claim a 4-pack of our HaloXT's you'll get a FREE 2-year extended warranty on every HaloXT Flashlight you purchase. We're confident that your HaloXT's will stand the test of time and will be there when you need them.
Guarantee #2
2-Year Extended Warranty
If anytime in the next 2 years your HaloXT Multi-Use Flashlight fails to hold a charge due to defects in materials or workmanship, send it back with a 1-page note explaining the problem. We'll ship you a brand-new one FREE! No charge for parts, service or labor. Your HaloXT will be as good as new, because it will be new.
This outrageous double guarantee makes your purchase 100% risk-free. We stand behind the HaloXT Multi-Use Flashlight and we are confident you're going to love it!
If you're not sure… the smartest thing to do is claim your HaloXT Flashlights today. Try them out, and if any problems come up in the next year, just send 'em back. You literally can't lose.
And if you act now, you'll get something FREE that most companies charge an arm and a leg for. Simply to prove how much confidence you can have in this product. You'll get FREE reliable and knowledgeable technical support for the life of your HaloXT Flashlights.
Our customer service team is made up of real people – Americans. We truly care about you and your purchase, and we are willing to stand behind that promise. In our view, that's part of doing business the ethical way. The American way.
Click the button below now.

It's clear that these HaloXT Multi-Use Flashlights are an incredible value.
But don't take our word for it… here's what HaloXT customers have to say:
Raving Reviews From 4Patriots Customers!
When you claim your HaloXT Multi-Use Flashlights, you'll not only get a portable protection plan… you'll also get tremendous peace of mind.
Like these customers did…
I Came Back For More

"I highly recommend purchasing them. Two years ago I bought the 4-pack and gave each of my 3 kids one for their families. This is my second order as I want one in several places in our home to grab when needed. Awesome!"
Peace of Mind Fits in my Glovebox

"I think it's a great product. I like that it can break a windshield in an emergency. Florida has lots of water — this could save a life! I got two so both my wife and I have one in the car. Great to have!"
* Real reviews from real customers. Sometimes customers receive a free product to test or as a thank you for submitting honest feedback. For more information see footnote 1.
Can you picture how good this security and independence will feel?
Your Purchase Makes a Difference For Vets
Thanks to your support, we're able to employ 140+ American men and women from all across the USA. People who work hard and truly enjoy helping folks get prepared for emergencies.
And again — thanks to you — we provide meaningful donations to important charities that help American veterans and their families.
Charities like Operation Homefront, Fisher House, A Soldier's Child-Foundation and Team Rubicon.
In fact, 4Patriots and our affiliated brands have donated more than $975,000 in cash, plus truckloads of life-saving products and countless hours of volunteer service by our employees since we founded the company. And the numbers keep growing! In 2022 alone, we donated "$1K a Day" for a total of $365,000 by year's end.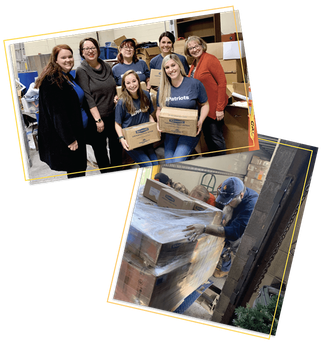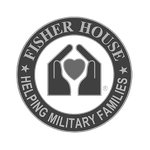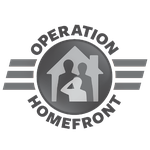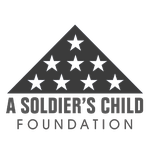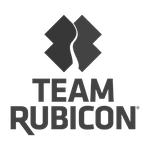 Listen, it's up to you which way you go.
But in times like these… with more wild weather and dangerous blackouts in the news every day.
You've got to ask yourself…
Are You Ready for the Storm?
If you're ready to take charge and look out for yourself and your family, then click on the button below. You'll be glad you did.
This is about peace of mind, knowing that when the world goes dark you can provide a comforting light and guide your family to safety.
Don't you deserve this?
To get your HaloXT Multi-Use Flashlights rushed to you… plus your FREE bonus gifts and FREE shipping & handling… click the big button below.
These flashlights are in stock and ready to ship. When you order you will instantly receive an order confirmation. We will rush your order to you and you'll get a shipment tracking number as well.
You can get started risk-free because you're backed by a 100% money-back satisfaction guarantee for 365 days. It's like trying it before you buy it.
And you'll get added protection with your 2-year extended warranty… completely FREE. Good for a full two years from today.
Claim your 4Patriots HaloXT Flashlights and your FREE gifts now. You'll be glad you did.
Click the "Start My Order" button below.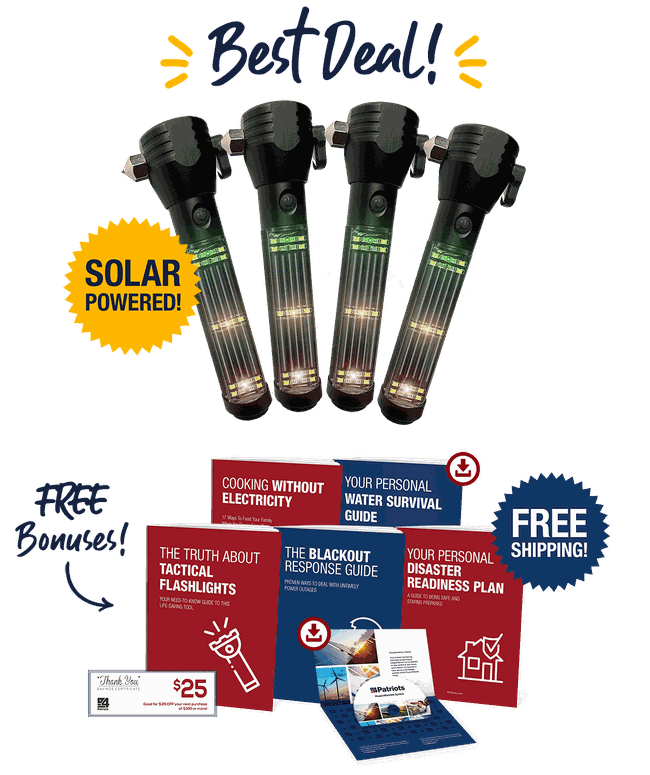 Hardcore "Prepper" Uses It Every Day

"Great multifunctional flashlight. I got one and used it while camping. I used it for most of its features and was not disappointed. It's now an EDC (Everyday Carry) in my truck and I am ordering one more for camping and 3 more for my Bug-Out-Bags. Awesome product, solid construction."
Give the Gift of Safety if You Love Your Family

"The flashlights, I even gave one to my daughter-in-law who climbs mountains all by herself in the middle of the night, and she's used the flashlights and loved them. I've used it to go out to the camper to find things that I need."
Worth Every Penny -- Buy Them Now!

"It's the brightest and most useful flashlight I've ever had. And since the Best Deal was for four, I bought the package deal. I put one in my car, one in my wife's car, the third one's magnetically hanging from a file cabinet in my office, and the fourth is in the master bedroom.
I love the nine possibly life-saving uses and I think the tenth could be self protection. It's heavy duty and would hold up easily in a fight. It's worth every penny. If you want quality tools, you have to pay for them."
* Real reviews from real customers. Sometimes customers receive a free product to test or as a thank you for submitting honest feedback. For more information see footnote 1.
1. All testimonials in this advertisement are from real people; sometimes names and photos have been changed to protect their privacy and some were given free products in exchange for their honest feedback. Testimonials represent exceptional results, don't apply to the average purchaser and are not intended to guarantee that anyone will achieve the same results. The organizations, publications and people referenced on this site are not affiliated with 4Patriots. They have not endorsed, sponsored or recommended this product; no affiliation or endorsement is claimed. Terms & conditions apply. Cade Courtley is a former Navy SEAL and Platoon Commander who served 9 years of active duty and has been compensated by 4Patriots for his hard work in helping us test and endorse this product.
2. Battery performance will vary based on your charging and usage conditions, including discharge rates, cord and voltage-conversion efficiency, testing conditions, temperature, and age. Capacity is approximately 2,000 mAh. Always follow storage and use instructions.
3. Use the seatbelt-cutting and glass-breaking functions at your own risk. While we have no reason to doubt the effectiveness of this product — and while we have tested both the seatbelt cutter and the glass breaking hammer in real-world conditions — due to the highly variable nature of dangerous emergency situations, it is not reasonable to assume a single standard of performance for every person operating this product in every emergency situation. 4Patriots is not responsible for injuries sustained while using this product, be they caused by the product itself, by factors beyond the company's direct control, or by other factors.
4. 4Patriots customer count from 2016 to 2019.
5. 96.6% of customers do not return their products or request a refund. More than 30% of customers make a second 4Patriots purchase.