"Weird" 8-Pound Solar Device Could Save Your Life in a Dangerous Blackout
[Back in Stock] A Nearly Endless Supply of Backup Power That's Fume-FREE, Silent & Safe to Use Inside!
If last year taught us anything…
It's not IF you need a backup plan... it's WHEN.
You see blackouts sweeping the nation — storms, wildfires and crumbling power grids.
And you see the need to protect yourself & your family.
Well now you can.
Because right here on this page you can get a breakthrough solar device...
That can harness the limitless and FREE energy from the sun. And that's safe to use inside because it's fume-free, silent and never needs gasoline to run.
Customers have snatched over 24,535 in less than a year of being on the market.3 And now that we have stock for the first time since April… you should reserve yours now.
So keep reading to see…
This Mini Solar Generator Keeps Your Devices ON & Weighs Less Than a Housecat
From the Makers of the Best-Selling Patriot Power Generator
Customers love the power, convenience and flexibility of the deluxe Patriot Power Generator 1800. We've sold over 52,000 units since we released it in July 2014.4
In fact, there's only 1 "complaint" we ever get…

It's that some folks want something a little smaller, and a little less expensive. But with the advanced solar technology that they can use safely indoors, and with enough power to run their critical devices.
But that's a tall order… to pack the same advanced solar technology into a smaller container.
But we were determined to do it. As a family-owned, American company, we always know...
The customer comes first.
So we got hard to work. Preparing a whole NEW batch of solar generators...
But in miniature form. And for a fraction of the price.
We got in touch with a team of engineers in Utah who are just as passionate about this as we are.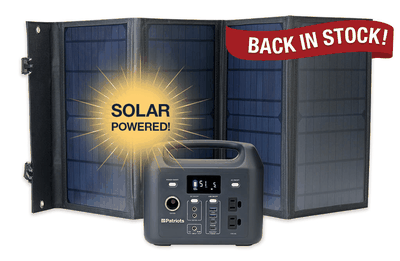 Details below on how to claim the power and flexibility of the Patriot Power Sidekick®... on an easy monthly payment plan!
These guys have spent years training as engineers, traveling the world searching for the best way to generate and store the FREE power from the sun.
And good news! All that hard work — months and months of tweaking and testing in the lab — was worth it.
Our first run of mini solar generators sold out in 8 days.
Our second run sold out in 5 days.5
In fact, demand was so high, this is the first batch we've had in months.
And even after we stocked up again… you folks grabbed every last generator we had.
Folks loved the power, convenience and flexibility of this 8-pound solar generator.

And now, for the first time since April…

The Patriot Power Sidekick® is back in stock.
The Patriot Power Sidekick

Finally… a Mini Solar Generator that Never Needs Gas & that Costs Less than an iPhone!
There's a reason why the Patriot Power Sidekick is known as the mini "magic bullet" that protects you and your family from dangerous blackouts.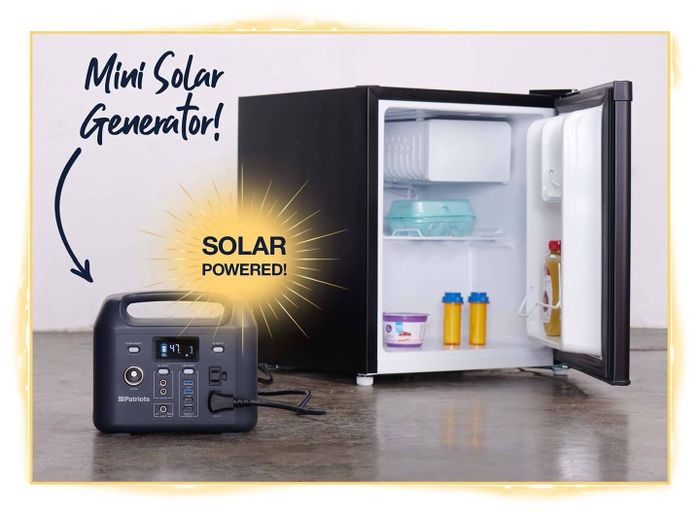 It's a nearly endless supply of backup power… that weighs less than a housecat! And costs less than one, too.
It can recharge using the power of the sun.
And you can use it right inside your home, because it's fume-free and SAFE.

Just think of all the ways you'll use yours:
Charge cell phone or laptops

Keep medical devices running

Power lights for safety and comfort

Turn on lights to ward off looters

And SO much more!
Plus, get your mini solar generator on an easy monthly payment plan today — no credit check!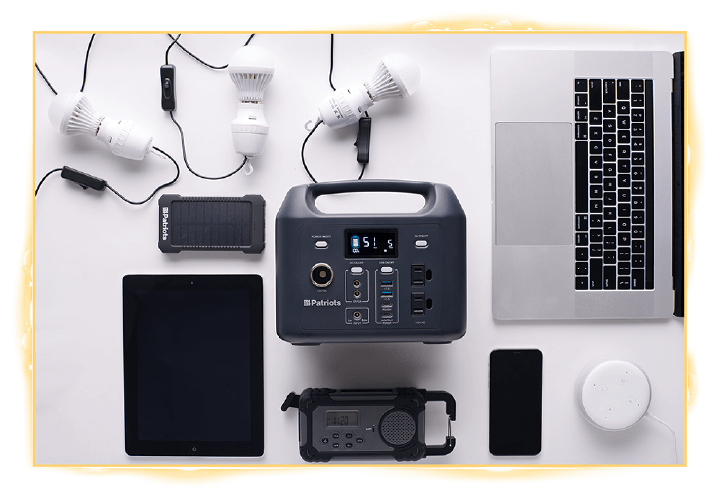 Thomas used his Patriot Power Sidekick to run his CPAP machine when his power was out for days...
Saved My CPAP Machine During The Winter Storms

"I just survived the ice storm, the freeze, and the power outage in Texas using my 4Patriots products. I was most happy about my Patriot Power Sidekick... it's about the size of a toaster. It's quiet. It's clean.
I was able to deploy the solar panels on the dashboard of my van... it charged up. And then that night I plugged in my CPAP machine and it ran it all night long. With enough to charge my phone in the morning."

This small-but-mighty solar generator is such a fan-favorite, it was even featured on FOX News...
As Featured on Fox & Friends

"You can keep it right in the house because there's no fuel, no fumes, no exhaust. So this will power up your devices in case of an emergency. And it packs up into a really nice kit. This makes a fantastic gift."
And the best part?
The Patriot Power Sidekick comes with…
An Unbeatable Combination of Features — With "Peace of Mind" the Best One of All!
They say life's greatest gifts come in small packages. And your Patriot Power Sidekick is no different. It's as small as a newborn babe, and yet…

This breakthrough backup power source can save your family in a blackout. With an incredible, 300-watt capacity you can recharge your mini solar generator thousands of times.

These portable, mini solar generators will give you all the peace of mind of a regular generator without the fear of running out of gas… and with MORE of the convenience you love.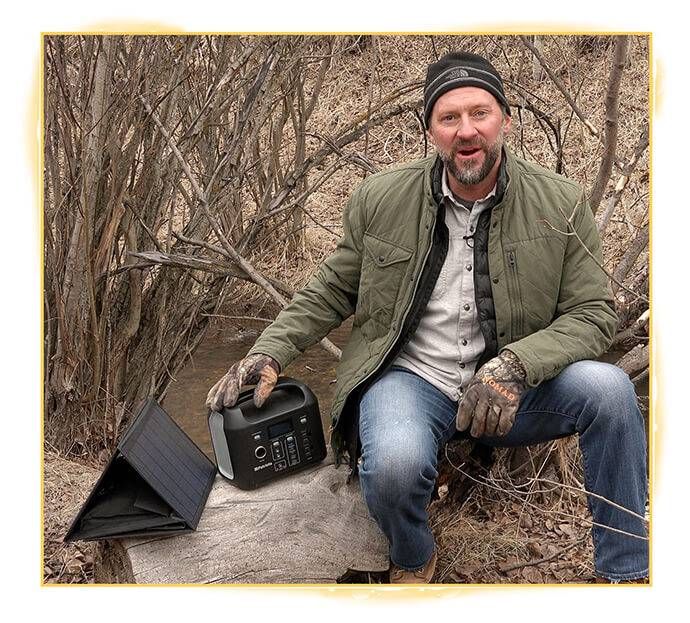 Charges FREE in the SUN
Always be prepared with backup power in a blackout. This mini solar generator can keep your family safe using the FREE energy from the sun... so you can power your critical devices in an emergency and always stay connected to family, important news and first responders.
Advanced-Engineered Battery Technology
Inside your Patriot Power Sidekick, there's one of the safest... most advanced batteries on the planet. Rest easy knowing lithium-ion-phosphate batteries are famous for their stability. A reliable power source in a crisis.
These aren't some cheap, run-of-the-mill batteries like you'll find on Amazon. Thanks to our engineers and supply chain partners, we sourced high-quality batteries that will last. Up to 2,000 lifecycles!
And that extra care is what sets us apart.
Powers Critical Devices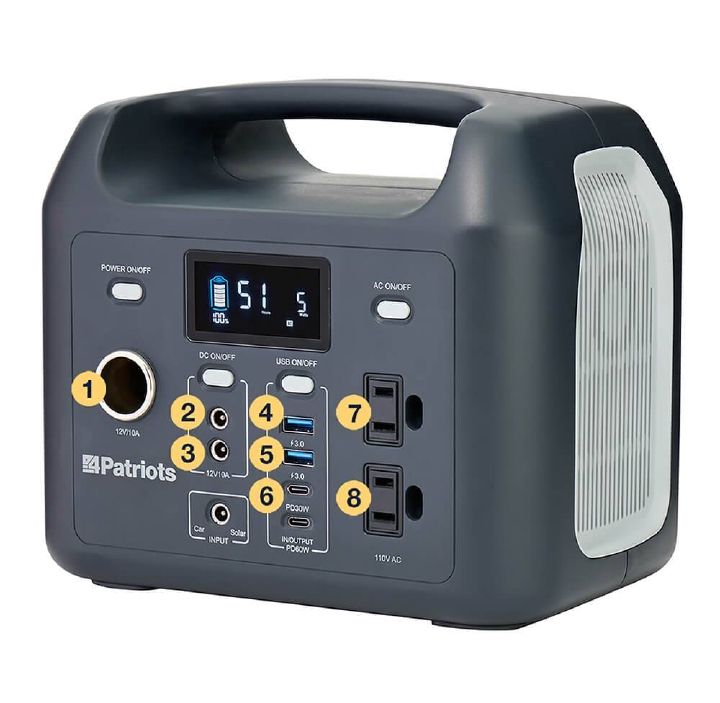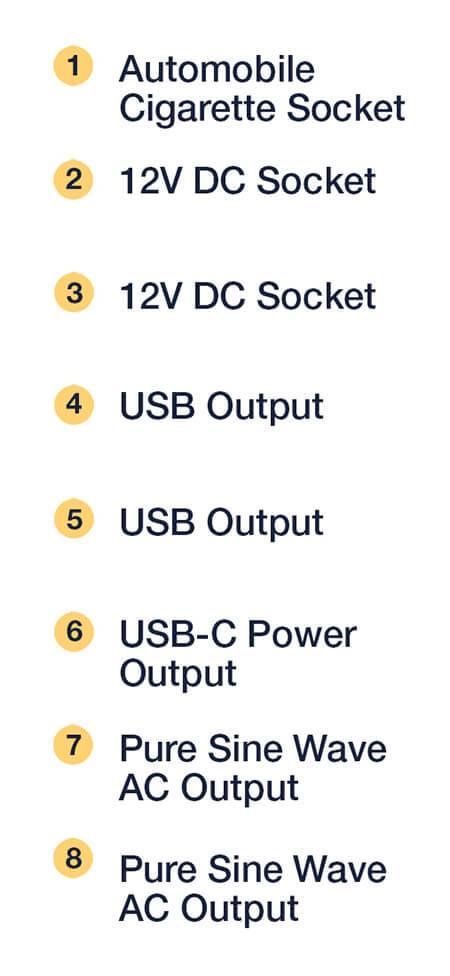 Small and mighty, the Patriot Power Sidekick has an impressive 300-watt capacity. This "portable power plant" can power your phones, laptops, medical devices, radios and more! So you can have the ultimate peace of mind that you and your family will stay connected to help if disaster strikes.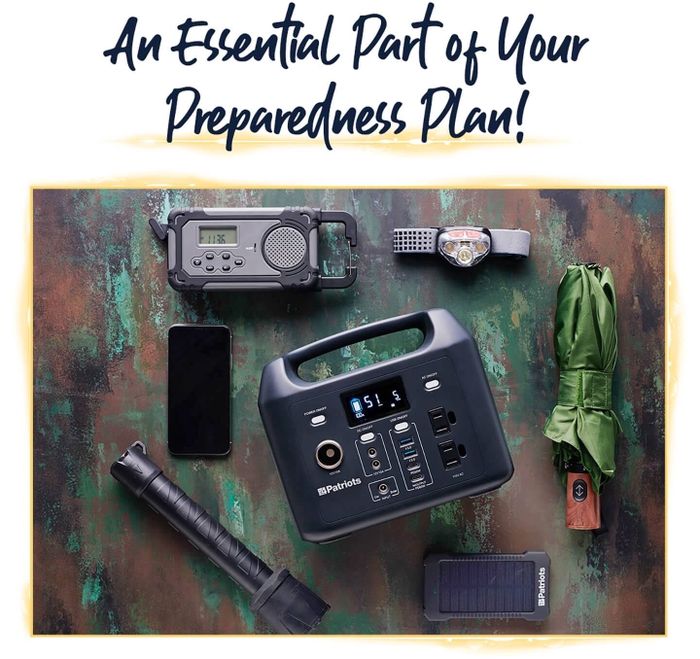 Small, Mighty & Portable
At only 8.4lbs. your mini solar generator weighs less than a gallon of milk… it's practically light as air!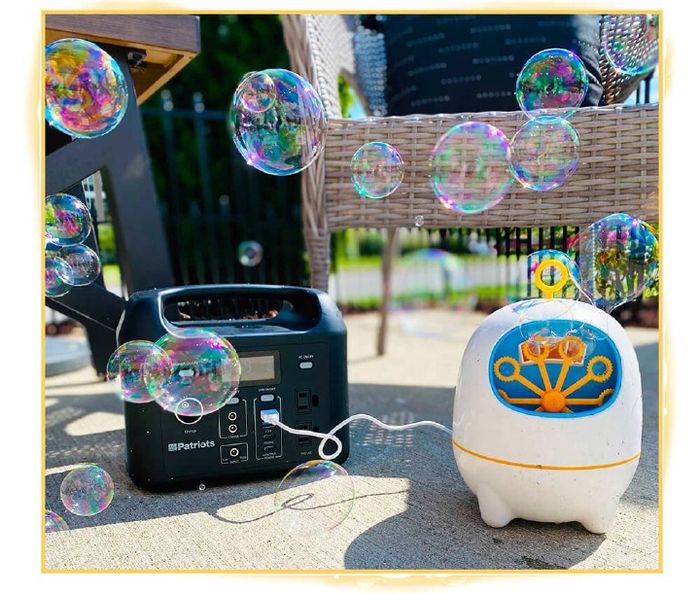 You can take it from room to room. Or tuck away in the pantry, car or bug-out bag.

And with a built-in handle, your mini solar generator can go anywhere with you. Especially if you need to "leave home in a hurry" — this portability is a huge advantage over other types of backup power.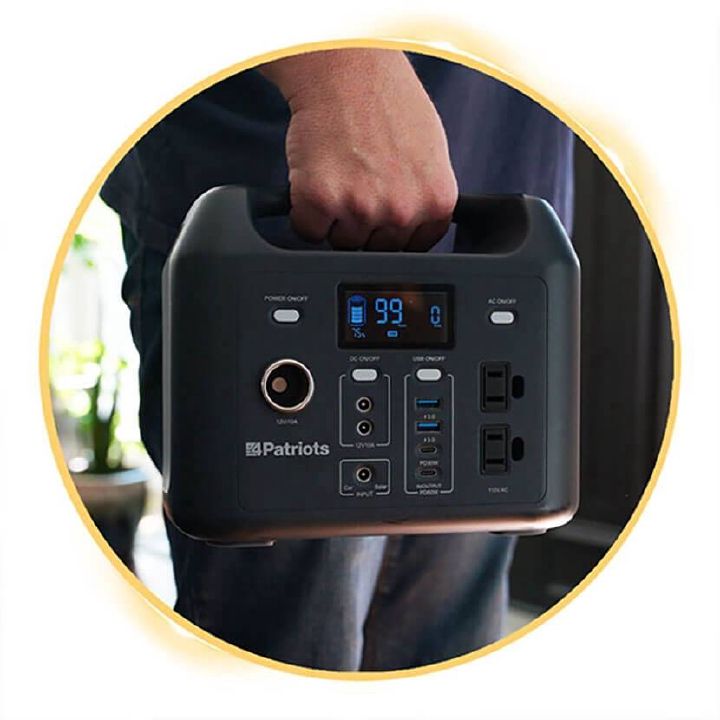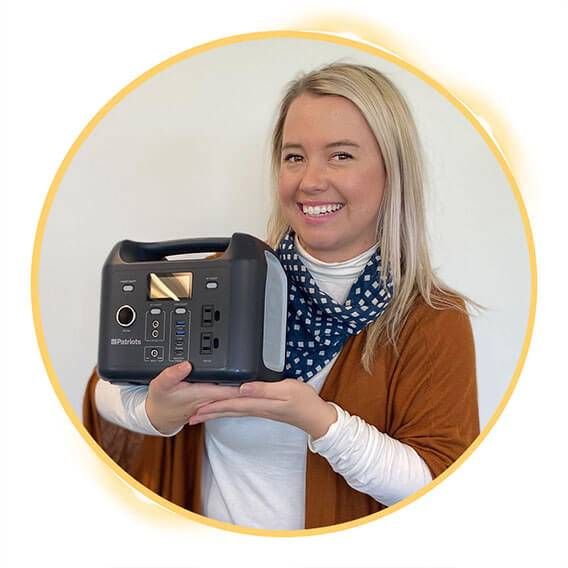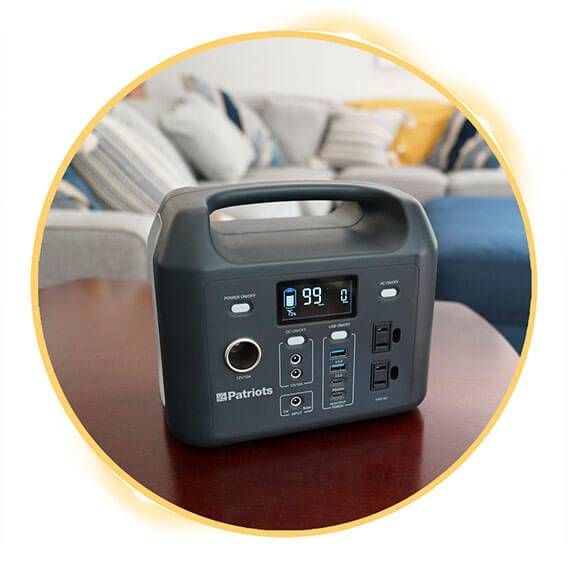 Silent, Fume-FREE & Safe
This gasless mini solar generator could save your life in a blackout! You can use it inside your home, no dangerous carbon monoxide fumes, no noise, no smell. And never needs gas... ever.
Rita's neighbors were jealous when they saw her husband tackle storm cleanup without worrying about gas!
The Neighbors Laughed At Me Until They Saw This Thing In Action!

"This product is so versatile, and at only 8 lbs, my grandchildren can get it. We had many trees down from a storm. The guys kept having to refill their gas powered chainsaws. My husband came out with this "little" box and his electric chainsaw. They laughed and said a long electric cord would be too dangerous. My husband calmly hooked up his Sidekick and made short work at lopping off the branches and then walked through the path he made. It lasted longer than the gas 'polluting' machines. Very grateful you have made this available to buy at an affordable price.
P.S. My husband laughed at me when I got it. He said the big one was enough. But it was a lot easier in the fallen trees than the 40 lb one. That we hooked up to the fridge and kept the phones and tablets charged."

And when you use it inside your home, you'll never alert a looter to your position. So you can provide your family with safe and reliable power no matter where you are.
Fast Recharge
Get the power you need in as little as 4.5 hours using the included AC cord. Or charge it via the SUN in as few as 8 hours using the FREE solar panel, pending your weather conditions.*
Long-Lasting Battery
Always have backup power on hand. Your mini solar generator can keep a full charge for up to one year... with a 20% maximum leak.
Recharge 2,000 Times!
Competitor products with inferior technology might seem like a great deal, but dig in and see that those knockoffs won't last nearly as long as your Patriot Power Sidekick. It can recharge up to 2,000 times. Wow!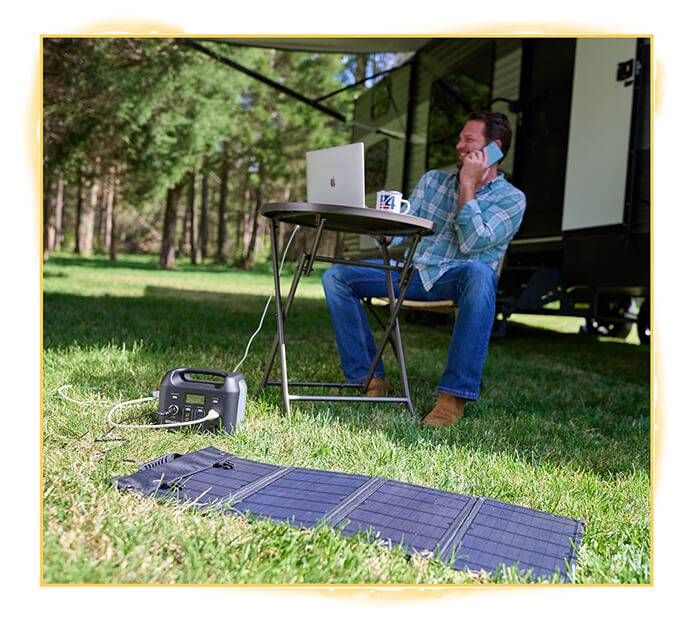 * Battery performance varies based on charging and usage conditions, click here to learn more footnote 2.
Peace of Mind For YEARS

"I purchased this product to provide power to run a box fan in the summer and lights in the winter. I can use this product every day for over four years as it can be recharged up to 2,000 times. It won't make noise that draws attention and can create comfort in a difficult situation. Best of all, it's portable."
Easy to Use
You don't need an advanced engineering degree to use your mini solar generator. It comes charged and ready to go!
Always know HOW MUCH power you have in an emergency. And monitor your usage in a crisis with it's easy-to-read display.
We sent Craig a FREE Sidekick to try out. Here he is showing you how to use the FREE 40-Watt solar panel to power your Patriot Power Sidekick...
Completely Portable & Easy to Use!

"I really like how many things the Sidekick can run. I can charge my cell phone and iPad at the same time, run an electric razor, my radio, an electric blanket and so much more. It's so easy to take with you anywhere — very light!"


Here's the Specs of Your Patriot Power Sidekick
Your Patriot Power Sidekick is small, but mighty… with some serious firepower under its hood:
2,000 Life Cycles — WOW!

Weighs 8.4 lbs.

Only 7.75" long x 1.7" wide

12.8V Lithium Ion Phosphate Battery

Charging power: DC 19V/3.42 Amps

Pure sine wave
Regulated 12V

Inverter capacity: 300W

Pass through charging: No

12V Charging: No

AC charging rate: 45W

DC solar charge rate: 60w
In a nutshell… this mini "powerplant" can support a family of five with all of their handheld devices — and then some.
Powers Your Favorite Devices
Have all the devices you need at the ready in the event of a disaster. If your phone, medical devices or emergency radio needs a charge... your mini solar generator has a plug for it: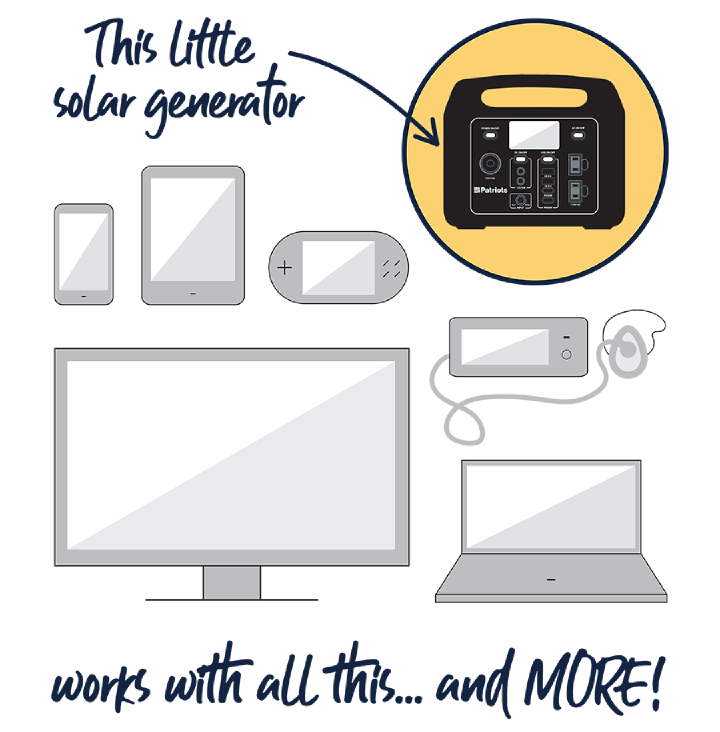 Phone Charger
Tablet
Laptop
Nintendo Switch
CPAP Machine
LED Lights
Television
Mini Fridge

60 hours
17 hours
5 hours
14 hours
6 hours
100 hours
2 hours
4 hours
*Run times are approximate. Actual use time may be longer or shorter depending on the wattage of your appliance.


Or power up your favorite 4Patriots USB-rechargeable devices:
BugOUT Solar Lantern®

HaloXT Solar Flashlight

Liberty Band Solar Radio

Patriot Power Cell

Patriot Power Blender®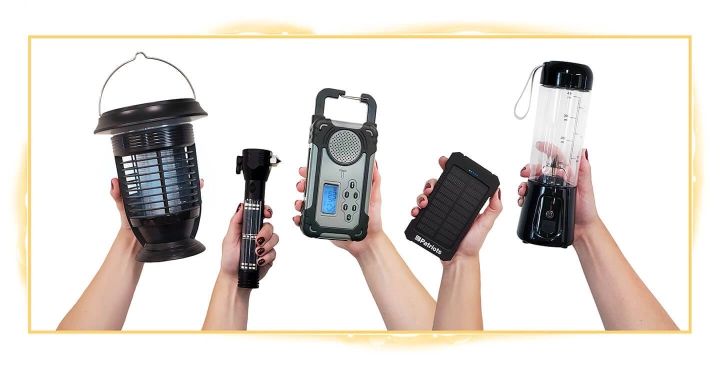 With EIGHT outlets, you can charge a multitude of critical devices at once!
During the winter storms that took Texas by surprise, Jana powered up items for both fun AND function:
Portable Power Was A Blessing When The Grid Failed Us

"I didn't think I'd need this but I needed it shortly after receiving it. I live in hurricane territory and figured that I would probably use it eventually. This past February was the worst freeze that we, in Texas, have seen in a long time. Our power grid failed big time. We were without power for a couple of days.
This product was a blessing while we were sitting in the dark and freezing under multiple blankets. We were able to have a light and a small portable TV. I highly recommend this product and the company that sells it."
FREE

Portable 40-Watt Solar Panel Included
When a natural disaster strikes you need to get out fast. Make sure your family stays connected to news alerts, emergency help and more with your portable, mini solar generator. Your Patriot Power Sidekick is bug-out or hunker-down ready thanks to its portable, 40-watt solar panel.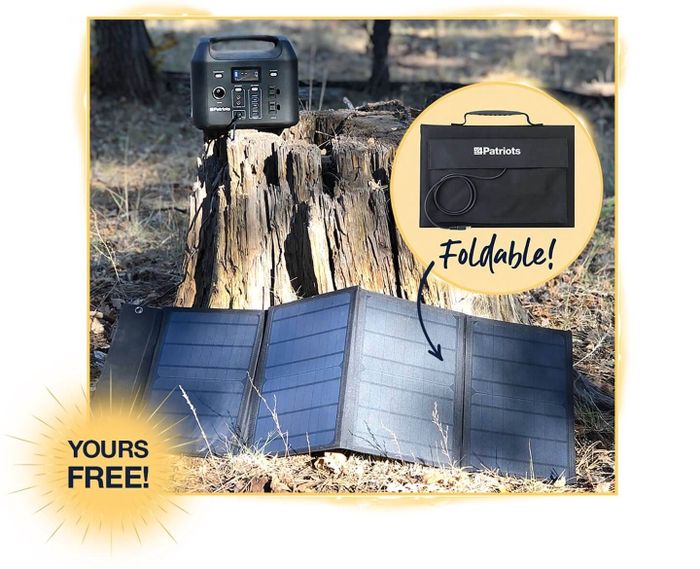 You get an INCLUDED solar panel that easily folds into your bug-out bag, so when you're without power you still have the potentially life-saving power of your mini solar generator. Using the FREE energy of the sun you can power your most critical devices anywhere, anytime.
Robin loves that she doesn't have to spend a penny on replacement parts and can count on the sun's rays:
Have Sun, Will Function

"Old, over 70+, SS $$ only. You have lots of neat equipment, I have a few pennies... I can only afford what works and keeps working. The Sidekick works with the sun, no replacement filters needed."

And only a little over a foot long folded up, you'll be amazed when you unfold its 4-panel design into a sun-catching solar device measuring: 43.1" x 12.9" x 1.1" inches. Primed and ready to power up your Sidekick.
PLUS, your FREE solar panel has an extra USB outlet, so it can power up your phone, tablet or radio on its OWN. No generator necessary! It's like a portable power bank in its own right.
Here's Danielle, unboxing her very own Sidekick and solar panel, and powering up her devices… straight from the box:
This could truly make a difference for you and your family in a crisis.
People Rave About Their Patriot Power Sidekick
Over the last 5 years, 1,087,240 customers have trusted 4Patriots survival products.6 And according to our numbers, 97% are happy customers. Plus, a third of our customers come back and order more.
Folks are happy – and the numbers show it!7
Just like Dan, a Pilot and Red Cross Volunteer who loves his Sidekick Generator:
You'll Never Run Out of Juice

"You can charge your phone 28 times and still have some juice left over. It has no shortage of power. It's very reliable and very good. It's the perfect addition to all of your other 4Patriots products."
The Secret Weapon For Frequent Outages

"I have had the wonderful experience of purchasing three Patriot Power 1800 Solar Generators and one Patriot Power Sidekick, all of which I keep charged for emergency situations. I have the panels for all units and the knowledge of how to set them up thanks to easy-to-follow directions provided with them. We live in an area where the electricity goes out often and with our electric grids being in such bad shape, outages could last for a long time. When an EMP hits, I am secure in having power to keep us alive. My husband has severe sleep apnea and requires a CPAP machine to continue breathing as he sleeps. I keep one close to his bed just in case. 4Patriots has all you will need and you can be assured of a high quality with their products."
Buy Something Your Future Self Will Thank You For!

"This is a very good alternative and/or addition to the Patriot Power Generator. It's more portable. While it doesn't have the power of the PP generator (or the cost), it can power any number of things which makes life easier when the power goes out. For example: an electric blanket while you sleep! Easy to use, compact, gives you more options, which is what we all want and need in an emergency or even not an emergency :) I like the solar panel with its own USB outlet, which provides use even without the Sidekick."
Goodbye Expensive Replacement Batteries

"I am on oxygen constantly and I own a gas generator which can only put out power when running which means you have to keep gasoline on-hand 24/7. If you rely on it as a backup, you have to have an extension cord and hope it starts when you need it.
So when I watched the demo of the Patriot Power Sidekick I found out you can keep it fully charged by your house electric, your car, or the sun and it weighs 8 lbs and comes complete with everything you need to use it. It comes with cords to charge no matter where and it even comes with a very nice fold-up sun solar screen.
Extra batteries for my oxygen portable cost over $300.00 and don't last as long as you would like. So now, being equipped with the Patriot Power Sidekick, we are completely covered. Being able to use AC 110 or your car's cigarette lighter is a huge plus. Having big heavy cylinders on hand is not much fun to deal with, not counting the cost. The Sidekick is paid for. This would be a great purchase with your money you received from Uncle Sam."
* Real reviews from real customers. Sometimes customers receive a free product to test or as a thank you for submitting honest feedback. For more information see footnote 1.
Doesn't that kind of backup power sound good to you?
Don't you deserve that kind of independence?
You sure do! And you don't have to spend a fortune to get it, either…
There's Only 1 Catch…
Because so many people begged us for this product...
We expect to sell these generators like hotcakes. So until you click the "Add to Cart" button, we can't guarantee your order of the Patriot Power Sidekick.

We recommend you act NOW. If you want to secure almost endless backup power for your family.

We know people are already chomping at the bit for this more affordable, mini model. So we recommend grabbing yours now, before others catch wind of this deal.

People like Carmen, a loyal 4Patriots customer, won't be the only one waiting in line...
You Asked... We Listened!

"I know companies always want to improve their product line. And your original power product was GREAT. My family has used it on multiple occasions.
After Hurricane Irma we were without power for 4 days and used it to keep the phones charged. But my friend who wants one now is 80+ and cannot lift 40 pounds, but wants the same backup power.

Well Carmen… it's HERE!
Our inventory manager ordered as many as she could to get ahead of the demand.
But here's the thing: they are custom made just for us. And each batch is carefully tested at our warehouse in Utah, to make sure they're perfect for you.
This first batch took years of engineering, design and development. Plus months of careful production, and then weeks of testing by our USA-based engineers.
So if they sell out, it could be months before we can stock up again.
Here's How to Get Your Hands on the Sidekick Today (at Significant Savings)
So at this point you've seen the benefit of having this mini solar-powered generator on hand. Ready to protect you and your family in an emergency.
You've seen how it recharges with the sun… no fumes or harmful gases.
How it powers your critical devices… phones, radios and medical equipment.
How easy it is to move from room to room… or bug out with.
And how the ability to defend yourself and your family in a blackout — be it caused by manmade or natural forces — could make all the difference in a crisis.

It's no exaggeration to say the Patriot Power Sidekick is worth its weight in gold in an emergency.
Think about what it would be like to reach for your Sidekick in the middle of a blackout…
To power your phone and call for help
To charge your radio and always stay up to date on the storm
To chill your temperature-sensitive medications in your portable fridge
To ease your mind that your CPAP machine will still work all night
To have critical and life-saving power no matter what
This doesn't have to be wishful thinking.
With your Patriot Power Sidekick… peace of mind is entirely within reach. Just ask John from Nevada...
This Guy Can Sleep Safely Now!

"The first thing I did when I got my Sidekick was make sure it had a full charge then plugged in my CPAP. I love that it showed me how many hours I had with the current usage. I got a great night's sleep and when I woke up, the Sidekick still had about 20% power. I really like knowing I'm covered if the power goes out and now I can go camping and know my Sidekick can handle my medical needs."

Or Janice W. who survived Hurricane Ida...
Saved My Life In A Category 4 Hurricane

"Hurricane Ida was devastating where I live. I have sleep apnea. The Sidekick brought me peace of mind that I'd be able to sleep at night when we lost power. No worries, no fumes. It was just a lifesaver."

That's why the Patriot Power Sidekick is actually a steal considering everything it can do, how safe it is to use, and that your solar panel comes included.
Which, when you think about it, is actually a steal considering everything it can do, how safe it is to use, and that your solar panel comes included.
Chances are good that you'd pay a LOT for a mini, portable, solar-powered generator like this during a crisis.
Especially if it meant your loved ones would never be left in the dark.
But Here's the Great News…
Right now…
We're offering this breakthrough Patriot Power Sidekick for SUBSTANTIALLY less than you might expect.
Because self-reliance shouldn't be "out of reach" for everyday Americans… nobody should be denied power independence because they couldn't afford it.
And in times like these, most Americans don't have $1,000, $5,000 or $10,000 laying around to spend on a backup power source.
So when you order your Patriot Power Sidekick today, instead of paying a huge tab for this powerful, mini solar generator…
You can get your Sidekick for only $497.
Wow!
And that's still just the start.
Because we know many of our customers want to pay for it a little at a time, instead of making one payment up front.
And we can certainly understand that request. Maybe you can, too.
So as part of this deal, we're going to do just that.
You can pay over time — with NO CREDIT CHECK — we know that you're good for it.

You can pay only $99 down today and make easy monthly payments on the rest.
And no matter how you pay… we'll ship your entire mini solar generator package to you right away. So you can start enjoying it — and the peace of mind that comes with it — right away.
But it's only available here, and while supplies last.
YES! I Want to Protect My Family Today With Life-Saving Solar Power!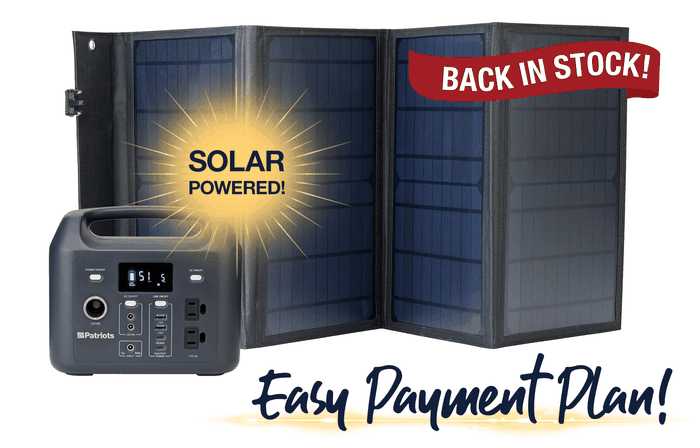 Order Online Any Time
24 Hours a Day / 7 Days a Week / 365 Days a Year


UPDATE: Our Best Deal Just Got Even Better!
Select Your Mini Solar Generator NOW &
Get 5 FREE Gifts + FREE Shipping & Handling

Now to help make this a complete no-brainer for you…
You'll Get 5 FREE Bonus Gifts with Your Mini Solar Generator Today
Developed exclusively for Patriot Power Sidekick...
You'll get an FREE bonus gift package that is the perfect complement to your Sidekick.
These aren't throwaway tchotchkes, folks.
This is a uniquely-designed collection of goodies that will only strengthen your preparedness plan.
First up, you already heard…
FREE Gift #1:

FREE Portable 40-Watt Solar Panel ($149.00 Value)
Your Sidekick's ultimate companion: a foldable, 40-watt solar panel to power up your mini solar generator using only the rays of the SUN.
And in case you missed it… it functions as a mini power cell all on its own! You can plug your USB-charging cord directly into the solar panel, place it in the sun… and power up your phone, tablet or radio in no time.
And when you're done, simply fold it away for safe-keeping.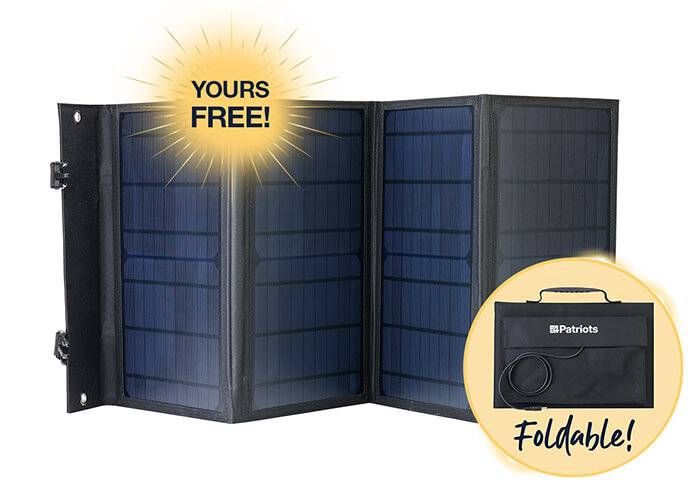 This stand-alone solar panel is an incredible $149.00 value all by itself — and it's on us with your purchase today.

But that's not all you're getting for FREE…
FREE Gift #2:

FREE Solar Power Digital Report ($19.95 Value)
New to solar power? No problem.
This comprehensive digital report gives you the inside scoop on blackouts. Where they come from, how they affect you… and even some recent history that will give you a leg up on surviving the next electrical grid breakdown.
In this report you'll find…
The key to harnessing the FREE power of the sun…
How to maximize your power on a cloudy day…
And a must-have dictionary for all things solar!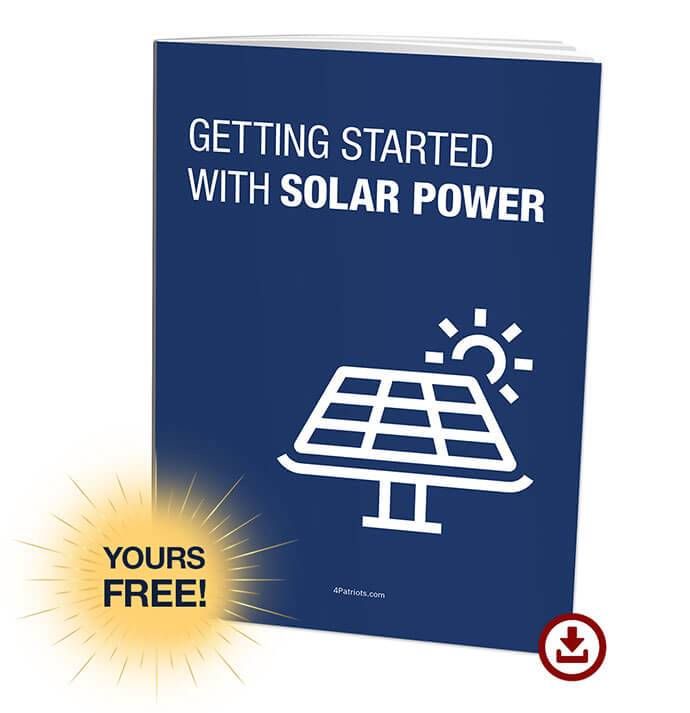 You're going to love… and need… this convenient break down worth $19.95 normally.
But because we want you to get the most out of your mini solar-powered generator… it's yours FREE.
And so is this…
FREE Gift #3:

A $25 Gift Certificate
Whether you're buying a Sidekick (or two!) for your family or friends…
We want to make today's purchase the gift that keeps on giving…
So you'll get a FREE $25 Gift Certificate that you can redeem on any future order of $100 or more. Use it to get best-selling solar gadgets, survival food and much more.
That's what we call an incredible deal.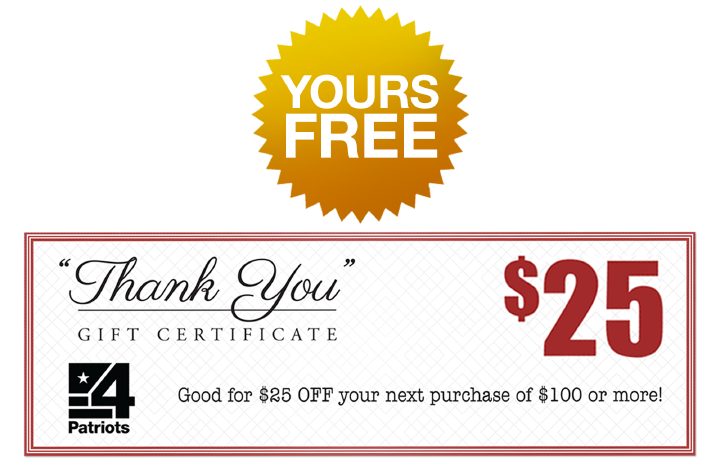 It's the right thing to do because in these uncertain times, you need to be prepared. So here's a little something to start your preparedness plan.
And know 4Patriots will always stand by YOU and your purchases with…
FREE Gift #4:

FREE Lifetime Technical Support
If you act now, you'll get something FREE that most companies charge an arm and a leg for. Simply to prove how much confidence you can have in this product. You'll get FREE reliable and knowledgeable tech support for the life of your Sidekick.
Call us anytime and ask anything you want about your Patriot Power Sidekick. No question is too small or too big for our amazing USA-based Customer Service team. Amanda, Corrie, Ray and many others are standing by waiting to help YOU enjoy your purchase for as long as you own it.
Our customer service team is made up of real people – Americans. We truly care about you and your purchase, and we are willing to stand behind that promise. In our view, that's part of doing business the ethical way. The American way.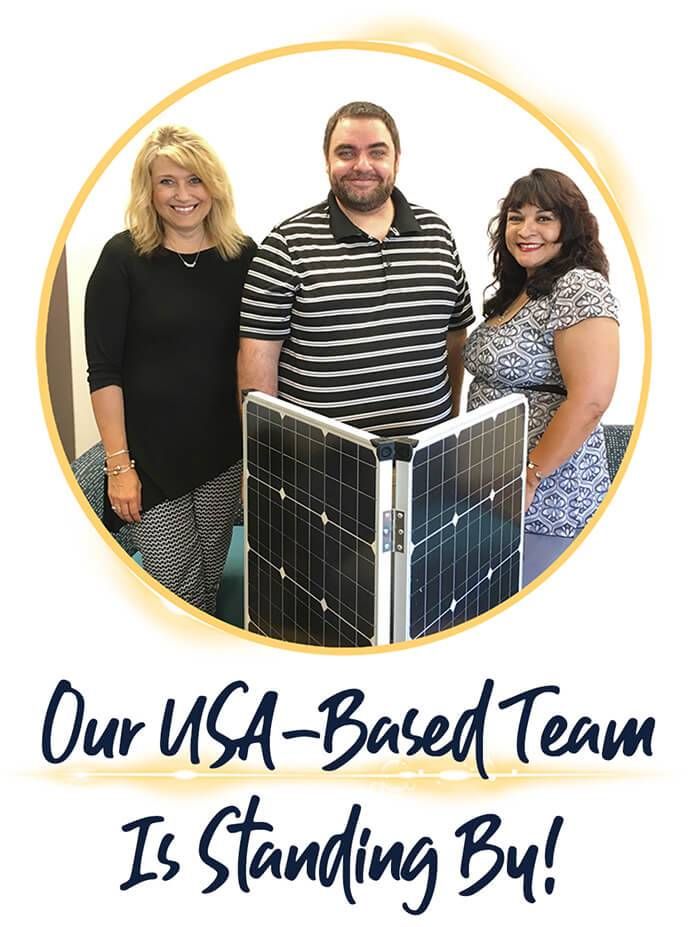 And the cherry on top of your FREE tech support, solar panel and gift certificate? ​We're sending all of it — your mini solar generator and bonus gifts all on our dime.​..
FREE Gift #5:

FREE Shipping & Handling ($49.95 Value)
Last but not least, you'll get FREE shipping on your Patriot Power Sidekick and all of your bonus items today. It's not cheap to ship an item this valuable (plus the FREE gifts we're going to throw in).
But you deserve it for becoming a loyal customer. And frankly, we want to do it for you. We'll even ship each box — unit, solar panel & bonus gifts — as it becomes available. That way you're as prepared as possible, as quickly as possible.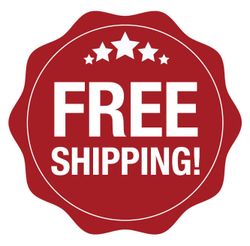 And with this comprehensive gift package, we can rest a little easier... knowing that you have your basic needs covered.
And as part of that, you qualify for an easy, affordable payment plan. There's no credit check… we know you're good for the rest.
Just click the orange "Add to Cart" button now, and we'll add the Patriot Power Sidekick and all the FREE bonuses to your order right away.
YES! I Want Life-Saving Power For Myself & My Family... PLUS $243.90 Worth of FREE Gifts Today!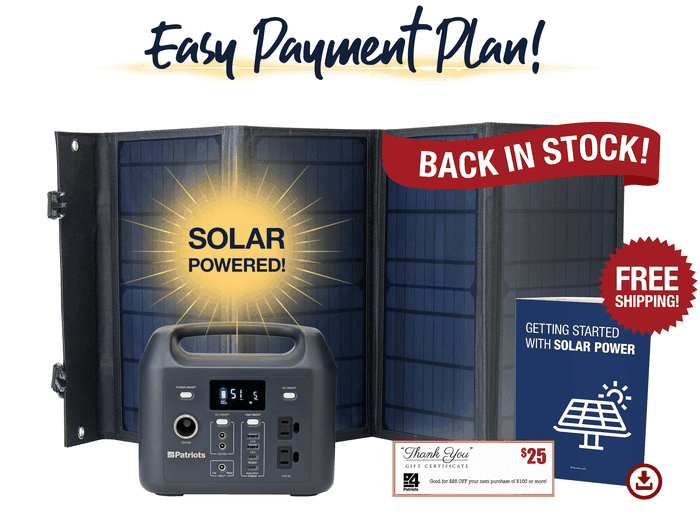 Order Online Any Time
24 Hours a Day / 7 Days a Week / 365 Days a Year

And you won't risk a thing by trying out your Patriot Power Sidekick thanks to…
An Outrageous Double Guarantee so This is 100% Risk FREE for You
You should be 100% happy with your order or you shouldn't pay a penny. You'll get a 100% money-back satisfaction guarantee for 365 days with no questions asked.
Guarantee #1
100% Money-Back Satisfaction Guarantee
If for any reason you're not satisfied with your Patriot Power Sidekick, just return it within 365 days (that's a full year) of purchase and we'll refund 100% of your purchase price. No questions asked. That way there's absolutely no risk for you. And you can keep the FREE bonus gifts for giving your Sidekick a try.
Plus, you'll get a FREE 2-year extended warranty on every Patriot Power Sidekick you purchase. We're that confident that your Sidekick will stand the test of time and will be there when you need it.
Guarantee #2
FREE 2-Year Extended Warranty
If anytime in the next 2 years your Patriot Power Sidekick fails to hold a charge due to defects in materials or workmanship, send it back with a 1-page note explaining the problem. We'll ship you a brand-new one FREE! No charge for parts, service or labor. Your Sidekick will be as good as new, because it will be new.
This outrageous guarantee makes your purchase 100% risk-free. We stand behind the Patriot Power Sidekick and we are confident you're going to love yours!
Click the button below now.
YES! I Want Life-Saving Power For Myself & My Family... PLUS $243.90 Worth of FREE Gifts Today!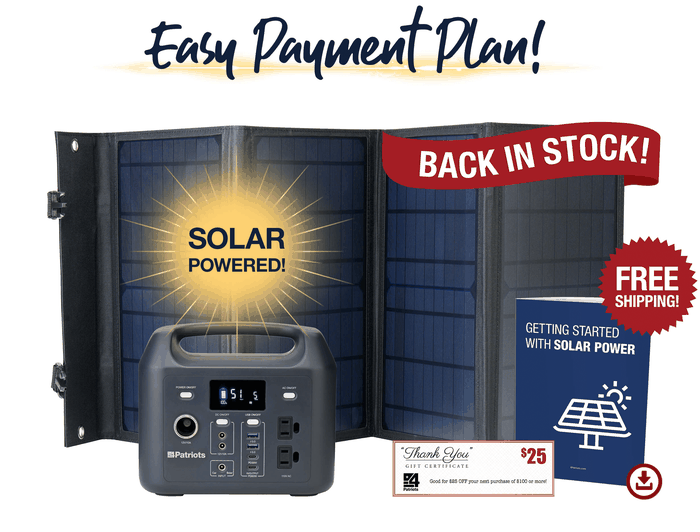 Order Online Any Time
24 Hours a Day / 7 Days a Week / 365 Days a Year

Your Purchase Supports Those Who Serve
Thanks to your support, we're able to employ 100+ American men and women from all across the USA. People who work hard and truly enjoy helping folks get prepared for emergencies.
And again — thanks to you — we provide meaningful support to important charities that help American Veterans and their families. Charities like Fisher House, A Soldier's Child Foundation, Team Rubicon and Operation Homefront.
In fact, 4Patriots and our affiliated brands have donated more than $975,000 in cash, plus truckloads of life-saving products and countless hours of volunteer service by our employees since we founded the company. And the numbers keep growing! In 2022 alone, we donated "$1K a Day" for a total of $365,000 by year's end.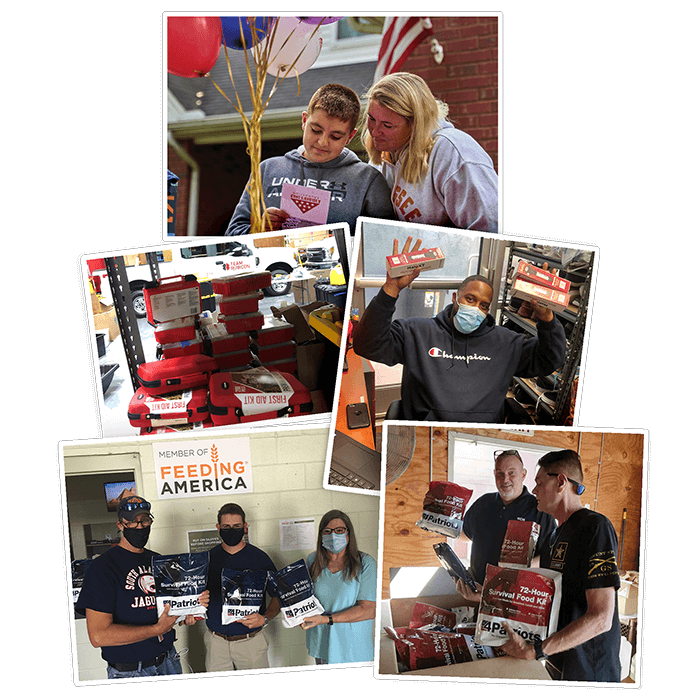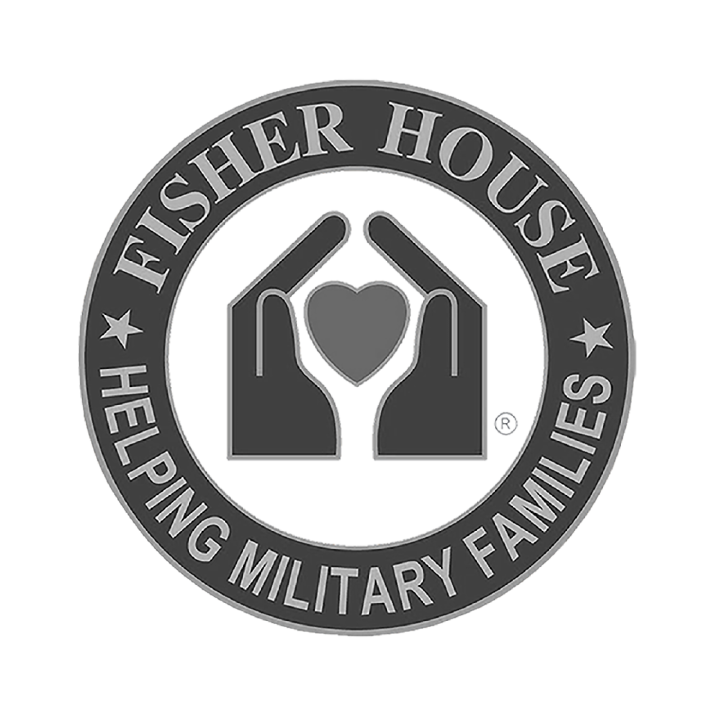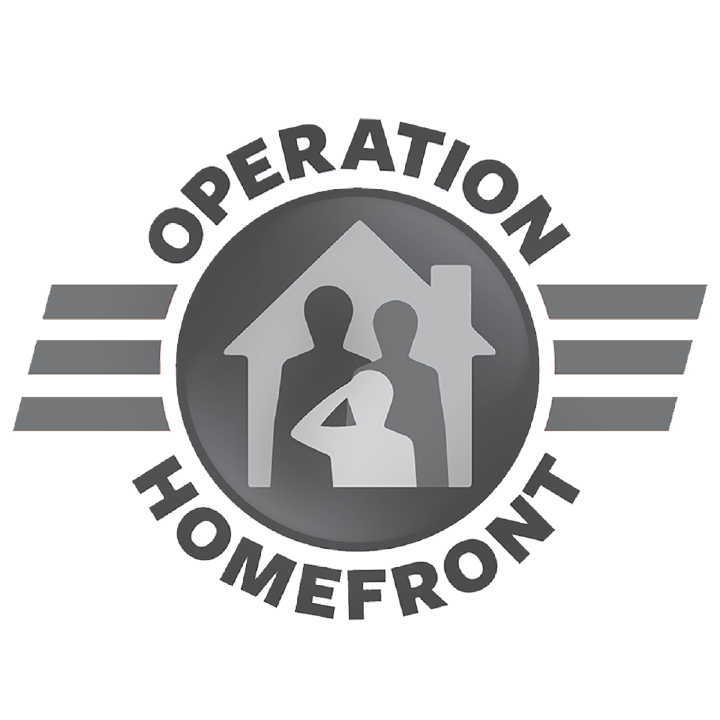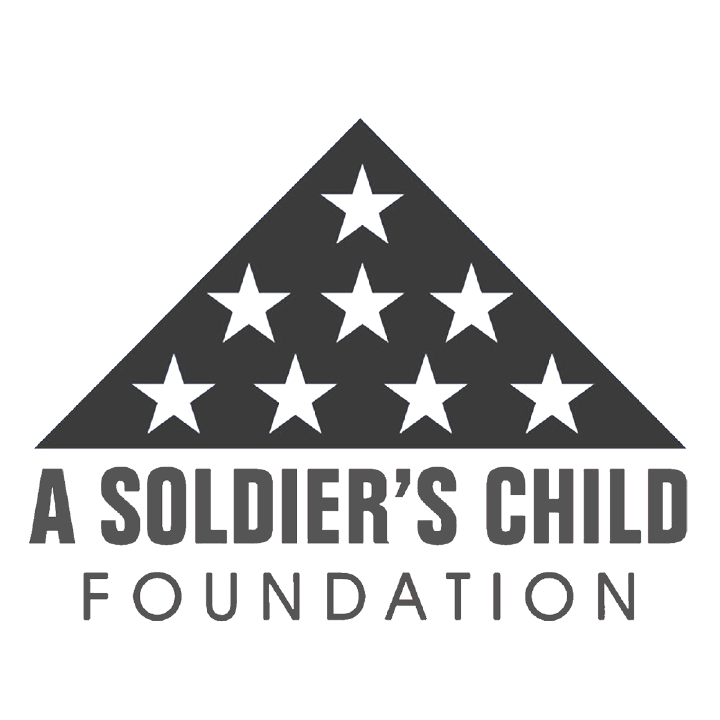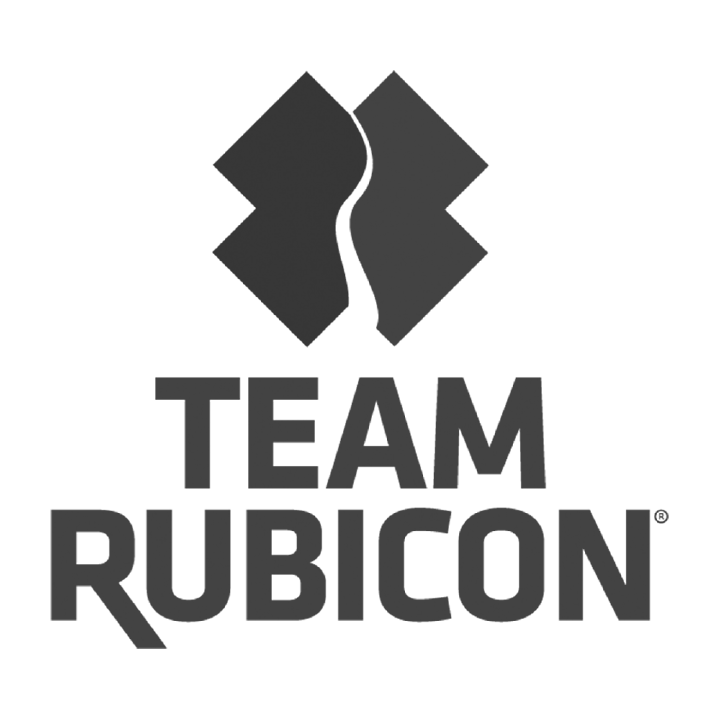 Listen, it's up to you which way you go.
But in times like these… where a simple trip to the supermarket can put you and your family at risk.
You've got to ask yourself…
Are You Ready for the Storm?
Picture This in Your Mind… Because it's Important
Wild weather is nothing new…
In the past couple years alone we've seen… hurricanes in the south… and unexpected tornadoes make their way through the midwest.
And when the lights blink out. And your devices go dead…
You panic.
How will I call for help?
How will my family know I'm safe?
How can I stay connected to critical weather updates & news alerts?
The fact is, your phones, radios and TVs are your lifelines in a true emergency. And without them powered ON, you and your family won't feel SAFE.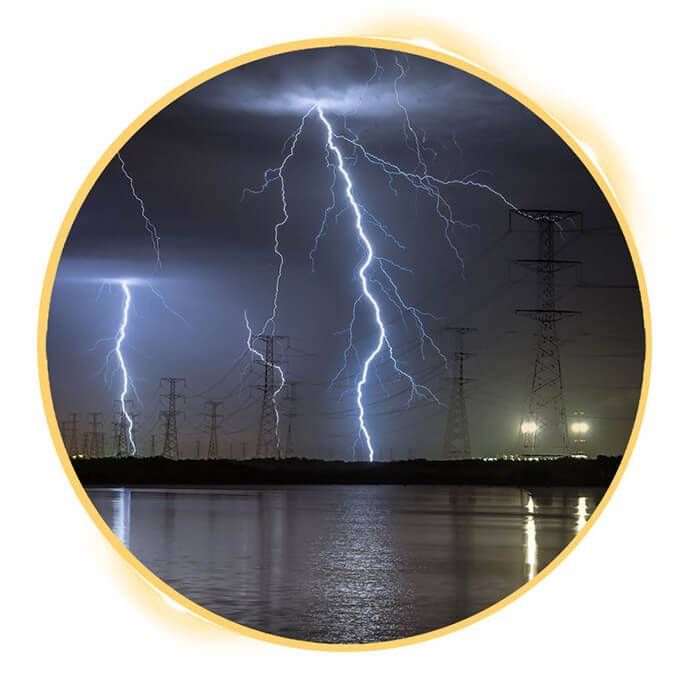 So imagine being prepared to protect YOUR family from that nightmare…
With your mini solar generator. A source of comfort and strength in a blackout…
A backup plan tucked away so you don't feel stranded and helpless.
This nearly endless supply of backup power means you'll never be truly alone in a crisis.
And that's important because…
We Can't Predict the Future
It's impossible to know when the next blackout will hit. That's why we want you to claim your mini solar generator now.
Click the "Add to Cart" button below. You'll be glad you did.
Remember, your Patriot Power Sidekick makes free electricity from the sun. You could be at home, or in your RV, cabin, or undisclosed, completely off-the-grid location. It DOESN'T MATTER.
If the sun is shining, you can charge your Patriot Power Sidekick and be able to generate free electricity for you and your family.
If you want to claim potentially lifesaving power today… and keep your critical devices ON no matter what, click on the button at the bottom of this page.
You'll be glad you did. This is about peace of mind, knowing that you and your family can keep a light on, phones powered & stay connected in the case of a blackout. Sounds good, right?
Click on the button below and claim your Patriot Power Sidekick... and we'll rush it to you right away, while they are still in stock. And then rest assured knowing that you can power your phones, medical devices and more whether you're staying put or bugging out.
Don't delay.
It's no longer a question of if… it's a question of when will you prepare.
Click the orange "Add to Cart" button now:
YES! I Want Life-Saving Power For Myself & My Family... PLUS $243.90 Worth of FREE Gifts Today!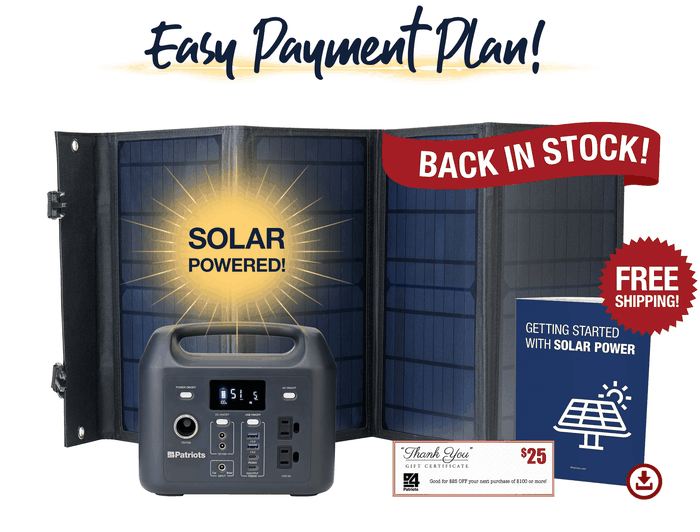 Order Online Any Time
24 Hours a Day / 7 Days a Week / 365 Days a Year

Best Place to Shop

"4Patriots is by far the best place to shop for your critical emergency needs! I have been working with them since 2017! I can guarantee that the staff at 4Patriots are the friendliest, most helpful people! They really go out of their way to make sure you have everything you need, answer any questions, or go straight to the source to get you the help and answers you need. The food is excellent, the survival gear is top notch, and I especially like the order to door shipping times.
You truly are a member of the 4Patriots family. And lastly, yes, you are shopping for the disaster you pray isn't going to happen and that can be the scariest thing you will ever have to do. 4Patriots will make sure you have it all, give you helpful hints about using whatever it is you do have should you be missing something in case of that one unexpected snafu. And they will do it with care & concern!"
Told My Friends — Rave Reviews!

"4Patriots is a company that has pride and the name (Patriot) is very fitting because they support our military. Food, packaging and getting it to your door is top notch. I have been a customer for about 4 years and never had a problem. I have referred them to several people and they also give rave reviews to me about 4Patriots."
Proud to Support USA Vets

"Could not have asked for better company to work with. They are helpful, courteous, and kind. These people are awesome for all that they do for veteran communities like ours in a disaster. These people are there to help. We asked for help during the 2018 Camp Fire and 4Patriots was the only company that stepped up to the plate and hit a grand slam for us. And again in 2020 in response to the Bear/North Complex fire."
I'm a Repeat Customer

"I've been 100 percent satisfied with every product I've received. Between the survival food, survival gear, and water filtration products, everything has been great. Staff and customer service is very professional!"
Honest Company! Highly Recommend

"They are an honest business. They do what they say they will. You get to talk to people, not a machine. Their products are excellent."
* Real reviews from real customers. Sometimes customers receive a free product to test or as a thank you for submitting honest feedback. For more information see footnote 1.
1. All testimonials in this advertisement are from real people; sometimes names and photos have been changed to protect their privacy and some were given free products in exchange for their honest feedback. Testimonials represent exceptional results, don't apply to the average purchaser and are not intended to guarantee that anyone will achieve the same results. The organizations, publications and people referenced on this site are not affiliated with 4Patriots. They have not endorsed, sponsored or recommended this product; no affiliation or endorsement is claimed. Terms & conditions apply. Cade Courtley is a former Navy SEAL and Platoon Commander who served 9 years of active duty and has been compensated by 4Patriots for his hard work in helping us test and endorse this product.
2. Battery performance will vary based on your charging and usage conditions, including discharge rates, cord and voltage-conversion efficiency, testing conditions, temperature, and age. Always follow storage and use instructions.
3. Data from Patriot PowerSidekick sales since November 2020.
4. Number of Patriot Power Generators sold since July 2014.
5. 4Patriots customer count from 2014 to July 2020.
6. 4Patriots customer count from 2018 to 2022.
7. 96.6% of customers do not return their products or request a refund.
FREE Solar Panel Included