Solar Deep Freezer Protects Frozen Foods Without Ice?
[BACK IN STOCK!] Advanced Fridge on Wheels Keeps Food Safe & Cold for Days — Even When the Power Goes Out

This may look like a cooler…
But looks can be deceiving.
Because when you compare the Solar Go-Fridge to the big cooler companies?
They melt under the heat.
That's because this solar "ice chest" acts as a…
FRIDGE — For cold drinks, snacks & medicine
FREEZER — For ice cream & popsicles
SUB-ZERO CHAMBER — For frozen meats & long-lasting veggies
You can bring things big cooler companies can only dream of. Ice cream, frozen meats and fresh veggies are all fair game. And you'll never have to make a pit stop for ice to do it.
Right now, these "portable tundras" are finally back in stock! Plus, you get a host of FREE gifts. Including a FREE solar panel & our "We Thought Of It All" campsite cooking pack. We don't offer this pack anywhere else.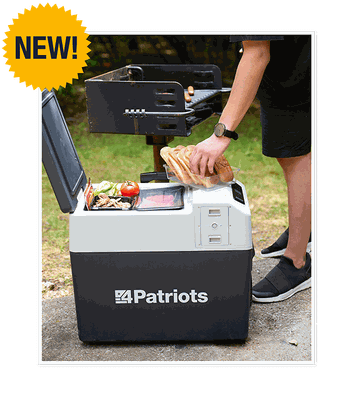 But you have to hurry. The last time we had anything like this in stock…
We Sold Out Fast...
After Months It's Finally Back In Stock
When we launched this solar wonder on August 1, we had no idea how much of a hit it would be.

And even with 2,000 Solar Go-Fridges in stock, we were at a loss for what happened next…

In the first month we sold 1,577 units.
We got more just in time for Christmas and guess what?

We sold out again.

These mini freezers were selling like hotcakes. So much so that we had to tell our team of marketers to STOP MARKETING.

Isn't that crazy?

We literally had to tell our pals over at headquarters to stop working because we needed to scale back our marketing efforts to avoid going into backorder.
We probably should have seen it coming, though. It's a powerful product that solves real problems for people like you.

People who should never have to deal with…
The Cesspool of Melted Ice in Your Cooler
There's nothing worse than dipping your hand in your cooler to find…
A pool of melted ice

Soggy, spoiled food

Wilted veggies

Soupy ice cream
All spoiled.
And your family time? Ruined.
You feel terrible. Like you failed them. But it's not your fault…
It's the cooler's fault.
Now, there's a better way to keep your critical supplies frosty all day long. And it starts with some of the most advanced technology on the market. Something the big cooler companies haven't even figured out yet.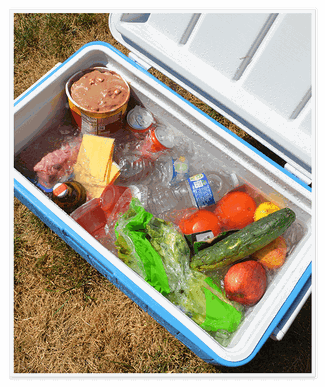 So if you're done tossing spoiled food in the trash, click the "Add to Cart" button below.

We're so happy to announce that it's back in stock…
The NEW Solar Go-Fridge
Cool or Freeze — Without Ever Stopping for Ice…
The brand-NEW Solar Go-Fridge is not just a cooler. It's a solar-rechargeable fridge & deep freezer you can take on road trips, RV adventures & camping.

And thanks to the advanced technology, you never need to stop for ice bags. So you can spend more time with the family. And less time dumping melted ice.
People can't believe this brand-NEW advanced solar fridge can…
Protect food, drinks & medicine

Recharge for FREE in sunlight

Cool or freeze — down to -8°

Power your phone in a pinch

Built tough to last for years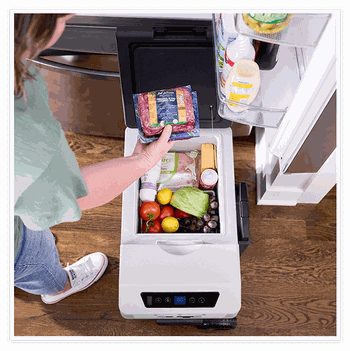 Don't ever stop for ice again. Click "Start My Order" now to get your Solar Go-Fridge on an easy payment plan.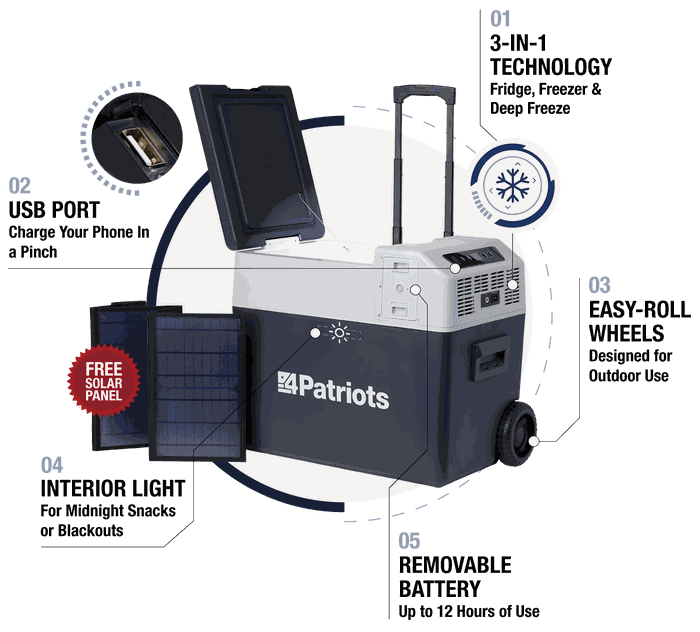 Whether you're RVing, stopped at a campsite or simply tailgating a football game, your Solar Go-Fridge travels with…
Advanced 3-in-1 Technology
It's a fridge, freezer & sub-zero chest all in 1. You can keep the inside chilled with fridge temperatures.
Or, you can turn it down — all the way to -8°! It'll keep your frozen foods from thawing. Whether you're on the road or outlasting a blackout.
But now you're probably wondering…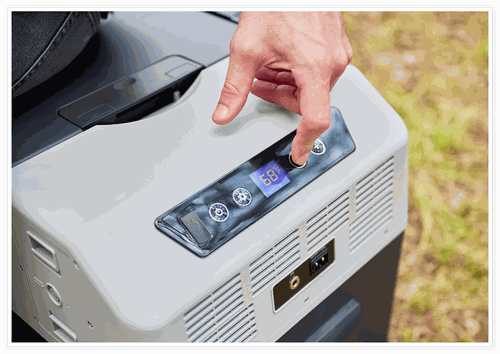 The NEW Solar Go-Fridge uses a high-efficiency compressor — just like your fridge. It pumps liquid refrigerant to suck up the heat on the inside. Then, it dumps the heat away from your frozen food, drinks & medicine.
And since it's high-efficiency, it creates less heat & uses less energy than a run-of-the-mill compressor. So it can chill faster & use less power all at the same time. Wow!
That means no more keeping track of ice bags. And no more tossing soggy, spoiled food.

But unlike your run-of-the-mill freezer, your Solar Go-Fridge can…
Charge for FREE in the Sun
You can recharge your Solar Go-Fridge using only the FREE power of the sun. After all, we couldn't call it a "Solar" Go-Fridge if it wasn't solar powered... with the solar panel included.
So you can travel to:
Baseball games
Campsites
Fishing trips
Tailgates
Backyard BBQs
Pool parties
And so much more!
And when the sun doesn't shine? "Fast charge" your Solar Go-Fridge battery using the included AC cord. So you can "juice up" overnight before a big trip.
And if you need an extra boost of power to last a long, hot day before you hit the campsite? No worries — you're still covered with your…

FREE 40-Watt Solar Panel Included
You get a FREE 40-Watt Solar Panel with your Go-Fridge. Other companies may try to upcharge you for their solar panels. Or worse — not include one at all. But on this page, you won't pay a dime for your solar panel.
Use it to charge up your Go-Fridge Battery on the go. Or, power your critical devices. It's like a mini power cell in its own right. It works with phones, tablets & other critical devices.
Click the "Start My Order" button below to claim your FREE Solar Panel with your Solar Go-Fridge.
Your Solar Go-Fridge can take any kind of frozen supplies with you. And when we say any kind of supplies, we mean it.
Look What You Can Fit in Your Solar Go-Fridge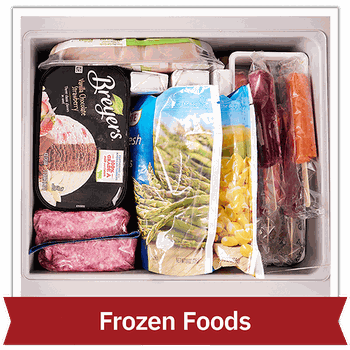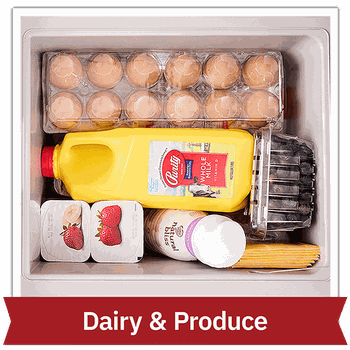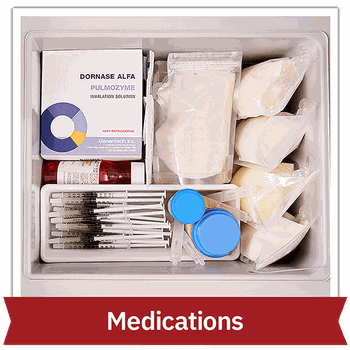 And don't worry — your supplies will fit thanks to the…

Small Footprint — Spacious Capacity

Its compact size and all-terrain wheels make it easy to throw in the trunk. Or to bring with you to tailgates.
It's truly small, but mighty. You get 42 quarts of space for your critical items — that's like 46 cans/bottles of water. And no bulky ice bags!
Drinks, hot dogs, medicine & more. It can all fit in your Solar Go-Fridge.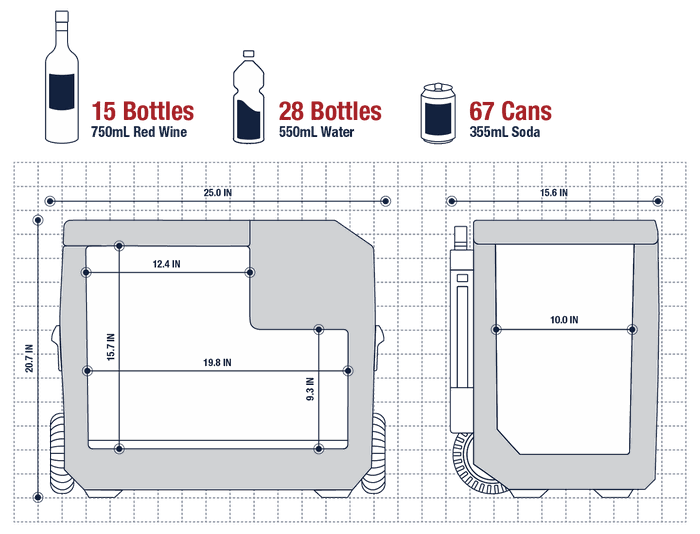 Claim your Solar Go-Fridge on an easy monthly payment plan (no credit check — we know you're good for it).

Take control of your food supply on your next trip. Click the button below to claim your Solar Go-Fridge.
If you didn't know before, you should absolutely know that…
This is NO Ordinary Cooler
Look at how the Solar Go-Fridge stands up to the competition…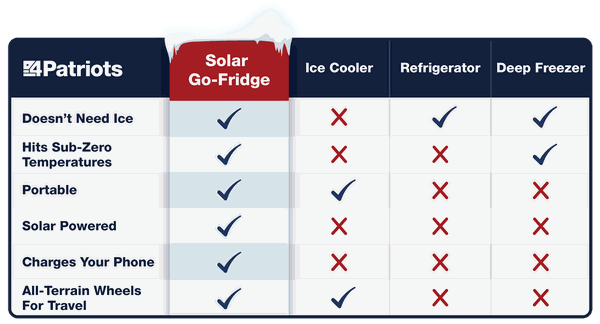 The choice is clear. Who wouldn't choose the Solar Go-Fridge?
And to truly be the best, it has to be…

Dead-Simple to Use
Just turn it ON. Choose your "cooling mode." And adjust your temperature using the easy-to-read plus and minus buttons.
Here's Danielle showing you exactly how to work your Solar Go-Fridge…
Yes, that's really all there is to it. It's so easy, even your kids or grandkids could use it.
Click "Start My Order" to claim your Solar Go-Fridge on our affordable payment plan.

You truly get the best of both worlds.
Your Solar Go-Fridge can also…
Power Your Critical Devices in A Pinch
No specs to check or cords to buy. Use the USB port to recharge your important devices when you need power.
Simply use the cord that came with that device. If it uses a USB cord — it will work!
Whether you're in a blackout, going camping or at a BBQ — you'll be ready. Because, unlike melting ice, your Solar Go-Fridge can run indefinitely thanks to…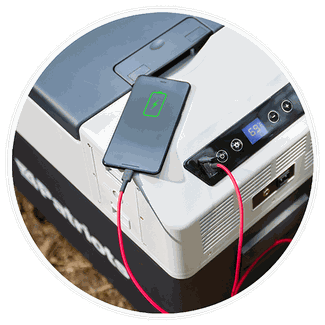 Nearly-Endless Supply of Power
It's the most advanced battery we make. It's designed to last up to 12 hours in eco mode. So you don't have to stress about running out of power halfway through a trip.
And recharging is a breeze! Simply plug it into any wall outlet with the included charging cord. You can even unhook it from your Solar Go-Fridge for easy carrying.
That means with 2 batteries, you could run your Solar Go-Fridge indefinitely.
Imagine Where You Could Use Your Solar Go-Fridge…
There's no 1 right answer for how to use your Solar Go-Fridge. It's designed for everyone!
Take it to a tailgate & wow the other fans. Or bring it to the campsite to share frozen treats the family will thank you for.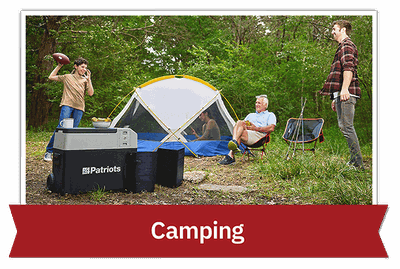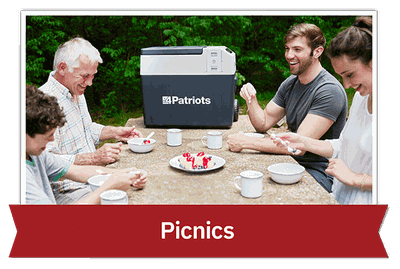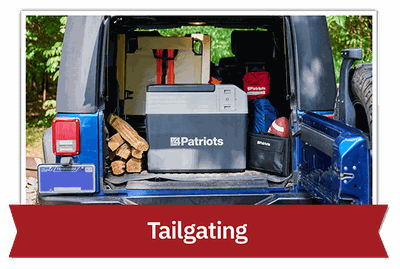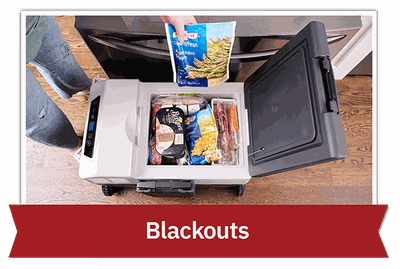 Don't wait. Click the "Start My Order" button to claim our introductory pricing.
People Rave About Their Solar Go-Fridges
Over the last 4 years, 1,471,945 customers have trusted 4Patriots survival products. And according to our numbers, 97% are happy customers.5

Folks are happy – and the numbers show it!6
I'm Done With Early Morning Ice Trips!

"You don't have to stop and get ice anymore. That was one thing I hated to do early in the morning when we had to leave to go out of town to play in a baseball tournament. We had to leave at 5 or 6 or sometimes 4:30 in the morning and had to stop to get ice for our cooler. So this is nice because you just have to set it on refrigerator mode & you get your cold drinks or whatever you put in your cooler.
People are already taking pictures with it, trying to find out more information so they could get their own."
Exactly What I Needed for my Fishing Trip

"We all have lots of coolers. But this is a cooler extraordinaire. Not only is it a cooler, it's a fully-functioning refrigerator.
It's great for me being a fisherman and an outdoor guy. I can put a bunch of fish in here and set it at freezing temperatures. And when I get home, my fish will stay frozen and I don't need any ice.
It's a great tool. It's absolutely a must for campers & fisherman. It looks like a cooler, but it's actually a refrigerator which makes it a really special thing."
You Can't Beat This Solar Go-Fridge

"You cannot beat it. It is awesome. No running around, looking for drinks. No more opening up your drink and setting it on the tractor and coming back 20 minutes later and it's warm. Everything's cold. Everything's cold all the time. Just a wonderful, wonderful unit.
I am a Type 1 diabetic. It's been keeping my insulin cold to the point where I don't worry about my insulin. I know it's good."
I'm So Glad We Took The "Magic Robot"

"It was super fun to use. We were gone for four nights — didn't have to get ice at all. Not having to deal with ice the whole time was amazing.
I was worried that it wasn't big enough. But it held absolutely everything I was planning to take because I didn't have to put any ice in there. It didn't have to be as big as my regular cooler."
* Real reviews from real customers. Sometimes customers receive a free product to test or as a thank you for submitting honest feedback. For more information see footnote 1.
Doesn't that kind of peace of mind sound good to you?
There's Only 1 Catch…
Until you click the "Start My Order" button, we can't guarantee your order.

We recommend you act NOW. If you want to secure the futuristic technology in your Solar Go-Fridge.

We know people raved over this cooler during our last run – they were flying off the shelves.

This time, our inventory manager ordered as many as she could to get ahead of the demand.
But here's the thing: we still only have a limited number available.
This first batch took years of engineering, design and development. Plus months of careful production, and then weeks of testing by our USA-based engineers.

So if they sell out, it could take us months to stock up again.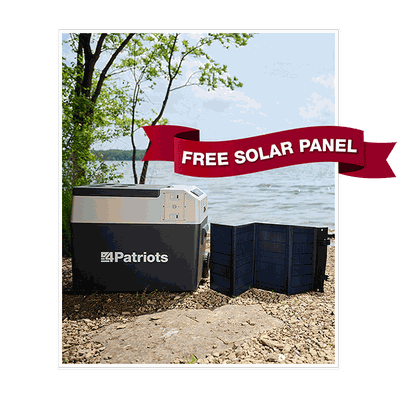 How to Get Your Hands on This Solar Go-Fridge Before We Sell Out Again
So at this point you've seen the benefit of having ice-cold supplies without ice or power cords.
You saw how this revolutionary fridge can recharge for FREE with the sun…
How it combines the best qualities of coolers, fridges & freezers into 1 unique "portable tundra."
How it's easy to use & travel with…
And how it drops to sub-zero temperatures on command when you need it.

This advanced technology shouldn't only be for wealthy Americans.

Think about all the ways you'll use it...
Ice cream on hot camping trips
Tasty sandwiches at tailgates
Blackout-proof cooling when SHTF
Protection for critical medicine
This doesn't have to be wishful thinking.
With your Solar Go-Fridge... peace of mind is within reach.
But now you have to ask
How much would you pay for this kind of ice-cold protection?
Think about it.
Even a budget refrigerator could cost you up to $1,000.00. And it's not portable or solar powered.
So since we took powerful thermoelectric cooling & put it in a portable cooler…
We should charge well over $1,000.00 right?
Wrong.
Here's the Great News…
You can get a Solar Go-Fridge for a fraction of what you might expect.
Because everyone should have these potentially lifesaving systems in their arsenal.
So when you order Solar Go-Fridge today, instead of paying well over $1,000.00...
You can get yours for as little as $897 plus FREE shipping.
Wow!
And that's only the start.
Because we know many of our customers want to pay for their products a little at a time, instead of making 1 payment upfront.
And we can certainly understand that request. Maybe you can, too.

So on this page, you can pay over time — with NO CREDIT CHECK.
So you can get your Solar Go-Fridge for only $247 today — plus 3 more monthly payments of only $247 each. Plus, you'll get FREE gifts and FREE shipping!
And no matter how you pay… we'll ship your package to you right away. So you can enjoy your NEW Solar Go-Fridge ASAP.
Click the "Start My Order" button below.
YES! Give Me Ice-Cold Protection for My Food!
Order Online Any Time
24 Hours a Day / 7 Days a Week / 365 Days a Year


UPDATE: Our Best Deal Just Got Even Better!
When You Order Your Solar Go-Fridge
You'll Get 11 FREE Gifts Including FREE Shipping



Now to help make this a complete no-brainer for you…

You Get FREE Bonus Gifts With Your Order
Developed exclusively for Solar Go-Fridge customers...
You'll get a special FREE bonus gift package that is the perfect complement to your solar-powered ice chest.
First up, you'll get…


FREE Gift #1: FREE 40-Watt Solar Panel ($149.00 Value)
Your Go-Fridge's ultimate companion: a foldable, 40-watt solar panel to power up your mini solar generator using only the rays of the SUN.

And in case you missed it… it functions as a mini power cell all on its own! You can plug your USB-charging cord directly into the solar panel, place it in the sun… and power up your phone, tablet or radio in no time.
And when you're done, simply fold it away for safekeeping.
This stand-alone solar panel is an incredible $149.00 value all by itself — and it's on us with your purchase today.
But that's not all you're getting for FREE. You get…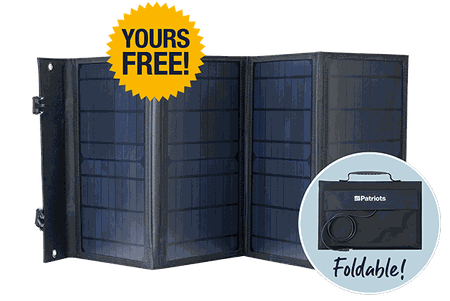 FREE Gifts #2, 3, 4, 5 & 6:
"We Thought of it All" Campsite Cooking Pack.
FREE Gift #2: FREE 72-Hour Survival Food Kit ($27.00 Value)
Perfect for a quick & painless meal the whole family will love. Open it up & you'll see…
YES it really is that yummy
YES it's peace of mind in a crisis
YES it only takes 15 minutes to make
Share your FREE Kit with friends and family in a crisis. Or stash it in your "go bag."
75,830 smart Americans already snagged these mini kits at full price.7 You'll get a FREE 72-Hour Survival Food Kit — which sells for $27.00 each on our website — FREE with your order.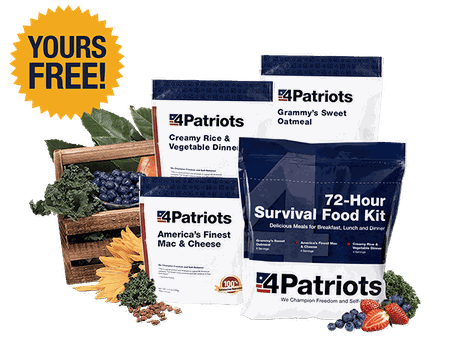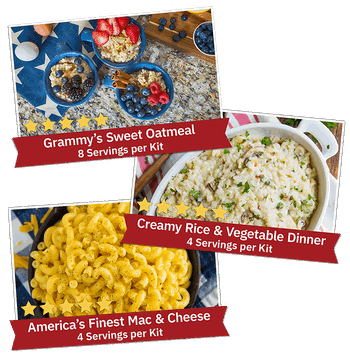 You get 16 servings of delicious, nutritious survival food in your kit. And our advanced sealing process means it's designed to last 25 years.*
Each kit comes with 3,760 total calories, or about 1,253 per day. You may want or need more calories per day, especially if you're pregnant, a child, elderly, or have other health conditions. For more information, see footnote 3.
*25-year shelf life under proper storage conditions. Excess heat and/or damage to packaging may decrease shelf life. For more information, see footnote 2.
FREE Gift #3: 30 FREE Servings of Freedom Joe's Survival Coffee
($9.70 Value)
Who doesn't want an energizing cup of joe in the morning? You get 30 FREE servings of Freedom Joe's Survival Coffee in your campsite cooking pack.
Now you have a rich, aromatic drink to go with your survival food. Plus, it's…
Designed to last 25 years*
Non-GMO Colombian beans
100% Pure Arabica coffee
No fillers or artificial flavors
Carefully freeze dried to preserve the rich flavor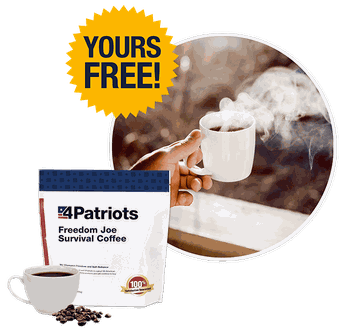 *25-year shelf life under proper storage conditions. Excess heat and/or damage to packaging may decrease shelf life. For more information see footnote 2.
FREE Gift #4: 14 FREE Servings of Bugle Boy Survival Cocoa ($7.70 Value)
Not a coffee lover? No problem. Because you'll also get 14 FREE servings of our Survival Cocoa — so that you can enjoy a "warm up" no matter your taste or age.
All 14 cups of Bugle Boy Survival Cocoa are designed to last for 25 years.* So you can share the chocolatey goodness of a warm cup of cocoa with your loved ones... now, or decades from now.
Now you need a way to cook all these delicious drinks. Which is why you're going to love…
*25-year shelf life under proper storage conditions. Excess heat and/or damage to packaging may decrease shelf life. For more information see footnote 2.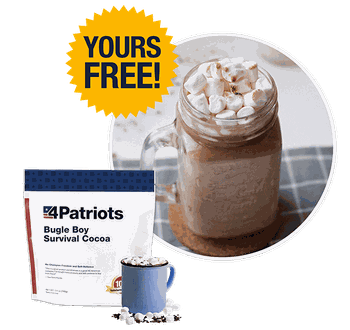 FREE Gift #5: FREE StarFire Camp Stove ($59.95 Value)
Easy low-smoke cooking is here. Patented design is portable, durable and never needs lighter fluid or accelerants. Use yours to:
Cook a hot meal
Purify water to drink
Roast hot dogs, marshmallows and more!
This exact camp stove sells for $59.95 on our website. But it's yours FREE with your order.
Now, your StarFire Camp Stove can do a lot of things. But the 1 thing it can't do? Light itself.
So you'll get…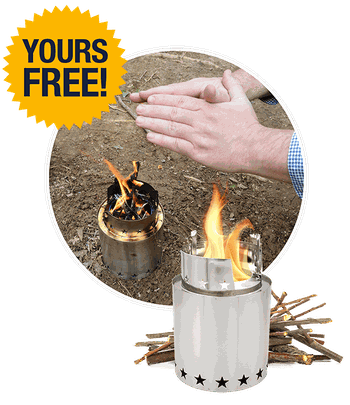 FREE Gift #6: FREE Freedom Flame ($19.95 Value)
You get our advanced Freedom Flame absolutely FREE. It normally sells for $19.95. But you won't pay a penny for it here.
It's an Arc Lighter with Pulse Arc Technology. So you get a flameless, windproof light. It burns hotter than a flame & is perfect for starting a fire in your StarFire Stove.
Hotter than fire -- but NO flame
Ultra-safe pulse-arc technology
Rechargeable -- no batteries needed
Flexible arm for easy lighting
Built-in flashlight
And so that you have light long after the sun has set...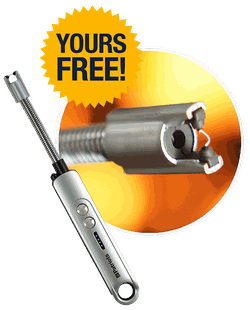 FREE Gift #7: FREE HaloXT Multi-Use Flashlight ($29.95 Value)
You get this ingenious multi-use flashlight for FREE. It's the perfect gadget to have on-hand during an emergency. We sell it for $29.95, but like all your other gifts, it's 100% FREE.
This is your complimentary one-stop shop for a…
Flashlight
Glass breaker
Seat-belt cutter
SOS emergency flash
Powerful magnet
Portable power pack 2000mAh lithium-ion battery
Quick charge USB port with intelligent charging
It's a must-have all-in-one survival sidekick.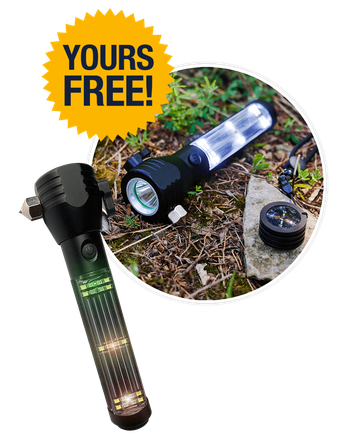 Take your HaloXT Flashlight with you wherever you go. Whether it's off grid, camping or simply staying in the glove compartment, you'll love the peace of mind it delivers. It's the ultimate companion!
Next up, you get…
FREE Gift #8: FREE Getting Started With Solar Power - Digital Report ($9.95 Value)
New to solar power? No Problem. Your Solar Starter Guide covers what you need to know to survive a crisis. This digital report is chock full of important information about planning ahead. In this report you'll find:
How to harness FREE sunlight
Maximizing power on a cloudy day
A solar-power dictionary
And much more!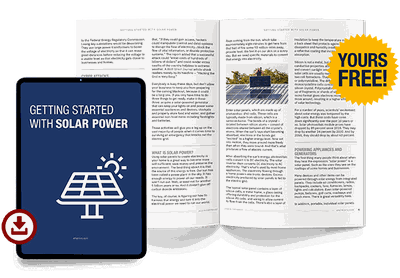 And the best part? You don't have to wait to read this report. You'll receive access as soon as your order is placed. So you can read it while you wait for your order to arrive.
We're not done yet, because you also get…
FREE Gift #9: $25 OFF Your Next Order
We want to make today's purchase the gift that keeps on giving…
So you'll get a FREE $25 Certificate that you can redeem on any future order of $100 or more. Use it to stock up on more filters, survival food, solar gadgets and much more.
It's our way of saying "thank you" for helping family-owned businesses like us.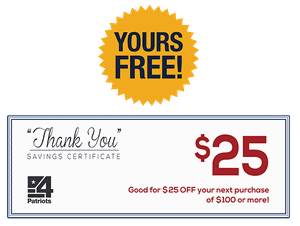 FREE Gift #10: FREE Shipping & Handling ($50.00 Value)
You'll get FREE shipping for your entire order.
Shipping & handling on this big of a Fridge isn't cheap. But we want you to know how much we appreciate your business. So we're going to take care of the shipping and handling for you.
And you'll get…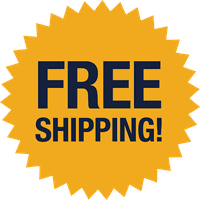 FREE Gift #11: FREE Lifetime Tech Support
And if you act now, you'll get something FREE that most companies charge an arm and a leg for. Simply to prove how much confidence you can have in this product.
You'll get FREE reliable and knowledgeable customer support for the life of your 4Patriots Solar Go-Fridge.
No question is too small or too big for our amazing USA-based Customer Service team. Lisa, Corrie, Ray and many others are standing by waiting to help YOU enjoy your purchase for as long as you own it.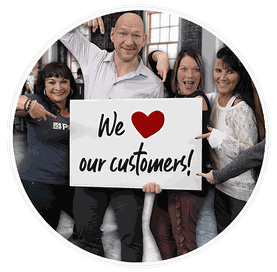 Our customer service team is made up of real people – Americans. We truly care about you and your purchase, and we are willing to stand behind that promise. In our view, that's part of doing business the ethical way. The American way.
Click the orange "Start My Order" button now, and we'll add all your FREE bonus gifts to your order right away.
YES! I Want the NEW Solar Go-Fridge & 11 FREE Gifts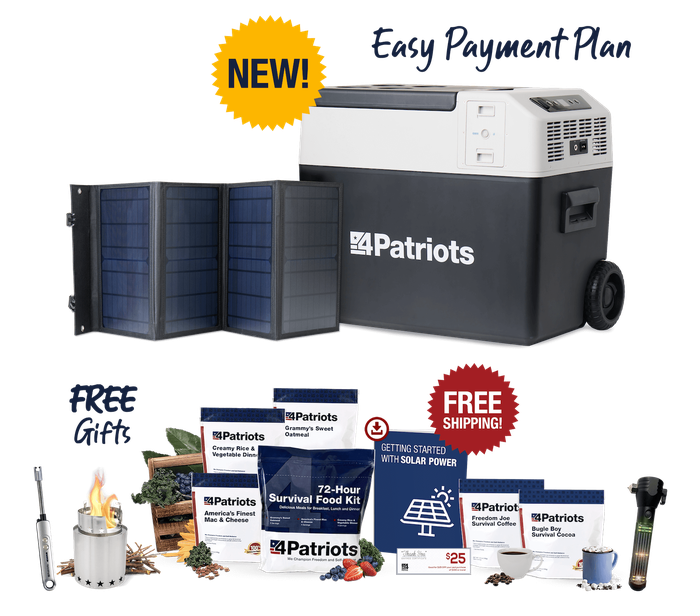 Order Online Any Time
24 Hours a Day / 7 Days a Week / 365 Days a Year
And you won't risk a thing by trying out your Solar Go-Fridge thanks to…
An Outrageous Guarantee so This is 100% Risk FREE for You
You should be 100% happy with your order or you shouldn't pay a penny. You'll get a 100% money-back satisfaction guarantee for 365 days with no questions asked.
100% Money-Back Satisfaction Guarantee
If for any reason you're not satisfied with your Solar Go-Fridge, just return it within 365 days (that's a full year) of purchase and we'll refund 100% of your purchase price. No questions asked. That way there's absolutely no risk for you.
We stand behind the Solar Go-Fridge and we are confident you're going to love it!
Click the button below now.
YES! I Want my Solar Go-Fridge 100% Risk-FREE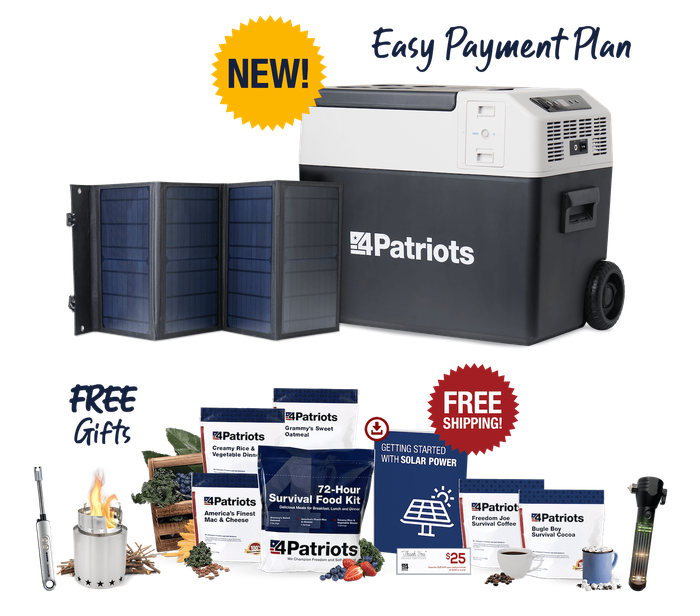 Order Online Any Time
24 Hours a Day / 7 Days a Week / 365 Days a Year
Your Purchase Supports Those Who Serve
Thanks to your support, we're able to employ 175+ American men and women from all across the USA. People who work hard and truly enjoy helping folks get prepared for emergencies.
And again — thanks to you — we provide meaningful support to important charities that help American veterans and their families. Charities like Fisher House, A Soldier's Child Foundation, Team Rubicon and Operation Homefront: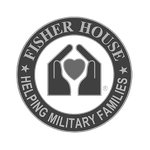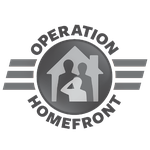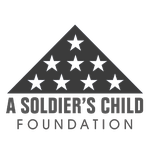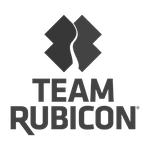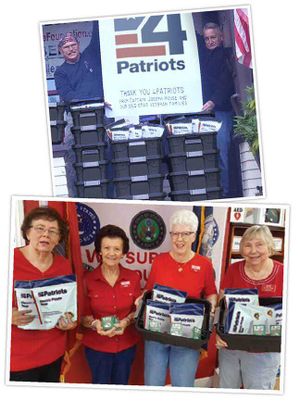 In fact, 4Patriots and our affiliated brands have donated more than $830,000 since we founded the company. And the number keeps growing! This year alone, we're committed to donating "$1K a Day" for a total of $365,000 by year's end.
Listen, it's up to you which way you go.
But in times like these… where we can't even trust the water coming from our tap.
You have to ask yourself…
Am I Doing Everything I Can for My Family?
You have 2 options in front of you.
Option 1: You leave this page without your Solar Go-Fridge. You continue to buy hulking bags of ice that take up 2/3rds of your space. And you dump it all by the afternoon when it's melted.
Option 2: You claim your Solar Go-Fridge & 11 FREE gifts. You blow your family away with ice cream, popsicles & frozen meat at the lake. And you never lift a dripping bag of ice cubes again.
Don't you deserve that?
If you're ready to take charge & provide for your family, then click the button below. You'll be glad you did.
Right now, our introductory stock is still available. When you order you will instantly receive an order confirmation. And you'll get a tracking number when it ships.
You can get started risk-free today with a 100% money-back guarantee for 365 days. It's like trying it before you buy it.
Claim your Advanced Solar Go-Fridge and FREE gifts now. You'll be glad you did.
Click the "Start My Order" button below.

Order Online Any Time
24 Hours a Day / 7 Days a Week / 365 Days a Year
1. All testimonials in this advertisement are from real people; sometimes names and photos have been changed to protect their privacy and some were given free products in exchange for their honest feedback. Testimonials represent exceptional results, don't apply to the average purchaser and are not intended to guarantee that anyone will achieve the same results. The organizations, publications and people referenced on this site are not affiliated with 4Patriots. They have not endorsed, sponsored or recommended this product; no affiliation or endorsement is claimed. Terms & conditions apply.
2. Your survival food is designed to last 25 years on the shelf. Storage conditions impact the shelf life of your food. For best results, always protect your food from heat, air and moisture. Avoid prolonged exposure to temps above 75 degrees F. Keep food sealed until ready to eat. Shelf life will vary based on storage conditions.
3. These kits are designed to provide energy and nutrients for one person in stressful emergency situations. They are not intended to be complete caloric replacements during "normal" times. You'll want to make sure you have additional food items on hand so that in an extended emergency you'll be able to supplement your daily calorie intake, nutrients and variety with additional food items available on this site, food you have stockpiled in your pantry, fresh produce from your garden, etc. An average adult needs approx. 2,000 calories per day to meet their energy needs. This kit provides approximately 1,253 calories per day for one person. This may not be enough for optimal nutrition, especially for an extended period of time, or if you're pregnant, a child, elderly, or have other health conditions. In order to supplement your daily calorie intake, to add variety or to provide food for more than one person, we offer a number of supplemental products, including food bars, meat packs, fruit and vegetable packs, etc. By combining our kits with these additional products, you can ensure that you have 2,000 calories per day available to you during emergency situations. We'd be happy to discuss your particular preparedness goals, and to help you select more or less survival food to meet your unique needs. Call 1-800-304-4202 to speak with our friendly Customer Service team.
4. Based on customer purchase data from April 2022.
5. 4Patriots customer count from 2018 to 2022.
6. 96.6% of customers do not return their products or request a refund.
7. Based on customer purchase data from April 2022.