[NEW] 2-in-1 Water Bottle Purifies Water in 5 Minutes
Collapsible Water Bottle Sterilizes Water & Doubles as a Lantern
This isn't an ordinary water bottle...
This 2-in-1 personal water-purification system is the first of its kind to…
Sterilize water in 5 minutes

Light up campsites

& fold into your pocket
People already bought thousands of these water bottles at full price.
But none of them saw the deal you're about to see.
On this page, you get one of these futuristic water bottles for FREE with the Best Deal Package. Take it to your gym or public park. Or use it to keep water safe & tasting great on road trips. And when you're done, fold it up & stash it in your pocket.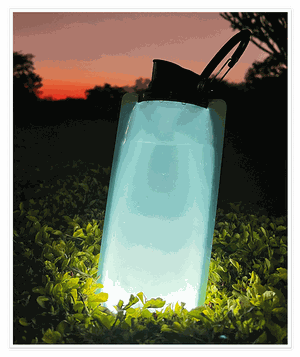 But you can't wait. People love this portable water bottle. So when they find out they can get enough for their whole family on this page, plus score FREE gifts, including FREE Shipping & Handling.
They could break the internet.
So don't miss out. Otherwise, your family could get stuck with some less desirable options…
Is Your Drinking Water Clean?
Warning: Clear Water Does NOT Mean Clean Water
When it comes to water, you only have a few options.
Option 1: I'll drink water from my tap. But that's only if you have a good source for your water. 49 million Americans rely on unregulated tap water.2
Option 2: I'll buy single-use plastic water bottles. And it'll cost you a fortune. FEMA recommends 1 gallon of water per person… per day in an emergency.3 For a family of 4 that's 30 bottles of water a day. And 210 for a week.
Option 3: I'll carry around a refillable water bottle. Fine when you trust your water source. But if you're filling up at airports or public parks? You better have something to clean your water on standby.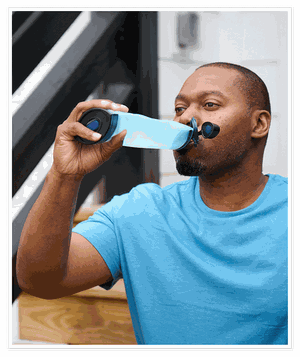 You need a better option. One that lets every member of your family have delicious, clean drinking water ready whenever they need it.

That's why we're thrilled to introduce you to the…
NEW Patriot Pure Aqua-Bright
[Buy 4 Get 1 FREE] Clean, Safe Drinking Water in 5 Minutes
Your Patriot Pure Aqua-Bright Water Bottles delivers safe & delicious drinking water for you & your family. It uses powerful UV-C light to disinfect your water in only 5 minutes.

But that's not all, because it also doubles as a lantern. Use it to light up a campsite, or for much-needed light in a blackout.

Take these collapsible water bottles with you to the gym, grocery store or airport. Or keep a couple stashed in your bug-out bag for a little extra peace of mind.
And only on this page, you can score…
Exclusive Buy 4, Get 1 FREE deal
FREE Digital Report
$25 OFF Your Next Order
FREE Shipping
365-Day Money-Back Guarantee
Click the "Start My Order" button below to secure Aqua-Bright Water Bottles for the whole family.
No matter how many of these personal water purification systems you claim, you get…
A Host of Unbeatable Features — Peace of Mind Being the Best One of All!
There's a reason folks go nuts over this bottle. It combines:
Powerful water sterilization
Ultra-bright light modes
Convenient portability
Into 1 bottle!
Take a look at what your Aqua-Bright Water Bottles can do for you…
Clean, Safe Water at the Push of a Button
Your Patriot Pure Aqua-Bright can sterilize dirty water with the built in UV-C light. So you don't have to worry about the last person to use your gym's water fountain.
Fill it up with tap water, at a water fountain or office water cooler. Heck — you can even use your hose to get great-tasting drinking water. And it's all thanks to...
Powerful UV-C Light
UV-C light takes care of harmful bacteria that hides out of sight. It's so powerful, even hospitals trust it to disinfect patient's rooms. And now, you get that powerful technology inside your water bottle.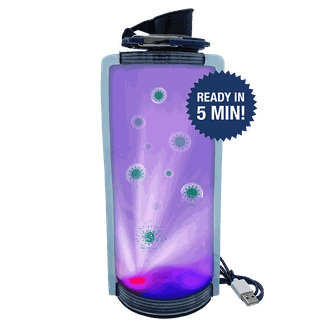 Which means that you can…
Fill up Practically Anywhere
Don't let your loved ones gulp down germs in their water. Your Aqua-Bright Personal Water Purification Systems can sterilize water from…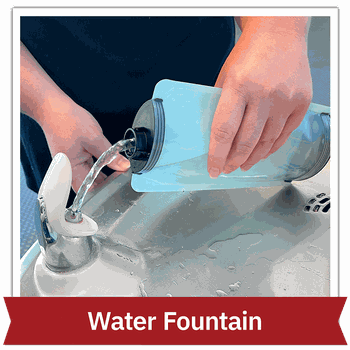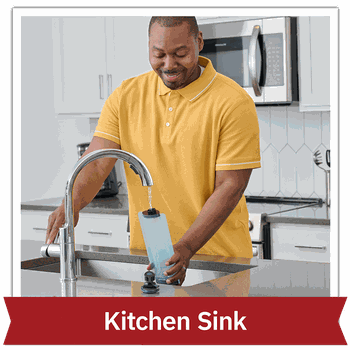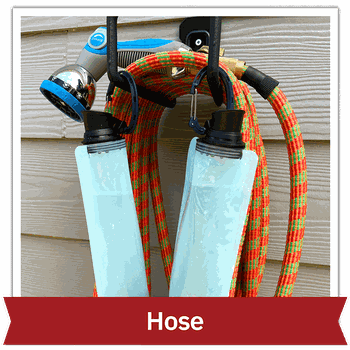 Airport water fountains
Your kitchen tap
The backyard hose
Water coolers
And much more
To be clear… this isn't a filter. It can't stop debris, like sand, from getting into your water.
The Aqua-Bright is designed to kill bacteria lurking in your drinking water. Places like gross public water fountains, old water coolers & more. Do not use it on unfiltered water such as lakes or streams.
Don't miss out on this peace of mind. Click the "Start My Order" button & claim an Aqua-Bright Water Bottle for everyone in your family.
But your Aqua-Bright is so much more than a water bottle, because it also has…
3 Unique Lantern Modes
Your Aqua-Bright Water Bottle doubles as a bright lantern. With 3 different light modes, you control the light you need.
Use the low light setting as a late-night reading light. Or bump up the brightness for light in a blackout.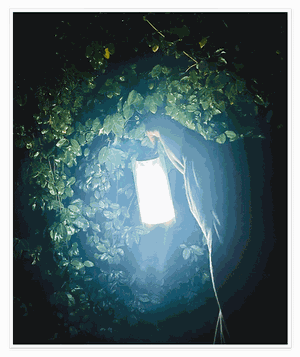 Collapsible for Easy Storage
The special design of the Aqua-Bright Personal Water Purification System makes it completely collapsible. So once you finish using it, you can fold it up & stash it away.
Slide it in your backpack, purse or gym bag. It even folds down small enough to fit in your pocket. Can your clunky water bottle do that?
Don't miss out on your exclusive Buy 4, Get 1 FREE deal on Aqua-Bright Water Bottles. Click the "Start My Order" button now & claim the Best Deal.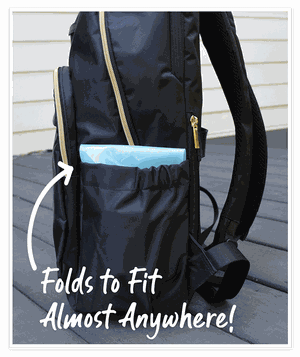 [DEMO] Aqua-Bright Unboxing
Long-Lasting Battery Life
Your Aqua-Bright is built for the long haul. The powerful lithium polymer battery can sterilize your water up to 20 times on a single charge.
That means you get up to 10,000 uses in every bottle. Wow!
Don't worry about batteries or weird cables. Your Aqua-Bright Water Bottle recharges with a USB charging cable. Simply plug it up to any USB port and let it charge.
And with an interior red light, you'll know when your water bottles are fully juiced.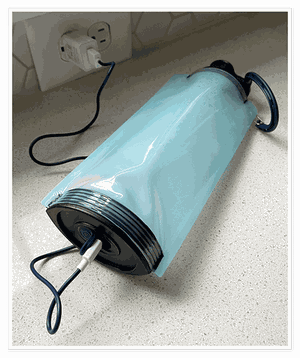 Designed for Your Convenience
No detail was too small for us. Your Aqua-Bright Purification Systems come with a collection of helpful features you'll love.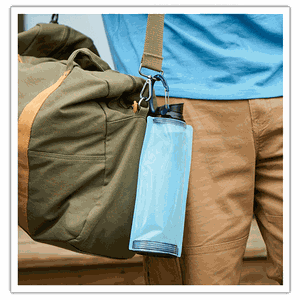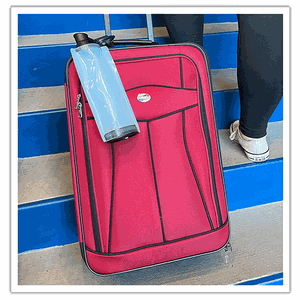 With all these incredible features, it's no wonder the Aqua-Bright is…
Our #1 Sanitizing Water Bottle
Having this "portable hazmat team" could keep your family safe from gross public water. But they're so handy… customers use them every day! That's what makes them the perfect gift for the folks you love.
Just think of all the ways you'll use your Aqua-Bright Water Bottles:
At Home
In the Office
At School
In an Emergency
At the Gym
At the Airport
Camping
Hunting & Fishing
RVing & Road Trips
Keep these water bottles on hand for your next trip out. Or keep them on standby next to your sink for delicious, clean water on demand.
Click the button to order now and get a FREE Aqua-Bright Water Bottle plus more FREE gifts with your "BEST Deal" order.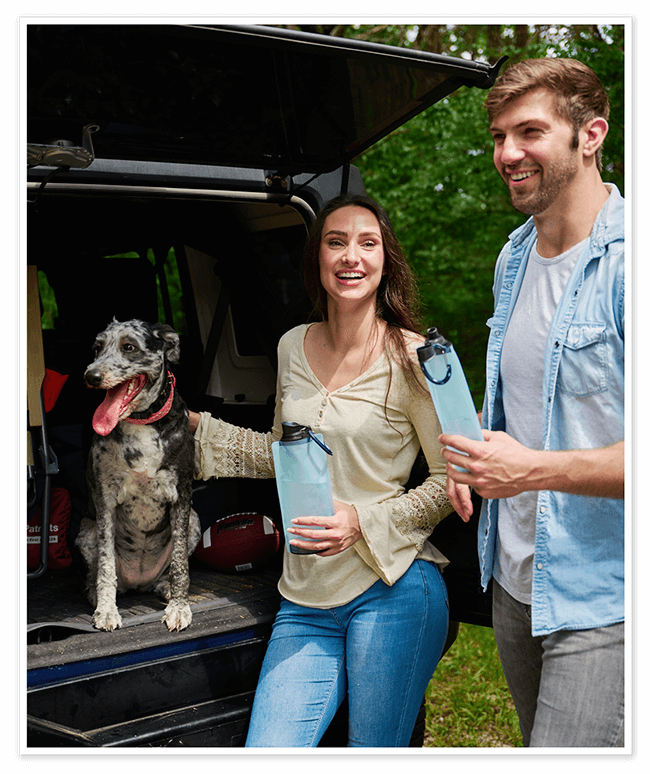 But you don't have to take our word for it…
People Rave About Their Aqua-Bright Water Bottles
Over the last 4 years, 1,471,945 customers have trusted 4Patriots survival products.4 And according to our numbers, 97% are happy customers.
Folks are happy – and the numbers show it!5
Great Addition to My Camping Supplies

"It's very easy to use. I like that it comes with a carabiner to hook onto your belt loop or bugout bag, and you can charge it using the Patriot Power Cell. It's also a great little nightlight for camping."
It's Like Having 3 Tools in 1

"You get a water bottle, a purifier, and a lantern out of it. It sterilizes your water for you so that you can have safe, clean drinking water on the go, wherever you may be — out hiking, fishing, if you get trapped in a snow storm in your car.
We charged it with one of our solar devices that has a charging dock. It didn't take very long.
It folds away really easy so you can stick it in your purse, gym bag, bugout bag, or glove compartment."
Super Convenient to Take With You

"It's collapsible enough so you can fit it in any backpack, even in a purse. Or you can even hang it from a belt loop."
* Real reviews from real customers. Sometimes customers receive a free product to test or as a thank you for submitting honest feedback. For more information see footnote 1.
You can see why most customers want more than one Aqua-Bright. To make sure all their loved ones can drink safe, delicious water anywhere they go.
Be sure to put your order in before it's too late.
There's Only 1 Catch…
These water bottles are unique & people have taken notice. So until you click the "Start My Order" button, we can't guarantee your order of Aqua-Bright Personal Water Purification Systems.
We recommend claiming our Best Deal now if you want to secure almost endless sterile water for the whole family.
Frankly, every family should probably have more than 4 Aqua-Bright Water Bottles... to keep everyone they love safe from dangerous contaminants lurking in drinking water.
That's why we're offering a special "Buy 4, Get 1 FREE deal" and giving you additional FREE gifts, plus FREE shipping, when you stock up.
We want to stay ahead of demand for these water bottles.
But here's the thing: they are custom made just for us. And each batch is carefully tested at our warehouse in Utah to make sure that they're perfect for you.
So if there's a mad rush, it could take a while for us to restock.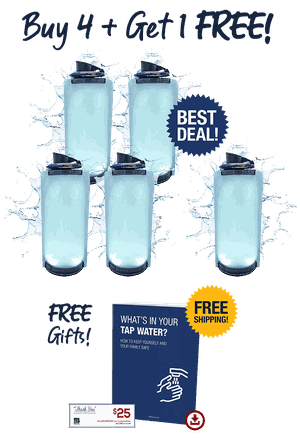 Here's How to Get Your Hands on These Water Bottles Today (at Significant Savings)
So at this point, you've seen the benefit of having these unique water bottles on hand.
You've seen how they sterilize water for you & your family…
How they keep your water fresh, clean & tasting great…
How they double as a powerful lantern…
And how they can collapse in seconds to fit in gym bags, suitcases or even your pocket.
It's no exaggeration to say that our Patriot Pure Aqua-Bright Water Bottles are one of our most popular NEW products. People love the peace of mind they get from having them around.
Think about having these water bottles at public parks, gyms or even at home.
To ease your mind over the threats lurking in the water.
To keep your family safe & hydrated, even when you have less-than-stellar options.
To provide critical light when — or where — you need it most.
This doesn't have to be wishful thinking.
With your Patriot Pure Aqua-Bright Water Bottles… water security is entirely within reach.
Chances are good that you'd pay a LOT more than $29.95 to know that your water is safe & sound.
Heck… you'd probably pay 10 times that (or more!) if it meant your loved ones would never have to worry.
But Here's the Great News…
Right now, and only on our website...
You get these breakthrough Aqua-Bright Water Bottles for much less than you might expect.
Because peace of mind is for everyone. Not just the folks who can afford $1,500 water cleaners for their home. Everyone deserves to have these water bottles in their arsenal.
And you can get it – for only $29.95. Wow!
And that's still just the start.
Because you'll want a water bottle for everyone you love…
And because the more you have ready, the more safe and delicious drinking water you'll have on standby…
We strongly recommend you stock up on as many Aqua-Bright Water Bottles as you can.
That way, you'll feel confident knowing that when SHTF… your family's water is covered.
When you stock up on our Best Deal and get 4 sterilizing water bottles… you'll get an additional Aqua-Bright FREE... plus FREE gifts… and FREE Shipping & Handling too.
But it's only available here, and while supplies last.
YES! I Want Safe Water for the Whole Family… Plus FREE Gifts & FREE Shipping, too!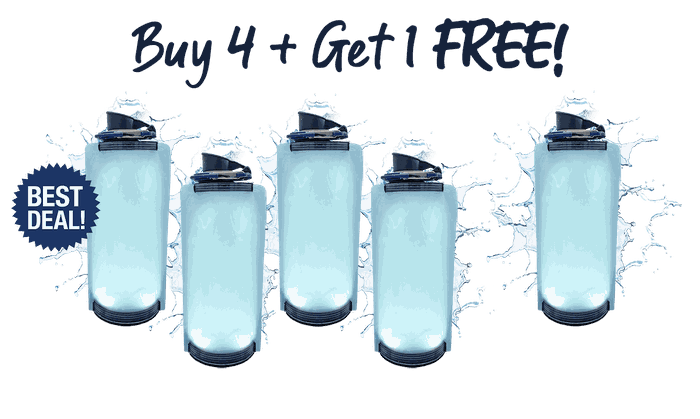 UPDATE: Our Best Deal Just Got Even Better!
Select the BEST DEAL Package &
Receive 5 FREE Gifts Including FREE Shipping

Now to help make stocking up a complete no-brainer for you…
Your FREE Bonus Gifts are the Perfect Complement to Your Patriot Pure Aqua-Brights
Developed exclusively for Aqua-Bright customers who claim our Best Deal, and only on this page…
You get a special FREE bonus gift package that is the perfect compliment to your personal water purification systems.
Starting with the gift you already know about…
FREE Gift #1:

FREE Patriot Pure Aqua-Bright
($29.95 Value)
To make sure you can cover everyone in your family, you get a special deal on these futuristic water bottles.
That's why you get a special Buy 4, Get 1 FREE offer when you claim our Best Deal.
It's our way of saying THANK YOU for being a loyal customer.
There's no coupon code to remember or fine print to read. All you have to do is claim the Best Deal.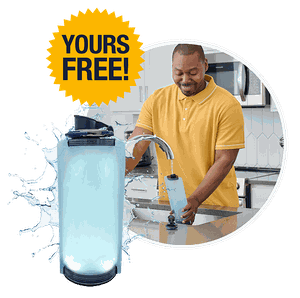 Give it to a friend as a gift. Or stash it away for clean, delicious water in an emergency.
Next up, you get…
FREE Gift #2:

FREE "What's in Your Tap Water" Digital Report
($9.95 Value)
A "must read" report for anyone concerned about their tap water. You'll get "insider info" on how we got into this mess. Including detailed info on…
What pollutants lurk in your water…
How much water you need to drink to stay healthy
And DIY solutions on how to AVOID ingesting contaminated water, starting immediately
But that's not all…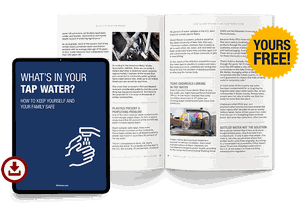 FREE Gifts #3:

$25 OFF Your Next Purchase
To make your purchase "better-than-FREE" for you…
You'll get $25 off any further purchase of $100 or more. Use it to get best-selling survival food, solar gadgets and much more.
That's what we call an incredible deal.
But to make stocking up a no brainer, when you claim your Best Deal of Patriot Pure Aqua-Bright Water Bottles, you'll also get…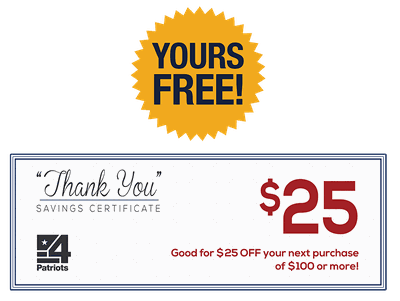 FREE Gift #4:

FREE Shipping & Handling ($14.95 Value)
Select the Best Deal on your Aqua-Bright Water Bottles and you'll get FREE shipping for your entire order.
Shipping & handling via premium carrier isn't exactly cheap. But we want you to know how much we appreciate your business. So we're going to take care of the shipping and handling for you.
And no matter how many Aqua-Bright's you order, you'll get…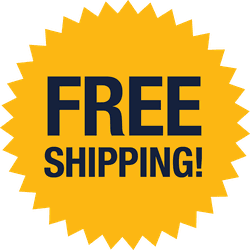 FREE Gift #5:

FREE Lifetime Technical Support
And if you act now, you'll get something FREE that most companies charge an arm and a leg for. Simply to prove how much confidence you can have in this product. You'll get FREE reliable and knowledgeable tech support for the life of your Aqua-Bright Personal Water Filtration Systems.
Call us anytime and ask anything you want about your Patriot Pure Water Bottles. No question is too small or too big for our amazing USA-based Customer Service team. Amanda, Corrie, Ray and many others are standing by waiting to help YOU enjoy your purchase for as long as you own it.
Our customer service team is made up of real people – Americans. We truly care about you and your purchase, and we are willing to stand behind that promise. In our view, that's part of doing business the ethical way. The American Way.
Click the orange "Start My Order" button now, and we'll add all your FREE bonus gifts to your order right away.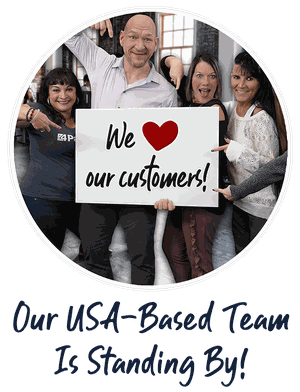 YES! I Want an Aqua-Bright for all my Loved Ones… Plus FREE Gifts & FREE Shipping!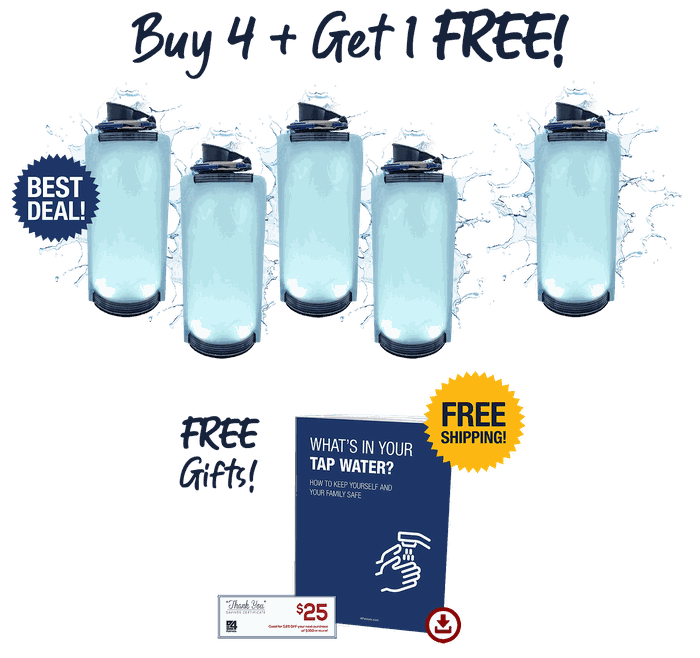 And you won't risk a thing by trying out your Aqua-Bright Water Bottles thanks to…
An Outrageous Guarantee
This is 100% Risk FREE for You
You should be 100% happy with your order or you shouldn't pay a penny. You'll get a 100% money-back satisfaction guarantee for 365 days with no questions asked.
100% Money-Back Satisfaction Guarantee
If for any reason you're not satisfied with your Patriot Pure Aqua-Bright Water Bottles, just return them within 365 days (that's a full year) of purchase and we'll refund 100% of your purchase price. No questions asked. That way there's absolutely no risk for you..
This outrageous guarantee makes your purchase 100% risk-free. We stand behind our Aqua-Brights and we are confident you're going to love them.
Click the button below now.
YES! I Want a Sterilizing Water Bottle for Everyone in My Family… Plus FREE Gifts & FREE Shipping, too!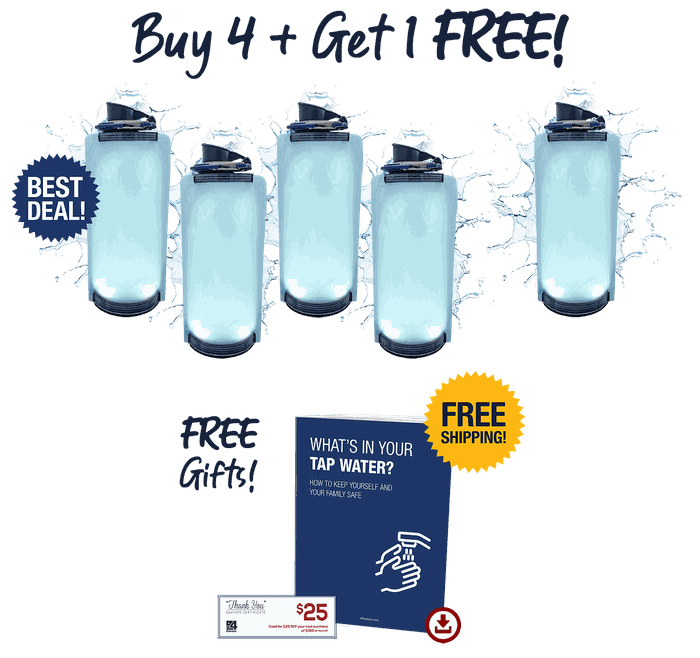 Your Purchase Makes a Difference
Thanks to your support, we're able to employ 175+ American men and women from all across the USA. People who work hard and truly enjoy helping folks prepare for emergencies.
And again — thanks to you — we provide meaningful support to important charities that help American Veterans and their families. Charities like Fisher House, A Soldier's Child Foundation, Team Rubicon and Operation Homefront.
In fact, 4Patriots and our affiliated brands have donated more than $975,000 in cash, plus truckloads of life-saving products and countless hours of volunteer service by our employees since we founded the company. And the numbers keep growing! In 2022 alone, we donated "$1K a Day" for a total of $365,000 by year's end.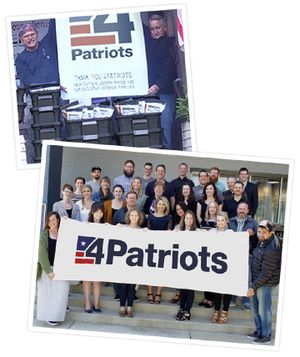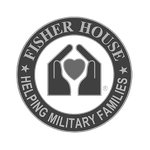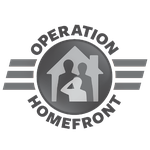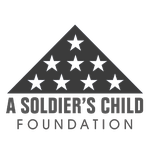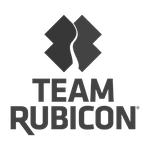 Listen, it's up to you which way you go.
But in times like these… where millions of Americans can't trust the water in their tap…
Let alone from a public water fountain…
You've got to ask yourself…
Is My Water Actually Safe to Drink?
The dirty secret about your tap water is OUT…
And it's high-time you stop leaving your family's water supply to chance.
The reality is… it's been 20 years since they've added new contaminants to the Safe Drinking Water Act.
In fact, there are over 160 contaminants in tap water the government does NOT regulate. Including a slew of man-made chemicals called PFAS that have been lurking in our waters since the 1940s.6
How helpless would you feel, knowing you knew the facts about the filthy water spilling out of your tap, and you did nothing? How would you explain this to your family or loved ones?
You'd be forced into a corner to admit, "Yes, I knew this could happen, and I knew of a proven way to protect you, but I slept on it anyway…"
We don't want you to live with that regret.
Not for another second…
To get your Aqua-Bright Water Bottles rushed to you at this incredible price… plus your FREE bonus gifts and FREE shipping & handling…
Click the big button below now.
As of today, inventory is still available. When you order, you will instantly receive an order confirmation. We will rush your order to you and you'll get a tracking number when it ships.
You can get started risk-free because you're backed by a 100% money-back satisfaction guarantee for 365 days. It's like trying it before you buy it.
And if you get the BEST DEAL (most customers do), you'll get added protection with tech support… completely FREE.
Claim your Patriot Pure Aqua-Bright Water Bottles and your FREE gifts now. You'll be glad you did.
Click the "Start My Order" button below.
YES! I Want Safe Water for my Whole Family… Plus FREE Gifts & FREE Shipping, too!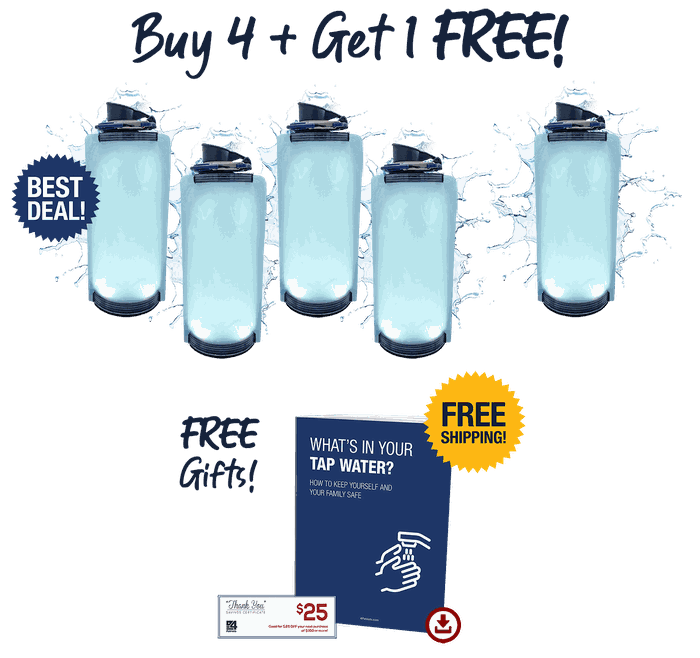 1. All testimonials in this advertisement are from real people; sometimes names and photos have been changed to protect their privacy and some were given free products in exchange for their honest feedback. Testimonials represent exceptional results, don't apply to the average purchaser and are not intended to guarantee that anyone will achieve the same results. The organizations, publications and people referenced on this site are not affiliated with 4Patriots. They have not endorsed, sponsored or recommended this product; no affiliation or endorsement is claimed. Terms & conditions apply.
2. EWG. "State of American Drinking Water." 2019.
3. FEMA. "Disaster Planning Is Up To You." 2018.
4. 4Patriots customer count from 2018 to 2022.
5. 96.6% of customers do not return their products or request a refund.
6. CDC. "Picture of America Drinking Water Fact Sheet." 2017