Finally — this best seller is back in stock & ready to ship. Inventory is limited, act now to claim.
The Ultimate in Water Filtration?

Breakthrough Silver-Impregnated Filter Delivers Better Tasting & Safer Drinking Water
Imagine this…
You pour yourself a glass of water…
You notice the obvious — it's clear, crisp and ultra-refreshing.

But that's not why you're enjoying it.
You're enjoying the peace of mind that comes from knowing you have water you can RELY on.
Because it's protected by a NEW breakthrough countertop-filtration system that targets 200+ dangerous contaminants in your drinking water. Giving you cleaner, delicious water that's safer for your family to drink.
So that you can cook, clean and drink without wondering what is lurking in your water.
That thought… is downright delicious.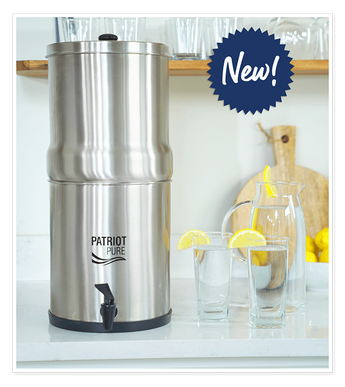 And this doesn't have to be wishful thinking.

Introducing…
The Patriot Pure™ Ultimate Water Filtration System
Finally... A Complete Countertop Solution That Delivers Cleaner, Delicious Drinking Water
This water-filtration wonder targets 200+ contaminants and reduces bacteria in your drinking water.* Things that your average fridge filters barely touches… heavy metals, arsenic, pharmaceuticals and more. (Click here to see removal rates.) It puts grocery-store pitchers to shame.
At only 8 in. wide with an impressive 2.25-gallon tank, this convenient countertop system delivers cleaner, delicious water that you'll feel good about sharing with your family.
People can't believe that ONE Filtration System can do ALL this…
Targets 200+ contaminants*

Advanced filtration technology

Easy to set up & use

Small countertop footprint

Easy interest-FREE payment plan

★★★★★ Raving customer reviews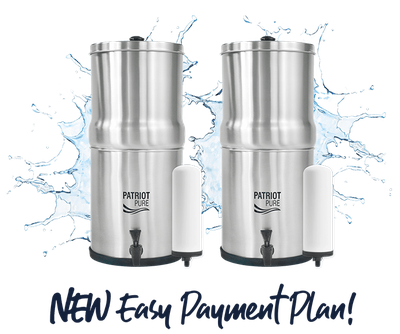 Click "Add to Cart" now to get your hands on 1… or 2 of these Ultimate Water Filtration Systems for only $99 down today. (Click for details)

*Your Patriot Pure Ultimate Water Filtration System targets 200+ contaminants when used as directed. See lab results for a complete list of contaminants and reduction rates. For more information, see footnote 12.

The sad fact is, there's a laundry list of toxins lurking in your water...
CLEAR Water Doesn't Mean CLEAN Water
In America…

49 million people9 depend on tap water that's NOT regulated by the government. For drinking, cooking and hygiene.

And the rest of Americans?
"Protected" by a Safe Water Drinking Act that hasn't been updated in nearly 20 years.
So 1 thing is clear…
You can't depend on the government to make sure your water is reliable.
The only person who can deliver the peace of mind that comes from drinking cleaner, safer water… is YOU.
Maybe you're thinking, "I'll just go out and get a case of bottled water. Straight from fresh mountain streams, right?"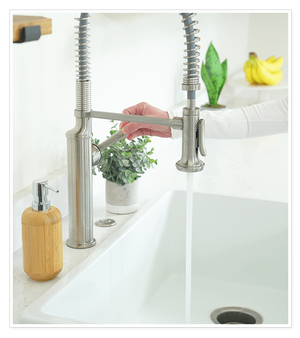 Wrong. There's NO evidence that bottled water is safer than the water that comes from your tap. In fact, bottled-water companies don't even need to report their water quality data to the government… or to you (the public)!
And even if you're willing to take that risk…
Bottled water isn't cheap. How long does a case last for your family? A few days, maybe a week?
And in a true crisis situation you'll need it for nearly everything. Drinking, cooking, and even bathing! That's why it's recommended to store 1 gallon of water per person… per day.2 That's a ton of water for 1 household.
You need a better solution.
You need something that targets dangerous contaminants in your water quickly and without costing you an arm and a leg.
The Patriot Pure Ultimate Water Filtration System reduces the levels of 200+ contaminants, so that you and your family can enjoy delicious water that's safer to drink.
But look…
We don't have much time.
When word gets out about this deal — plus the FREE shipping, FREE gifts AND interest-FREE payment plan you see below — you'll want to claim your Ultimate Water Filtration Systems right away. And we'll ship them to you straight away.
Because 4Patriots is — and has always been — committed to helping YOU be more self-reliant.
We are Here for You in Turbulent Times
In 2020, 4Patriots survival products went from niche to mainstream.
Suddenly everyone and their brother wanted to be prepared for whatever viruses, bacteria and pathogens were lurking out there. Demand for products like the Patriot Pure skyrocketed.
And sure, we probably could have taken WAY more orders than we had products to fill them — and some companies did just that.
But that's not how we do business at 4Patriots. It's just not right to take someone's hard-earned money for something that won't ship for months.
So here's our promise to you…
Promise #1 - If You're Reading This, There are Still Some Available
Which is why you should act now, while these Filtration Systems are in stock. Remember, you can't find this deal anywhere else. Not Amazon. Not your local Costco. Only here at 4Patriots.
Promise #2 - Your Order Ships Fast from Utah, USA
We work overtime to make good on our promises to our customers. Not even a tornado hitting our headquarters in Nashville… or an earthquake hitting our warehouse in Salt Lake City… can stop our hardworking team from getting your orders to you.
Promise #3 - We Stand Behind this Product
At 4Patriots, we are proud to employ over 170+ Americans. We're at your service before, during and especially after your survival gear arrives. And your entire order comes with a 100% satisfaction guarantee that makes shopping risk-free
And all this is only possible because of you. To our customers, THANK YOU for your loyalty. Your emails of encouragement and the thoughtful reviews on our Facebook and Better Business Bureau pages mean the world to us…
4Patriots Delivered When Other Companies Left Me Hanging

"On February 25th I started ordering survival products from several places. All were starting to feel the effects of the virus and all experienced delays. One place just canceled my order. 4Patriots came through and gave me 100%."
No Question... Beats the Competition

"As per usual, this company shines head and shoulders above its competitors in their commitment to customer satisfaction. We have focused all our effort to prep on 4Patriots and have never been disappointed. The food, the equipment, the customer service have been top notch. You won't be disappointed or discouraged when 4Patriots is in your corner."
* Real reviews from real customers. Sometimes customers receive a free product to test or as a thank you for submitting honest feedback. For more information see footnote 1.
You and your families are the reason we come to work every day. We're proud to supply peace of mind when times get tough.
And word to the wise — get your order in now, and don't miss out on…
An Unbeatable Combination of Features — Your "Peace of Mind" Being the Best of All!
We're pleased to introduce to you a NEW breakthrough water filtration system that reduces the levels of 200+ dangerous contaminants in your water, so that you and your family can enjoy safer, better tasting drinking water.
That will change the way you look at (and taste!) your water… for good.
Patriot Pure Ultimate Water Filtration System — A Countertop Solution That Won't Fall Flat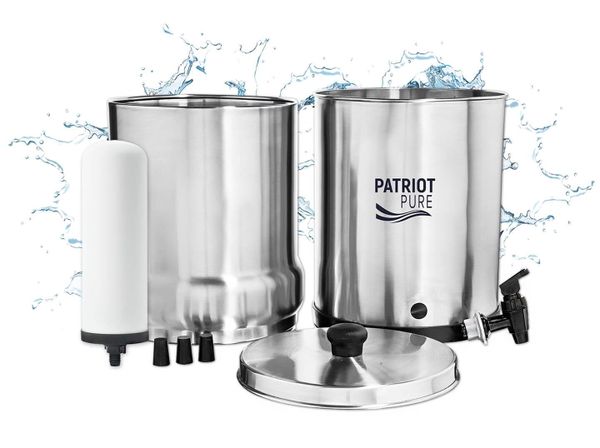 Whether you're at home, going camping or packing up your RV… this is the gravity-fed Water Filtration System you can rely on to keep your drinking water safer.
Click the button below to start your order:

Here's a few of the valuable features that the Ultimate Water Filtration System delivers.
Targets 200+ Contaminants*
Your Ultimate Filtration System helps reduce the levels of heavy metals, pharmaceuticals, bacteria and viruses in practically any freshwater source like ponds, lakes, streams… even murky groundwater.
We have scientific proof from a third-party testing lab renowned for water-quality testing. QFT Laboratory — a nationally known and certified water-testing lab headquartered in Williamstown, New Jersey — proved that the Patriot Pure can do what we say it can do.
And as an independent third-party tester, their findings are based solely on their test results… actual science without any incentive to affect the outcomes.
They tested 150 gallons for some of the grossest contaminants known to man. And found that this filtration system reduces the levels of contaminants like:
Bacteria — 99.9%

Viruses — 99.9%

Pharmaceuticals — 92%+

Volatile Organic Chemicals (VOCs) — 99%+

Semi-Volatile Organic Chemicals (VOCs) & Pesticides — 47%+

Herbicides — 98%+

Heavy Metals: Lead (99.3%), Mercury (91.8%), Chromium 6+ (64.9%), Copper (97.1%), Beryllium (91.8%), Aluminum (97.9%) (most commercial filters only remove Lead... and sometimes Mercury!)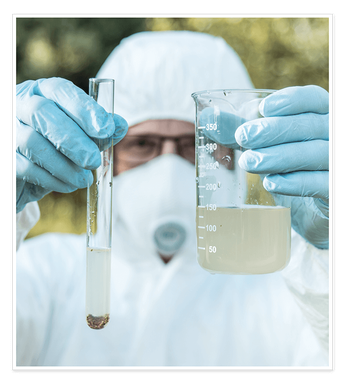 And even targets those hard-to-filter pollutants other methods miss like…
Arsenic — 90.6%

Chlorine — 95%

Fluoride — 12.63%

PFCs — up to 98.1%

and more!
Here's a link to the lab test in case you want to see the removal rates for yourself.
Your Patriot Pure Ultimate Water Filtration System is effective on microorganisms as small as 0.3 microns, per testing done on 150 gallons of water. That's 200x smaller than a grain of salt.
The result? Water that tastes like it came straight from a mountain stream.
*Your Patriot Pure Ultimate Filtration System targets 200+ contaminants when used as directed. See lab results for a complete list of contaminants and reduction rates. For more information, see

footnote

12

.

And it does it all thanks to...
Advanced Filter Technology
American ingenuity powers our 2-step, proprietary filter. Made right here in the USA, the Patriot Pure filter works like a dream… to reduce levels of both natural and manmade contaminants using only the power of gravity — the most dependable source of power on earth.
First, your raw water meets the ceramic hybrid outer shell of our filter that's infused with silver, a natural "super predator" of nasty bacteria that also guards against slime build up on the filter body. Think water so bad you've got to wear protective gear just to work with it…
Meanwhile the inner, gravity-fed carbon block absorbs the majority of the contaminants you can't see like chlorine, fluoride and arsenic. Things that your municipal water supply doesn't even test for…
And unlike "sponge" filters, this filter won't leave you with "dead water." As in, water that's been stripped of both the bad stuff AND good minerals — the same ones that are in your daily multi-vitamin! Your Ultimate Water Filtration System leaves 'em in.
So you get naturally delicious, safer drinking water.

Click "Start My Order" to claim cleaner drinking water today.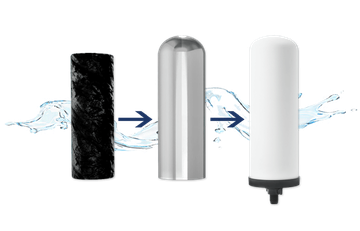 Filter Made in USA
Our filter is made in the USA. By a team of filtration experts dedicated to keeping you and your family protected.
It's a no-brainer. With cleaner water…
Everything Just Tastes Better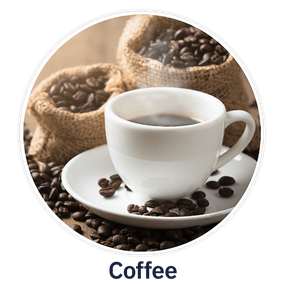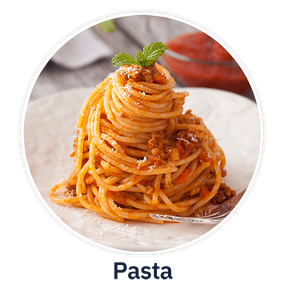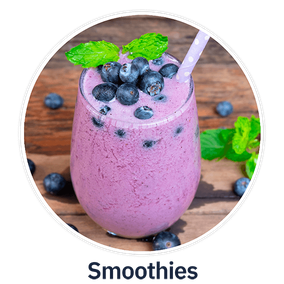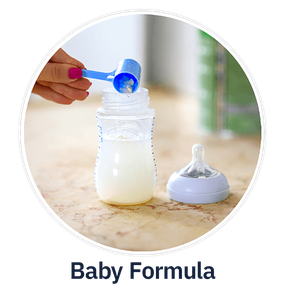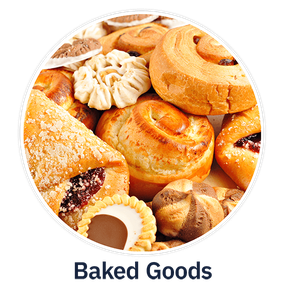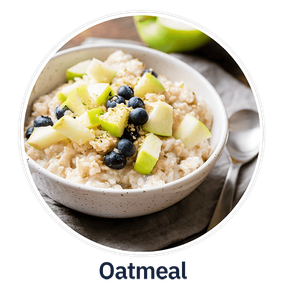 And thanks to your Patriot Pure's extra-large tank, you'll have plenty of water for all of it.
Extra-Large Capacity for the Whole Family
Filter over 2 gallons of water at a time. That's plenty of water for you and your family to drink, cook and clean with at home or at your campsite.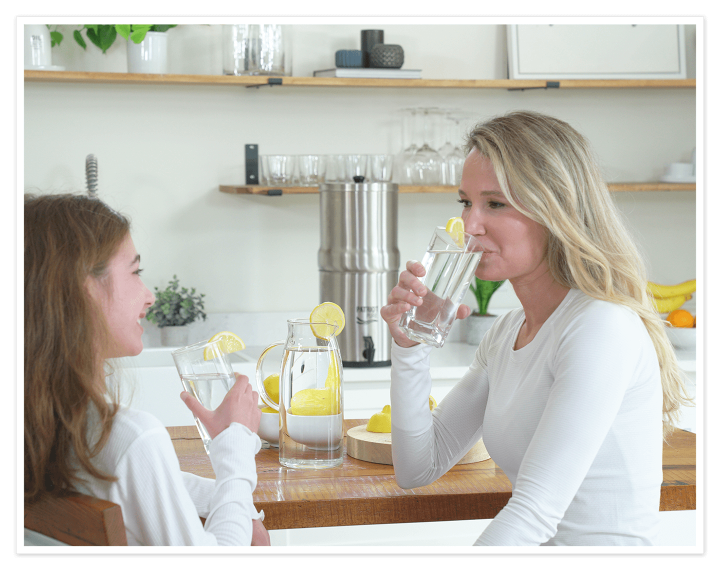 Plus, its extra large reservoir can hold up to four filters — for cleaner water, faster…
Add More Filters for 4X the Flow Rate
Your Ultimate Water Filtration System can fit up to 4 filters in its tank — increasing your flow rate and allowing you to produce more water for drinking, cooking, cleaning or storage.
Fast-Flow Straw Included
A FREE flow-rate straw is included with your filter. You can use this straw to get water extra fast, provided that you feel confident in your water being somewhat safe to drink. Water from most municipal water sources will fall into this category.
Complete Countertop System
At less than 1 foot in diameter, your Filtration System takes up less space than your coffee machine. Making it the "ultimate" in water filtration AND convenience.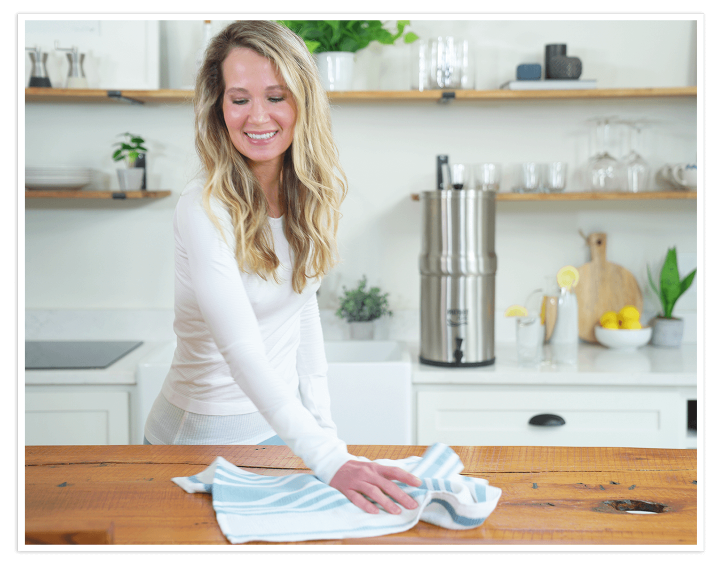 Plus, have peace of mind on the road with your Ultimate Water Filtration System in tow. Its compact design is something you could take with you camping, to the cabin, or store in your RV... it's virtually weightless when empty.
Easy to Set Up & Use
Clean water is closer than you think. No power, no plumber, no problem!
You won't need a master's degree… or a handyman to snake complicated tubes to make the Ultimate Water Filtration System. Getting started is easy as 1… 2… 3…
Assemble the housing
Install the filter — just screw it in place!
Enjoy cleaner, better tasting water

And don't worry about any crazy cleaning methods (soaking, wrapping or freezing). Your Filtration System can be washed with hot, soapy water and a soft cloth. And leave to air dry.
Here's Danielle to show you exactly how to unbox and set up your System:
Here's the Specs of Your Patriot Pure Ultimate Water Filtration System
Only 22" tall and 8.5" in diameter

Premium food-grade, 18/8 stainless steel

Holds 2.245 gallons

Flow rate: 1/2 gallon per hour

Easy-to-pour spigot

Includes FREE flow-rate straw to cut flow rate in half
In a nutshell, advanced filtration technology meets convenient design in this revolutionary tabletop water filtration system.

Which is why our customers can't get enough…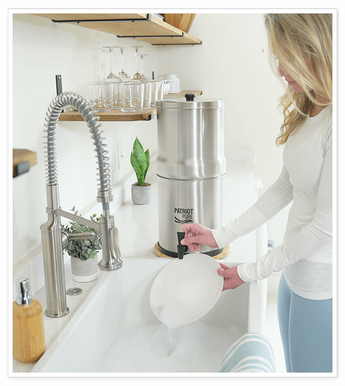 Popular Gift to Give in 2023
The Patriot Pure is the difference between safer and contaminated drinking water. Which is why… it's the perfect gift to show your loved one you care!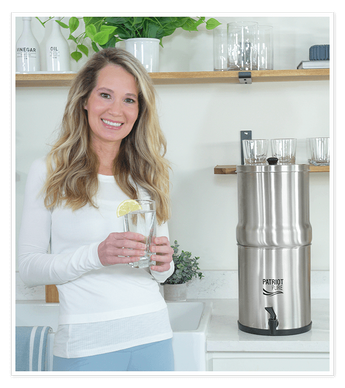 Just imagine all the places they'll use their Patriot Pure:
Home
Cabin
RV
Campsite
Tailgate
Office
Click the button to order now and get FREE gifts with your "BEST Deal" order.
People Rave About Their Ultimate Water Filtration Systems
Over the last 5 years, 1,087,240 customers have trusted 4Patriots survival products.3 And according to our numbers, 97% are happy customers. Plus, a third of our customers come back and order more.
Folks are happy – and the numbers show it!4
Just like Renee, who needed a large tank of water to keep up with her large family:
Safer Drinking Water for the Whole Family

"We've been so pleased. It was easy to set up. The water tastes great. This keeps up with the demand of our 5-person household."
Gallons of Water You Can Actually Trust

"This is so much better than storing gallons and gallons of bottled water. This enables us to make existing, natural water sources drinkable. I feel really good knowing that in an emergency situation, we'd be able to filter our water."

Or Kay, who bought one for emergency use and now uses it every day:
Who Knew Water Could Actually Taste Good?

"It tastes great — better than tap water and filtered water from my refrigerator. We originally bought it for our camper and emergencies, but we use it every day in the house!"
I Actually Enjoy Drinking Water Now

"There are so many chemicals placed in our water these days, that I need some peace of mind that I'm drinking and cooking with safer water. I have started getting a proper water intake and actually enjoy drinking it. When I make pickles and/or can food, I use the filtered water and don't have any problems with cloudy water. I will continue to use this product."
My Water Smelled Like Clorox

"The tap water I have smells like chlorine or Clorox and to avoid drinking it, I was purchasing bottled water. This was expensive as well as contributing to plastic garbage (yes, I recycle). Since using the 4Patriots Water Filter, there is no more chlorine odor in my water and the water tastes cleaner and fresh tasting. I know the filters are working because I didn't change mine out when I should have, and they kept getting darker. I'm saving money as well as drinking better water. I'm very happy with my water filter."

And customers like Derrick, who loves how easy the Patriot Pure is to use..
Say Goodbye to Bottled Water

"It was so easy to install. Within minutes we had water that tasted so good, we couldn't believe it. We don't like the chlorine in tap water and we got tired of lugging around cases of bottled water. You cannot beat a system that can filter gallons of water."
* Real reviews from real customers. Sometimes customers receive a free product to test or as a thank you for submitting honest feedback. For more information see footnote 1.
Again, you can see why most customers want more than one Patriot Pure. To keep 1 upstairs, downstairs… in their RV, cabin, or office. Or to give to friends and family. Young or old — everyone can enjoy the peace of mind of cleaner drinking water.
Be sure to put your order in before it's too late…
There's Only 1 Catch…
These Filtration Systems are extremely popular. So until you click the "Start My Order" button, we can't guarantee your order of Patriot Pure Ultimate Water Filtration Systems.
Frankly, every family should probably have more than 2 Ultimate Filtration Systems... to supply plenty of water for cooking, cleaning and drinking.
But as you can see, people stock up on these Filtration Systems. So we had to put a limit on how many you could order, or else we'd sell out of our inventory (and fast!). And there would be a whole bunch of angry people out there... not able to get their hands on safer water.
So it only seems fair to limit each person to 2 Patriot Pures at once, so that there are enough to go around.
Ahead of this launch, our inventory manager ordered as many as she could to get ahead of the demand.
We recommend claiming our Best Deal now. If you want to secure safer drinking water for the whole family.
But here's the thing: they are custom made just for us. And each filter is carefully tested to make sure that they're perfect for you.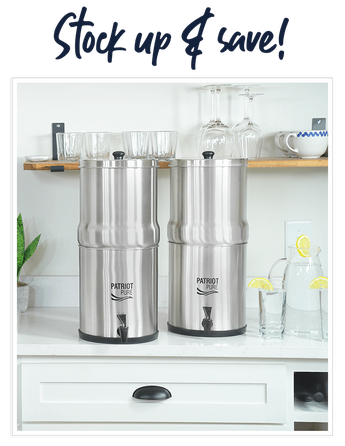 In fact, this last order took over a month to make.
So if they sell out, it'll take at least that long before we can fully stock up again.
Here's How to Get Your Hands on Patriot Pure Ultimate Water Filtration System
So at this point you've seen the benefit of having these safer and reliable Filtration Systems on hand. Ready to protect you against harmful contaminants.
You've seen how they target 200+ dangerous contaminants...
How they protect against the pollutants you can and can't see...
How easy they are to use in your everyday life...
And how access to safer drinking water — that's also delicious — could make all the difference.

It's no exaggeration to say that Patriot Pure Ultimate Water Filtration Systems are one of our most popular products. People love the peace of mind they get from having them around.
Think about what it would be like to reach for a glass of water and know that you've reduced...
Pharmaceuticals

Heavy metals

Bacteria

Viruses

Volatile & Semi-Volatile Organic Chemicals

And more!
This doesn't have to be wishful thinking.
With your Patriot Pure... delicious, better water is entirely within reach.

That's why the Patriot Pure should be priced at $227.00 — or more, like our competitors!

Which, when you think about it, is actually a steal.
Chances are good that you'd pay a LOT more than $227.00 for more reliable, cleaner water.
Heck… you'd probably pay 10 times that (or more!) if it meant your loved ones were better protected from dangerous water pollutants.
But Here's the Great News…
We're offering these breakthrough Ultimate Water Filtration Systems for a fraction of the price we should be selling these pure water "powerhouses" for…
Because cleaner water shouldn't just be for the wealthy… everyone should be able to have these systems in their arsenal.
So when you order Patriot Pure Ultimate Water Filtration Systems today, instead of paying $227.00 per unit...
You can get your Patriot Pure Systems for as little as $197 per unit plus shipping.
And that's still just the start.
Because we know many of our customers want to pay for their systems a little at a time, instead of making one payment up front.
And we can certainly understand that request. Maybe you can, too.
You can pay over time — with NO CREDIT CHECK — we know that you're good for it.
So you can stock up on our Best Deal and get 2 Patriot Pure Systems for only $99 today — plus 3 more monthly payments of only $99 each. Plus, you'll get FREE gifts and FREE shipping!
And no matter how you pay… we'll ship your entire Patriot Pure package to you right away. So you can start enjoying them — and the peace of mind that comes with cleaner, safer drinking water — right away.
But they're only available here, and while supplies last.
YES! I Want the "Magic" of These Water Filtration Wonders in My Home!


UPDATE: See How Our Best Deal Just Got Even Better!
Select the BEST DEAL Package &
Receive 9 FREE Gifts Including FREE Shipping

Now to help make stocking up a complete no-brainer for you…
You Get FREE Bonus Gifts With Your Order Today
As part of this exclusive offer… you'll get a FREE gift with your Patriot Pure Ultimate Water Filtration System today.
FREE Gift #1:

The Water Survival Digital Guide
In this exclusive digital report, you'll learn how to source, treat and store water in an emergency situation. Because you don't always get a warning.
It's packed with tips and tricks like:
The REAL # of gallons a day a person needs

Where to store your water in tight quarters

Which containers you can & cannot use
You'll get this report FREE with your Patriot Pure.
Along with its perfect companion…
FREE Gift #2:

What's in your Tap Water Digital Guide
A "must read" report for anyone concerned about their tap water. You'll get "insider info" on how we got into this mess. Including detailed info on…
What pollutants lurk in your water…

How much water you need to drink to stay healthy

And DIY solutions on how to AVOID ingesting super-contaminated water, starting immediately!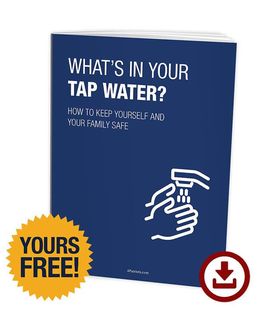 Score Even More FREE Gifts When You Claim Our Best Deal
Developed exclusively for Patriot Pure customers who claim our Best Deal and only available right here on this page...
You'll get a special FREE bonus gift package that is the perfect complement to your Ultimate Water Filtration Systems.
These aren't throwaway tchotchkes, folks.
This is a limited-edition… "better-than-FREE" collection of goodies that will only strengthen your preparedness plan.
Not to mention 2 highly sought-after items that we can hardly keep in stock as it is… but we saved 'em for loyal customers like you.
But first up, you'll get…
FREE Gifts #3 and #4:

2 FREE Patriot Pure Personal Water Filters ($49.90 Value)
While the Patriot Pure Ultimate is the perfect countertop solution, there are times when you need to improve water quality on the go… and these Patriot Pure Personal Water Filters are the portable, pocket-sized solution!
This pocket filtration "straw" features a 0.1 micron, ultrafiltration membrane that effectively reduces contaminants like Escherichia coli, Staphylococcus aureus, Salmonella typhi, Cholera bacteria, Legionella and other pathogenic bacteria. (Click here to see lab tests.)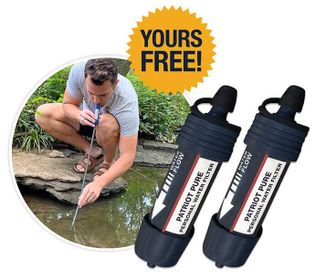 A perfect companion for your backpack, bookbag, purse or glove compartment, you can even set it up with a bag or bucket for gallons of filtration at your campsite.
Ultralight, fits in your hand, portable peace of mind.
And folks can't get enough…
A Godsend When I'm Hiking!

"This is a nice compact water filter that is easily kept in your backpack for emergencies. It beats having to pack a large water bottle or canteen when you can just go to a creek or stream. And it beats taking time to boil water.
Would have been nice to have had these little units with me for hiking. I will take them with us the next time for sure. :)"
Eased My Mind & Lightened My Load

"I always had to carry extra weight (water). I bought the water filter and it works. I was concerned about how much it would actually filter. Well, we tried the filter up in a creek one day and I have had no ill experience as of now after two months of using it. I carry a much smaller amount of water to just get us to the first source."
* Real reviews from real customers. Sometimes customers receive a free product to test or as a thank you for submitting honest feedback. For more information see footnote 1.
* Your Personal Water Filters can reduce levels of waterborne bacteria when used as directed. (Click here to see lab tests.)

FREE Gift #5: Patriot Power Cell® ($29.95 Value)
It's a pocket-sized "power plant" that recharges endlessly in the SUN…
Your FREE Patriot Power Cell gives you critical backup power and light when you need it most. Keeping up to 2 critical devices ON even when the power goes OUT. Use it to stay connected to loved ones, first responders and important news. And get critical backup power on the road… in the air… or wherever you may need it.
The Patriot Power Cell is one of our best-selling solar products of all time... and you get it FREE today.
Not to mention, it's what first-responders rely on…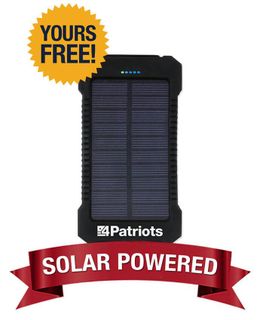 Trusted in the Line of Duty

"I love the idea that even if I'm not near a power source, I can get it charged back up. Having an alternate power source when I'm on duty is really convenient.
I even let friends charge their devices at the same time I charge mine since there's two ports. I got one for me and one for my girlfriend."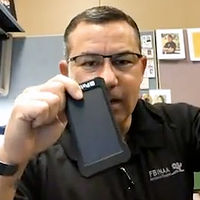 Next up you'll get…
FREE Gift #6:

72-Hour Survival Food Kit ($27.00 Value)
The Red Cross10 and FEMA6 both recommend that every American have at least 72 hours of NON-PERISHABLE food on hand in case of an emergency.
And that's exactly what you get with your FREE 72-Hour Survival Food Kit today.
This kit is valued at $27.00. But we bought it for you, because you're taking action today to be more self-reliant.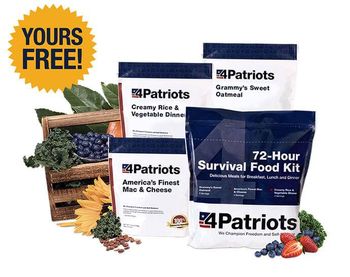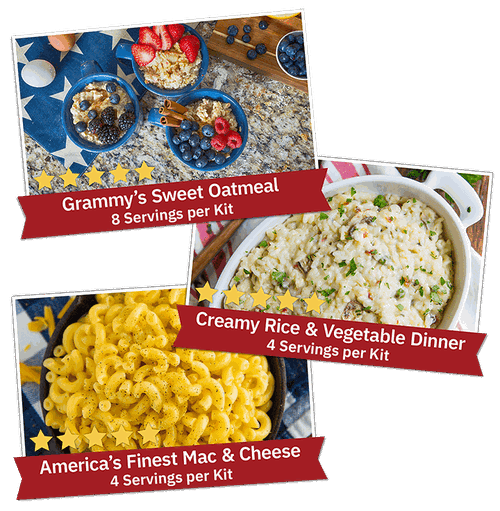 Your kit is guaranteed for 25 years on the shelf* and packaged in military-quality Mylar7 packages. So when you pop one open years from now, it will taste delicious!
And with 16 servings of tasty meals such as America's Finest Mac & Cheese, Creamy Rice & Vegetable Dinner and Grammy's Sweet Oatmeal...

It's no wonder people are going bananas over these kits…
Incredible... 3 "Filling" Meals a Day In a Power Outage!

"We've tried other survival foods, and they just didn't have a taste that was even worth eating. Even if you were really hungry. So we got the 4Patriots 72-Hour Survival Food Kit... and got another FREE kit to go along with it.
And when the storms came in North Carolina and the power was out for 3 days... with no way to move. We were able to eat for 3 days. And not only did it fill us up — 3 meals a day — but we'll be buying more in the future, too!"
"Grandma! Get out the Survival Food Kits!"

"It was such a great feeling to know we had our 72-Hour Food Kits when the power went out in Texas. The first thing my 12-year-old grandson said was, 'Grandma, get out the Survival Food Kits. We're going to need 'em.'
The children were NOT stressed. They were confident to know we had food for us and for the family next door. Thank you so much for your products AND your timely shipping!"
* Real reviews from real customers. Sometimes customers receive a free product to test or as a thank you for submitting honest feedback. For more information see footnote 1.
FREE Gift #7:

$25 OFF Your Next Order
We want to make today's purchase the gift that keeps on giving…
So you'll get a FREE $25 Certificate that you can redeem on any future order of $100 or more. Use it to stock up on more filters, survival food, solar gadgets and much more.
It's our way of saying "thank you" for helping a family-owned business.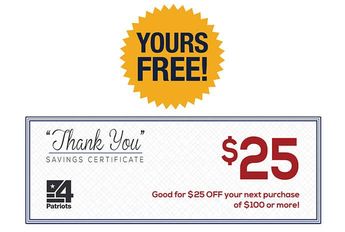 But to make stocking up a no brainer, when you claim your Best Deal of Patriot Pures, you'll also get…
FREE Gift #8:

FREE Shipping & Handling
Select the Best Deal on your Patriot Pure Ultimate Water Filtration Systems and you'll get FREE shipping for your entire order.
Shipping & handling on all these countertop systems via premium carrier isn't exactly cheap. But we want you to know how much we appreciate your business. So we're going to take care of the shipping and handling for you.
And no matter how many Patriot Pures you order, you'll get…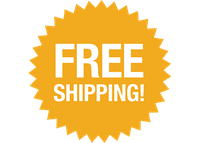 FREE Gift #9:

FREE Lifetime Technical Support
And if you act now, you'll get something FREE that most companies charge an arm and a leg for. Simply to prove how much confidence you can have in this product. You'll get FREE reliable and knowledgeable customer support for the life of your Patriot Pure Ultimate.
Call us anytime and ask anything you want about your Water Filtration Systems. No question is too small or too big for our amazing USA-based Customer Service team. Corrie, Ray, Lydia and many others are standing by waiting to help YOU enjoy your purchase for as long as you own it.
Our customer service team is made up of real people – Americans. We truly care about you and your purchase, and we are willing to stand behind that promise. In our view, that's part of doing business the ethical way. The American way.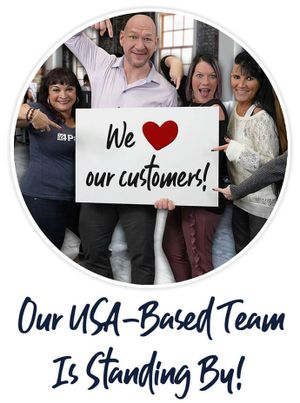 Click the orange "Start My Order" button now, and we'll add all your FREE bonus gifts to your order right away.
YES! I Want Safer Drinking Water For Myself & My Family... Plus 9 FREE Gifts!

And you won't risk a thing by trying out your Ultimate Water Filtration Systems thanks to…
An Outrageous Guarantee so This is 100% Risk FREE for You
You should be 100% happy with your order or you shouldn't pay a penny. You'll get a 100% money-back satisfaction guarantee for 365 days with no questions asked.
100% Money-Back Satisfaction Guarantee
If for any reason you're not satisfied with your Patriot Pure Ultimate Water Filtration Systems, just return them within 365 days (that's a full year) of purchase and we'll refund 100% of your purchase price. No questions asked. That way there's absolutely no risk for you. And you can keep the FREE bonus gifts for giving your Patriot Pures a try.
This outrageous guarantee makes your purchase 100% risk-free. We stand behind the Patriot Pure Ultimates and we are confident you're going to love them!
Click the button below now.

It's clear that these Water Filtration Systems are an incredible value.
But don't take our word for it… here's what our customers have to say:
Raving Reviews From 4Patriots Customers!
When you claim your Best Deal of Patriot Pure Systems, you'll not only get a complete water solution that fits on your countertop… you'll also get tremendous peace of mind.
Like these customers did…
Easiest Way to Upgrade Your Drinking Water

"We chose this one because it handles everything and it's affordable. It has excellent capacity, it's easy to use, and a nice style. I really feel like we've upgraded our water filtration. You never know when things will go out on you."
Stop Worrying About What's in the Water!

"We use our system for drinking and cooking but you can use it almost anywhere. It's easy to use and it doesn't take long to filter. The water tastes delicious. If you want better-tasting, safer, cleaner water, this is what you want!"
Better and Faster Year After Year

"I've had the system for several years. It was a great success. Just replace the filter and it's even better and faster. Saved a lot of money on bottled water."
Finally... I Don't Have to Keep Refilling My Pitcher All Day

"I'm very happy with my water filter. Not only does our water now taste good (it tasted dirty from the tap) but the large-capacity tank means I'm not refilling small pitchers repeatedly during the day."
* Real reviews from real customers. Sometimes customers receive a free product to test or as a thank you for submitting honest feedback. For more information see footnote 1.
Can you picture how good this security and independence will feel?
Your Purchase Supports Those Who Serve
Thanks to your support, we're able to employ 200+ American men and women from all across the USA. People who work hard and truly enjoy helping folks get prepared for emergencies.
And again — thanks to you — we provide meaningful support to important charities that help American veterans and their families. Charities like Fisher House, A Soldier's Child Foundation, Team Rubicon and Operation Homefront: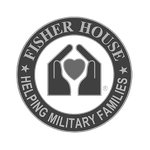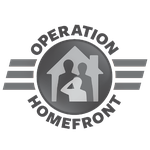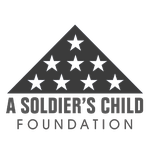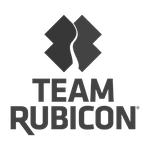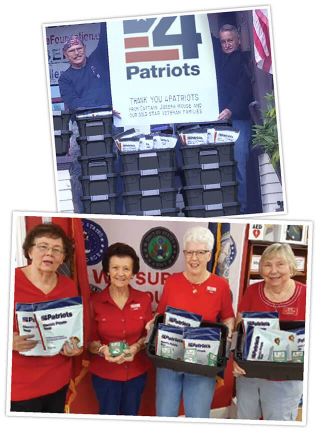 In fact, 4Patriots and our affiliated brands have donated more than $975,000 in cash, plus truckloads of life-saving products and countless hours of volunteer service by our employees since we founded the company. And the numbers keep growing! In 2022 alone, we donated "$1K a Day" for a total of $365,000 by year's end.
Listen, it's up to you which way you go.
But in times like these… where we can't trust the water coming from our tap.
You've got to ask yourself…
Am I Doing Everything to Keep My Family Protected?
The dirty secret about your tap water is OUT…
And it's high-time you stop leaving your family's water supply to chance.
Because legal doesn't mean safe to drink.
And the reality is… it's been 20 years since they've added new contaminants to the Safe Drinking Water Act.
In fact, there are over 160 contaminants in tap water the government does NOT regulate. Including a slew of man-made chemicals called PFAS that have been lurking in our waters since the 1940s.8
How helpless would you feel, knowing you knew the facts about the filthy water spilling out of your tap, and you did nothing? How would you explain this to your family or loved ones?
You'd be forced to admit, "Yes, I knew this could happen, and I knew of a way to help, but I decided not to."
We don't want you to live with that regret.
Not for another second…
So if you're ready to take charge and look out for yourself and your family, then click on the button below. You'll be glad you did.
This is about peace of mind. Knowing that the next time you're cooking, cleaning or pouring a glass of water before bed… you're using safer and cleaner water.
Don't you deserve this?
To get your Patriot Pure Ultimate Water Filtration Systems rushed to you at this special price… plus your FREE bonus gifts and FREE shipping & handling…
Click the big button below now.
As of today, inventory is still available. When you order you will instantly receive an order confirmation. We will rush your order to you and you'll get a tracking number when it ships.
You can get started risk-free today because you're backed by a 100% money-back satisfaction guarantee for 365 days. It's like trying it before you buy it.
Claim your Patriot Pure Ultimate Water Filtration Systems and your FREE gifts now. You'll be glad you did.
Click the "Start My Order" button below.

It's Time You Question Your Water Supply

"Times are getting...well, interesting to say the least and this product will help us feel more confident about our water supplies."

1. All testimonials in this advertisement are from real people; sometimes names and photos have been changed to protect their privacy and some were given free products in exchange for their honest feedback. Testimonials represent exceptional results, don't apply to the average purchaser and are not intended to guarantee that anyone will achieve the same results. The organizations, publications and people referenced on this site are not affiliated with 4Patriots. They have not endorsed, sponsored or recommended this product; no affiliation or endorsement is claimed. Terms & conditions apply.
2. Ready. "Determining Water Needs." 2021.
3. 4Patriots customer count from 2018 to 2022.
4. 96.6% of customers do not return their products or request a refund.
5. Number of Patriot Power Cells sold. January 2020 inventory report.
6. FEMA. "Disaster Planning Is Up To You." 2018.
7. Mylar® brand is a registered trademark of Dupont Tejjin Films. Dupont is not affiliated with and has not endorsed or sponsored this product.
8. EWG. "State of American Drinking Water." 2019.
9. CDC. "Picture of America Drinking Water Fact Sheet." 2017.
10. American Red Cross. "What Do You Need In A Survival Kit?" 2018.
11. Your survival food is designed to last 25 years on the shelf. Storage conditions impact the shelf life of your food. For best results, always protect your food from heat, air and moisture. Avoid prolonged exposure to temps above 75 degrees F. Keep food sealed until ready to eat. Shelf life will vary based on storage conditions.
12. Reduction-rate testing verified by an independent laboratory; 150 gallons of water were tested. Results will vary based on the specific contaminant, water quality & source, and other factors such as product conditions. Do not use this product with unsafe water sources or with water of unknown quality. For removal rates, click here to see test results.
Interest-FREE Payment Plan